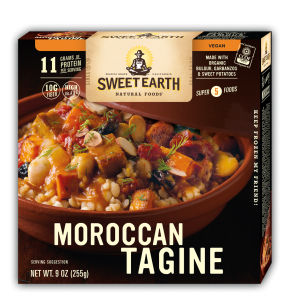 One of the things I love about social media is idea sharing.  Especially recipes.  I love cookbooks, and my collection keeps growing, but I also love to browse Pinterest and Instagram and various blogs to see what people are creating.  There are so many variations of overnight oats, smoothies, veggie burgers and vegan cheese!  I don't think any of us could live long enough to truly try them all.
Lately, it's been all about bowls.  Using  a simple formula (vegetables + a grain + protein + sauce), you can come up with countless variations of a filling, healthy meal.  Your theme can be mexican, indian, asian, or whatever's-in-the-fridge.  It's hard to mess up.  Essentially, you take what's in many cultures a daily staple of beans and rice and turn it into a healthy blend that can please pretty much anyone.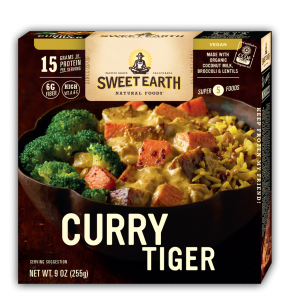 While this concept is great, it's still not realistic for some people.  If you don't like to cook, or if you want something that you can stash in the freezer to keep handy when needed, you may not even want to build your own bowl.  You want to eat.  Now.  If that's the case, you can't go wrong with Sweet Earth Natural Foods.  If you aren't familiar with the company, they make plant-based frozen foods (not all vegan, but everything is clearly labeled), that's non-GMO and includes plenty of organic ingredients (by the way, check out their Eco-Clock – it's really cool).  I've been a fan of their food for a while and I'm particularly fond of the Harmless Ham and Chickpea Patty.  For frozen foods, they taste really fresh and clean, and I'm on board with that.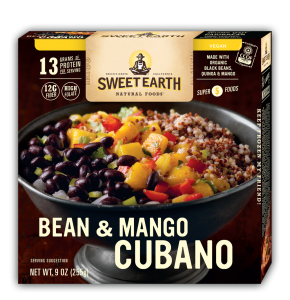 Back to the bowls.  Vegans have a few great options:  Bean and Mango Cubano, Curry Tiger, General Tso's Tofu, Kyoto  Stir-Fry and Moroccan Tagine.  They were all flavorful and full of veggies.  My favorite was definitely the Curry Tiger.  There was a real kick of ginger, which you don't usually find in frozen meals.  It was yummy.  I'm trying to make up for the fact that I didn't eat enough curry food in the first half of my life, so I will be returning to this one.
I also loved General Tso's Tofu and the Moroccan Tagine.  All of flavors were good.  In fact, they were all great.
On the downside, do check the ingredients list if you have allergies or any food intolerances.  The list appears to be long, but when you look at it (and you probably will, since most vegans can't help looking at the ingredients list), you won't find a bunch of crap.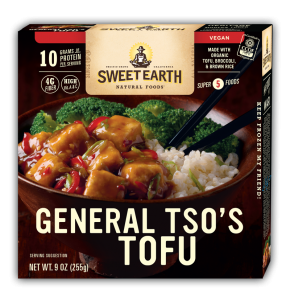 As a light dinner – you can always add a salad for some bulk – or a quick lunch, you might consider stocking a couple of these bowls in your freezer.  Maybe they aren't as fun to assemble as a "real" bowl, and maybe you won't find a variety you like, but overall these are definitely worth a try.  Enjoy!