Spring has finally sprung here in Philadelphia, and all I can say is thank goodness! I was getting so tired of wearing heavy coats and scarves. Over the past month or so, most days I would leave the house underdressed hoping that maybe I could will spring to come sooner…that really didn't work.  All that I achieved by doing that was to freeze my tookus off.  So despite my best efforts, spring took its own sweet time getting here…but at least it has finally arrived!  Hooray!
I've already switched out my closets so that all of my warm weather pieces are front and center and now I am in the market for some new vegan sandals to round out my look for this season. There are so many beautiful choices for spring vegan sandals that I will have my work cut out for me!
Here are some of my favorite Spring Sandals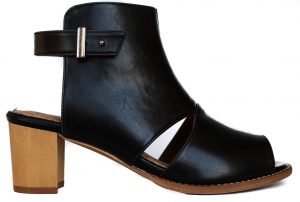 The Alden from Bhava is a sandal and a bootie all in one.  This sandal will take you from spring to fall in stylish comfort.  Made from Italian vegan leather with a 2″ heel and natural cork insole, this is a versatile sandal that can just as easily be worn with a pair of jeans or a breezy summer dress.   In addition to black, the Alden is also available in cognac and neutral which has an interesting white/tan snakeskin look to it.
Image Source and Credit: Bhava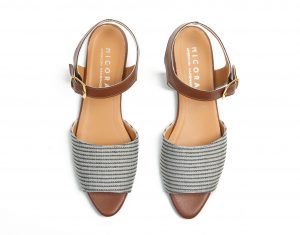 Next up is the Goodall sandal from Nicora Shoes.  Named for famous animal rights activist, Jane Goodall, this made in the U.S.A. sandal is constructed with vegan leather and recycled fabric. The red version is dyed with recycled ketchup bottles and  the black and grey stripe are dyed with recycled X-ray film.  I have no idea how they do that, all I know is that a really great looking shoe is the end result.  Here it is in grey stripe.
Image Source and Credit: Nicora Shoes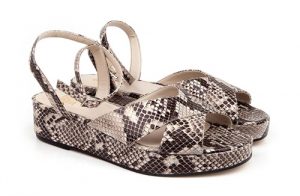 Beyond Skin has quite a few fabulous vegan sandal options for spring, so it was difficult to choose just one to highlight, but I decided on the Maggie faux snakeskin sandal.  This sandal is new to the SS16 line for Beyond Skin and it has been on my mind since the first time I laid eyes on it.  Yes, I have a bit of a crush on these sandals.  I love the chunky flatform sole and of course the faux snakeskin pattern is fierce.
Image Source and Credit: Beyond Skin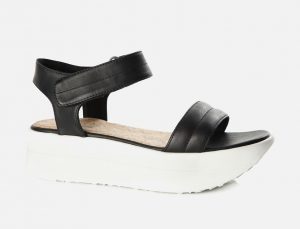 I was really excited to hear that Vagabond was coming out with a vegan line of shoes.  Vagabond listened to their customers who were looking for vegan alternatives and as a result they created the Non Animal Collection.  I am happy to report that they have some really cool styles in this line, one being the Daria.  This sandal has a cork insole for comfort and comes in white, black and an unusual, but lovely, light apricot.  Below is the black version, because, you know, I'm all about wearing black.
Image Source and Credit: Vagabond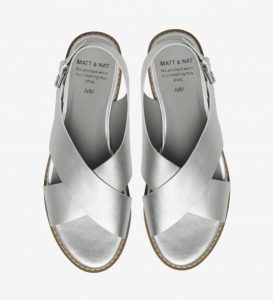 I think that I can speak for most people, vegans and non vegans, when I say that we were all super excited when Matt and Nat introduced their new shoe line this spring.  Best known for making quality, fashionable handbags, Matt and Nat did the same with their new footwear.  One of the standouts for me is the Villeray sandal.  I like the minimalist look and feel of this sandal and with its wide criss-cross straps it looks as comfortable as it is fashionable.  A fan of all things shiny, the silver version is my personal favorite.
Image Source and Credit: Matt and Nat
Now run, don't walk, to your nearest salon so you can get a pedicure and have your feet warm weather ready because you've got a lot of new fabulous vegan sandals to show off!