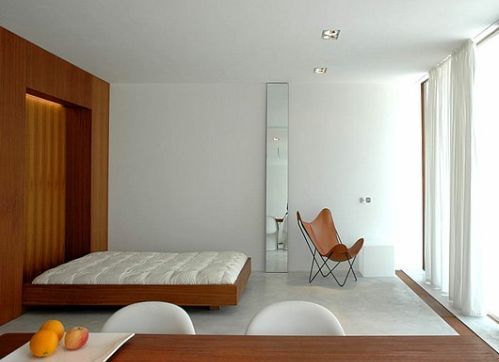 Life is seriously complicated and there are tons of things we have to worry about everyday. Your home should not be one of them! It should be your sanctuary, and your haven for inspiration and relaxation. Not a big jumble of stress and sensory overload. I'm a huge fan of simplicity, de-cluttering and organization (although right now my apartment would not lead you to believe that). A scattered living area can lead to a scattered brain which leads to…STRESS! Oh noes. Lets solve this room by room. (Stay after class for some bonus tips.)
Kitchen
Clean out your cabinets and fridge. Get rid of anything that has gone bad or expired. Designate one day every week to do this, to avoid playing random games of "whats that smell?"
Store bulk dry goods in accessible containers with scoops.
Rearrange your cabinets so all of the tools you use the most are easy to grab. Maybe put all of the things you rarely use in that cabinet you can hardly reach. Donate anything you haven't used in over a year.
Create a filing system for all of the random recipes you have printed out over the years. Get a hole puncher and place them in a large binder with tabs to separate types of dishes.
Bathroom
Clean out the medicine cabinet and get rid of anything expired.
Get totes or storage containers so each person in your household can place all of their toiletries inside.
If you live near a store that sells personal care products in bulk then buy generic containers for each product that you can just take to the store to refill.
Bedroom
Get rid of any extra pillows or blankets that are kept on the bed during the day for "decoration". Are they really necessary?
Try to keep as few things in your sleeping area as possible. Unclutter anything you may have piled up.
Clean out your closet and get rid of anything you haven't worn in the past year.
Ditch the TV. I'm a big believer of no TV in the bedroom. There is nothing worse for your sleep cycle than falling asleep with the boob tube on. Also, you don't want to sleep while immersed in EMFs!
Office
Keep your desk uncluttered and as clean as possible. This actually does wonders for concentration while you are working.
Keep your desktop free of icons. I prefer to only have my trash can icon on my desktop. Place files in designated folders (like "projects" or "ideas") in your documents.
Keep your bookmarks regularly sorted and clear out old websites that aren't needed.
The only things you should have on your walls are inspiration and reminders.
New notebooks, planners, post-its, and paper is not going to make you more productive. I too get cold sweats in Office Depot, but try to only buy things you absolutely need to avoid the unused pile of office organization paraphernalia.
Living Area
Get rid of any knick knacks that you are not in love with or have sentimental value.
Store any books, magazines, DVDs and the like somewhere hidden and out of the way. However, I will typically leave out a book that I am currently reading, or the next movie in my queue.
Try to leave most flat surfaces, clear.
Stay on top of this stuff!
Tidy up and remove clutter every morning and night.
Deep clean every 6 months or so and donate anything that you don't want or need anymore.
Make a schedule of one cleaning chore to do each day. That way you can clean daily in 5 minute spurts instead of spending a whole Saturday covered in Seventh Generation and baking soda.