Our local tour guide Marta watched us in delight saying, "I wish all my clients were as enthusiastic as you lot are!" Well, that's proof we've travelled far to appreciate Italy's summer flavours!
Perhaps our family's enthusiasm for revisiting Rome's local foods is attributable to our culinary awakening. Let's face it, being reintroduced to food choices as an abundance of whole foods gives us healthy vegans cause for celebration!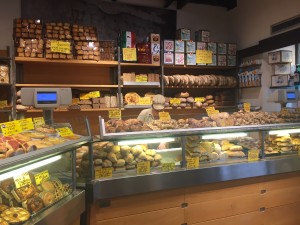 Our 4-hour vegan food walk tour began with a visit to what Marta believes is the best bakery in Rome, namely Roscioli.
Stepping into this hub of oven-baked breads and pastries weakened my resolve for gluten abstinence. The butterfly wings were among three sweet vegan options and the yeast-free breads too tempting to resist. Roscioli staff apparently work around the clock to supply michelin-starred restaurants and Rome's other fine hotels.
Once my daughters, mother and I finished our tasters, we headed off to Campo de' Fiori market. Every morning from 7am to 2pm one can find the best local and seasonal fruits and vegetables. It's certainly a fresher option than buying at a small InCoop dotted around the city. Tasters of nectarines, peaches, figs, and spotting fresh borlotti beans, delighted us.
Then came pure bliss. Through more tastings, we learnt about the differences of aged balsamic vinegars, leaving us in no doubt to the tastier traditional preparation method (which involves direct fire cooking) rather than the original process of fermentation.
Next we headed over to a pizzeria and, positioned in front of a fiery oven we, as novices soon realised there's a lot of skill involved in pizza making. Let's just say that our delicious self-made pizzas were testament to great ingredients and guided supervision!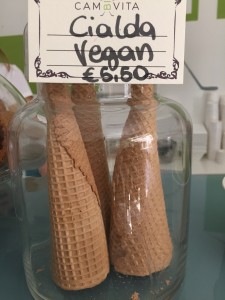 Marta then took us to CamBio Vita for vegan ice creams. This is worth a visit as they not only offer vegan-friendly fruit based flavours, but also hard-to-find pistachio and other nut-based flavours.
The piece de résistance, the coffee! Again Marta proves she knows where to find the tastiest as she leads us into Rome long since established, Sant'Eustachio il Caffè. They roast their beans weekly and grind them daily. As we did, be sure to take your own milk, as they offer only cow's milk. Standing at their counter is a traditional way to enjoy a coffee, while outdoor seating costs more.
We found the tour pricy for 4 persons, €510 (U.S. $610) yet worth its weight in experience! For more information contact Donna Zeigfinger of Green Earth Travel.