I fell in love with farro on one of my first visits to Chrissie Hynde's now-defunct Akron, Ohio vegan restaurant, The VegiTerranean. Chef Scot Jones, now with Crossroads Kitchen, created a farro salad that had asparagus, roasted tomatoes, onions, and some type of bitter greens. I loved it. So when The VegiTerranean closed, I decided to re-create the farro salad at home. What I came up with is super simple and can be made in just 35 minutes. Hello tasty week night meal that could easily be doubled for an already prepared, tasty lunch the next day!
Just a few notes about this recipe: Don't feel limited by my choices of vegetables or greens. Farro is a dense, chewy grain that can hold it's own against almost any vegetable. Feel free to mix it up. Zucchini, yellow squash, asparagus, leeks, green beans, or mushrooms would be great in this dish. If you don't like dandelion greens (or they're out of season) simply replace them with a different green you do like. A bitter green such as dandelion greens or arugula goes really nicely with the sweet, tart of the roasted tomatoes but if you really dislike bitter greens, spinach also works nicely. Tailor the dish to your taste preferences.
If you want to add a nice citrus burst, add the juice of 1/2 lemon over the farro when you remove it from the heat the final time, and stir until combined. If you don't a have lemon on hand (like me!), don't worry about it. It's delicious either way.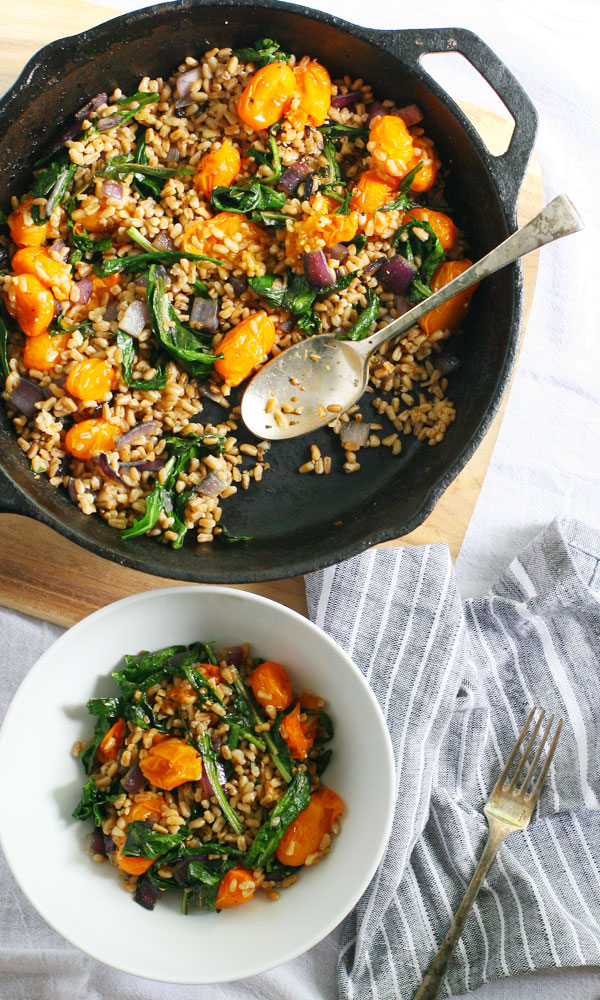 Roasted Tomato, Garlic & Greens Farro Salad
Ingredients
2 cups cooked farro (1 cup dried yields 2 cups cooked)
1 pint grape, cherry, or heirloom tomatoes
1/2 purple onion, diced
1 bunch of dandelion greens (may substitute with spinach or arugula), roughly chopped
1 tablespoon olive oil
2 cloves garlic, minced
Salt & fresh cracked pepper to taste
Directions
Preheat your oven to 400 degrees.
Rinse one cup dried farro under water and remove any debris. Using a 3 to 1 ratio, add the farro to a large saucepan and cover with three cups of water or vegetable stock. Bring to boil, then reduce the heat and simmer until tender- about 25 minutes. Remove from heat and drain any excess cooking liquid. Then set aside to cool.
While the farro is cooking, wash the tomatoes and place them whole on a lined baking sheet. Sprinkle with a small amount of salt and pepper and place them in the oven until they are roasted and the skins are about to burst open- about 10 minutes. Remove from the oven and set aside to cool.
Heat the oil in an iron skillet or other skillet of your choice. Add onions and cook until slightly translucent, about 2 – 3 minutes. Add garlic and cook for another minute until the garlic is almost golden brown.
Add roughly chopped greens and cook until lightly wilted. Add farro, salt, and pepper. Cook until heated through, about 1 – 2 minutes.
Remove from heat. Gently fold the roasted tomatoes in the salad until fully combined. Serve warm.