Kale seems to be all the rage these days, with packages of baby kale popping up in mainstream grocery stores, kale-themed t-shirts for sale in vegan boutiques (I myself am guilty of owning several of them), and kale taking center stage on dinner plates in restaurants everywhere – no longer being relegated to the role of garnish. While I love kale salads and sautéed kale, kale chips are probably my favorite way to eat the nutritious leafy green. I usually make my own, but occasionally I have a hankering for them and I just don't feel like waiting 6 hours for my dehydrator to transform fresh produce into a yummy snack, so I will pick up a package of store-bought chips. I always start out with high expectations for pre-packaged kale chips, but after the first few, I realize that the rest of the container holds tiny crumbs of kale and flavorful coating that has fallen off the chips. The package usually contains way too many inedible stems as well, and wind up throwing most if it away. When will I learn that store bought is never as good as homemade?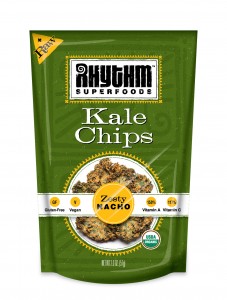 When I was offered Rhythm Superfoods Kale Chips to try, I jumped at the opportunity, eager to find a packaged kale chip that could live up to my standards. I was pleasantly surprised to find that these chips fit the bill! The chips in my package were all decent sized – comparable to a potato chip – and they were all well coated. There were minimal crumbs at the bottom of the bag, and they were so delicious, that they were was no way I was throwing them away. Instead I shoveled them right into my mouth, and I didn't care who saw me do it. I tried both the Kool Ranch and Zesty Nacho flavors, and both were delicious, but I think the ranch was my favorite of the two. My only complaint about these chips is that the bag wasn't larger, because I definitely wanted more!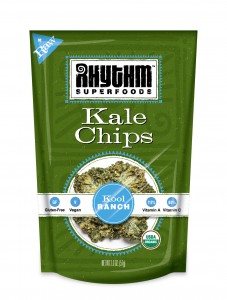 Kale is probably the most nutritious food on the planet, so the idea of eating fried greasy potato chips when there are super delicious Rhythm Superfood Kale Chips to be had is just ridiculous. These two ounce bags of yummy goodness contain 6 grams of protein, 55% of the daily recommended allowance of Vitamin A, 12% Vitamin C and a whopping 390% of the recommended Vitamin K. Kale is also rich in iron, calcium, antioxidants, phytonutrients and carotenoids. Rhythm Superfood Kale Chips are made with kale that is mixed with hand-crafted dressings made from organic vegetables, seeds and spices and then air crisped at low temperatures to main raw living enzymes. They're organic, raw, vegan and gluten-free. In addition to the Kool Ranch and Zesty Nacho flavors I tried, are also available in Bombay Curry, Texas BBQ and Mango Habanero. Finally, a kale chip as good as homemade!
Click HERE to shop online.
Click HERE to locate a store that carries this product.