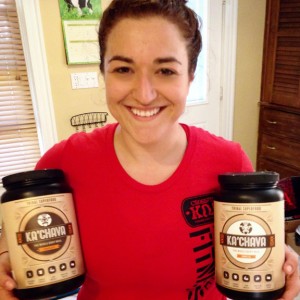 A new vegan protein powder? I jumped at the opportunity to try this new product, one I'd never heard of before being asked to review it. (See my excited face, when I first opened the box!) I'm an avid protein powder user: smoothies, oatmeal, baked goods, post workout shakes. I think they're a fast, convenient way to sneak in some extra protein and I have tried them ALL. For me, personally, I look for protein powders that are nutrient rich, high in protein, low in fat, and taste good. Ka'Chava, as I learned, delivers all of that!
Ka'Chava protein powders use tribal superfoods which are "a special class of superfoods whose benefits have been tried and tested for centuries by ancient tribal cultures." These foods include maca root, sacha inchi, camu camu, and many more highly nutritious plants, seeds and grains. If you're familiar with any of these popular super foods, you know how expensive they can be. Ka'Chava takes all of those superfoods and conveniently combines them into one meal. Another appealing quality about Ka'Chava protein is that it's both gluten free and soy free. I know many people are trying to limit their soy intake but it can be difficult when it comes to protein powders since so many are soy based.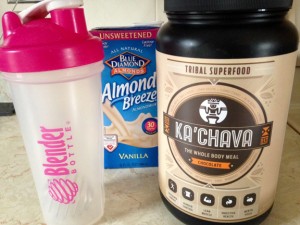 In order to properly review them, I wanted to make sure that when I first tried them I wasn't adding them into packed smoothies or a baking recipe. First up: Chocolate Ka'Chava protein powder in a smoothie. I added some cold almond milk, ice and shook it up. I wasn't expecting it to taste like a milkshake! The chocolate was rich and robust; it almost felt like I was having dessert!
The first time I tried the vanilla flavor was after a workout so I just threw a quick scoop into my blender bottle with some water and shook. The vanilla was smooth and didn't have that chalky after taste so many vegan protein powders have but I felt it did lack a little flavor. I'd probably consider the vanilla more of a "plain" or neutral flavor than a vanilla, which I know will still appeal to many people. Regardless, it was easy to drink and I've seen been incorporating it into my smoothies.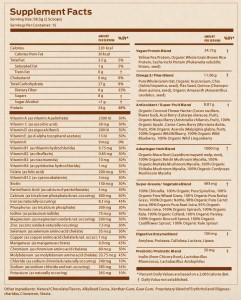 Ka'Chava protein comes in at 24g of protein per servingm 8g of fiber and 27g of carbs. Each scoop is the equivalent to one small meal, making it a perfect option before or after your workout, as a hearty snack or as a meal replacement. Each tub has 15 servings and costs $69.95, which is more expensive than most protein powders out there. However, if you think about the cost if you were to buy each of the individual superfoods, it's probably cheaper. And, above all, it tastes great – which is generally one of the most important things we look for when purchasing a new protein powder.  Ka'Chava is a new favorite pantry staple!
You're in luck, because we have a container of Ka'Chava for one Chic Vegan winner. Follow the instructions below to enter. US residents only please. Contest ends a midnight on October 1st. Good luck!