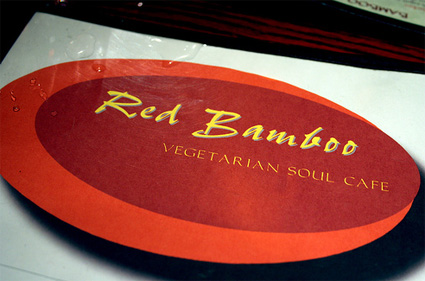 I recently had the pleasure of dining at this self proclaimed "soul café" in the heart of the West Village. Red Bamboo is a vegetarian establishment with the majority of the menu being vegan. (Thankfully, all desserts are vegan.)
When we first entered, the whole place smelled like bug spray or some other kind of strong chemical. That made me weary, but the smell seemed to fade quickly.
I liked how the non-vegan menu items were clearly marked, and casein and whey were taken into consideration. You would be surprised how many restaurants serve soy cheese containing casein as "vegan". I noticed they seemed to specialize in mock meat and although I don't particularly fancy it, I decided to live on the edge.
For an appetizer we had the Carribean Jerk Spiced Seitan. The portion size was a bit small, however the marinade was spectacular. Nice and tangy. Very true to traditional "jerk" sauces. (insert-inappropriate-joke-here) Seitan is by far, my favorite mock meat so I was naturally happy with this dish.
The entrees were pretty disappointing. I had the Coconut Chicken and my devastatingly handsome dining partner had the Bamboo Club. My entrée was pretty bland and consisted of a huge hunk of soy protein with a small amount of coconut baked into the top. There were pineapple rings breaking up the soy action, but I still feel there was not enough diversity in this dish. I want veggies!!! The Bamboo club was bland as well, with basic veganized club components and deep fried french fries.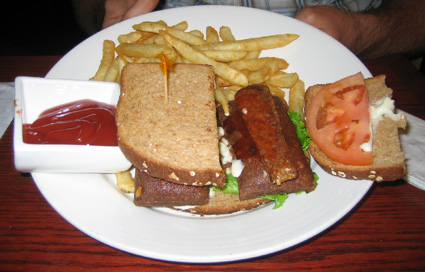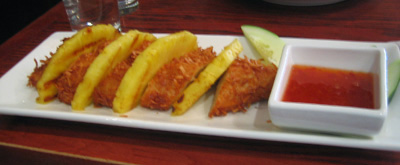 The service was super fast and friendly, and our waitress was very helpful. Good service always makes up for everything!
To cap off the night we decided to order three desserts.. yes three. They all sounded so good we couldn't decide. So we indulged (or binged) in the Carrot Cake, Brownie Bottom Cheesecake, and Peanut Butter Heaven. And we were oh-so glad we did. The carrot cake was absolutely amazing, it has a dense texture and the icing was surprisingly sweet. The brownie bottom cheesecake.. well, lets just say I'm still dreaming about it. The peanut butter heaven was good but was overpowered by the other desserts.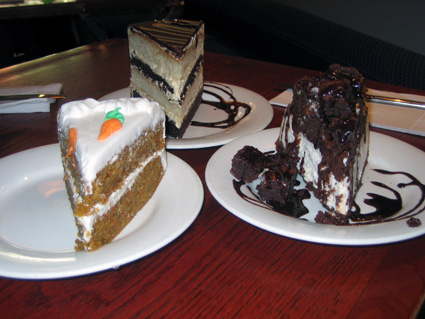 All in all the experience was decent, but not as extraordinary as I thought it would be given all the stiff NYC veg competition. Just a few unique flavors and extra spices would have sent Red Bamboo over the top. However if you are in the mood for cheap, basic food.. this is the place for you. We will definitely be back on our next visit for some dessert!
Red Bamboo
140 W 4th St
New York, NY 10012
(212) 260-7049
www.redbamboo-nyc.com
Other veg NYC dining:
Top Photo courtesy of DaniVance