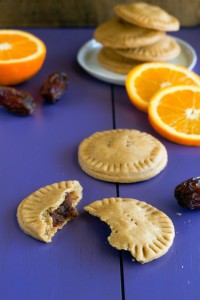 Plump, tender cookies filled with a sweet and spicy mixture of dates, orange, and ginger. These vegan treats have no refined sugar and just a touch of coconut oil.
Vegan Maamoul 
Filling:
1/2 pound pitted Medjool dates, roughly chopped
2 Tbsp. fresh orange juice, or water
pinch sea salt
1″ nob of fresh ginger, grated
zest of 1/2 a large orange
Dough:
2 cups whole wheat pastry flour
1 tsp. baking powder
1/2 tsp. ground cinnamon
pinch sea salt
3/4 cup non-dairy milk
1/2 cup tahini
1/4 cup coconut oil, melted
1 Tbsp. coconut nectar, or maple syrup
Make the filling:
Preheat the oven to 325-degrees and line two baking sheets with parchment paper.
Place the filling ingredients in the bowl of a food processor and process until the dates are finely chopped. This will take a few minutes and make a terrible noise. Stand firm! Remove the date mixture from the bowl and set aside.
Clean out the food processor bowl.
Make the dough:
Put the flour, baking powder, cinnamon, and in the bowl of a food processor. Pulse a few times to combine.
In a bowl or large measuring cup, whisk together the milk, tahini, coconut oil, and coconut nectar. With the food processor running, pour in the milk mixture until a ball is formed. You may need to scrape down the sides a few times.
Sprinkle flour over your work surface and pat the dough into a circle. Flour the top. Roll the dough to about 1/4-inch thick and using a 3-inch round cutter, cut out as many circles as you can. Place them on the prepared baking sheet.
Roll up the scrapes, roll out, and cut more circles until you've used up as much dough as you can. You're aiming for 36 circles.
Using a teaspoon, scoop up the date mixture and place in the center on one of the dough circles. Continue until you've divided the date mixture between 18 of the dough circles. Lightly moisten the edges of the dough circles and taking the "plain" dough circles, place them on top of the date-filled dough circles. Crimp the edges with the tines of a fork and pierce the tops a few times.
Bake the maamoul for about 30 minutes, or until lightly browned on top. Let cool for a few minutes on the pans, then carefully remove the cookies and place on wire racks to cool completely.
Notes:
The dough should be fairly sticky. However, it should be firm enough that when you coat your work surface with flour, you should be able to roll out the dough. If not, add more flour when processing – a little at a time – until the dough is tacky but manageable.