I admit it: I eat way too many cookies. But really, is there a better way to spend an afternoon than baking cookies, drinking tea, and listening baroque opera?
I've spent the last month baking cookies whenever I had time (and occasionally when I really should have been, say, working on my masters thesis), and this post is all about the recipes I've found that I would like to share. Cookies are the ultimate sharable treat: you don't need a fork or a knife or even napkins, you can just throw a box of cookies into your bag to share. Or you can be greedy and eat them all yourself for breakfast, it's up to you.
Thumbprint Cookies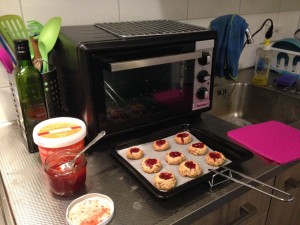 Thumbprint cookies are a classic. They're nice because they're not as sweet as many other cookie recipes, so they can be argued a little more successfully as a "snack". I started looking for a recipe for thumbprint cookies because I had jam that needed to be used up. It took three batches, but that was totally fine with me. I substituted agave syrup for the maple syrup in this recipe just because agave is much easier to get here (and cheaper). I'm sure this recipe is good either way! Recipe via Whole Foods.
Peanut Butter Cookies
These were unexpectedly the best cookie I made this month (in my opinion). They're somehow crunchy and fluffy and soft and light and absolutely amazing, and they're also super easy to make. They were so good that I ate the whole batch myself. If you're looking for an amazing gluten-free cookie or some peanut buttery goodness, these are for you. Recipe by Blissful Basil.
Double Chocolate Cookies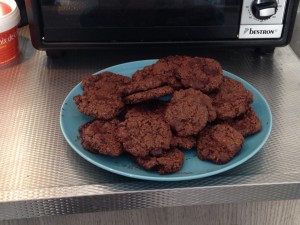 I found this recipe while trying to find something to bake for a friend who has a truly incredible number of dietary restrictions (these cookies are gluten free, nut free, and of course vegan). This recipe was a hit not just with him, but with everyone else who has tried it. It has a few more unusual ingredients, but nothing I couldn't find at a health food store. These cookies go together really quickly, and leave your kitchen (or whole apartment) smelling heavenly. Recipe by Oh She Glows.
Apple Ginger Spice Cookies
I love spice cookies, especially on colder days with a cup of tea. I also love apples, so this recipe really couldn't be bad (actually, it's amazing!). I'm sure it would also be brilliant with dried cranberries (or both apples and cranberries), but I haven't had time to try that yet (the last of these cookies are actually baking right now). I didn't find it necessary to roll the dough in sugar before I baked it–they really are sweet enough without. Recipe by the Vegetarian Times.
What's Missing
Chocolate chip, obviously. For some reason, I can't find a recipe that I'm completely in love with (and trust me, I've tried quite a few). So, dear readers, if you know of the ultimate vegan chocolate chip cookie recipe, please don't hesitate to tell me about it in the comments!