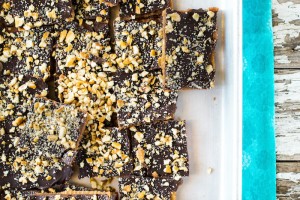 From what I can tell from my limited "research," Pine Bark is a recipe of southern American roots. In case you haven't heard of it, Pine Bark is a sticky, melty, crispy, sweet confection made up of the improbable combination of saltines, caramel and chocolate.  And while that explains the possible origins of Pine Bark, it doesn't explain its genesis.  I imagine that it must've happened much the same way as the odd and desperate combinations of foods that I came up with as a latchkey pre-teen arriving home from school with my belly as hollowed out as the Grand Canyon – I'm empty down here! – and finding only a messy jar of peanut butter, some pretzel sticks and a half-empty bag of chocolate chips.  Actually a damn good combination, let's just say it, and much better than – not that this actually happened – a bowlful of Golden Grahams doused in raspberry jam and some milk.
My own history with Pine Bark began about 12 years ago when I saw it prepared by Paula Deen on the Food Channel (as it was then called) and at once I knew my southern-born husband (as he was then called; now he's called my ex-husband) would be on it, as they say down where Pine Bark was born, like white on rice. Over time the recipe, which I had printed out and tucked into a manila folder marked "desserts," became ragged at the edges and splattered with chocolate and butter.
But then I got divorced, and then I gave up white sugar, and eventually I gave up butter (and eggs, milk, cheese, fish, meat, and honey – which meant I also gave up Paula Deen), and the recipe got buried deeper and deeper into the large blue file bin that holds nearly every recipe known to woman.  It was a daydream about junk food that reminded me of this strange and simple and alluring candy and it seemed like a fine time to veganize it.
Admittedly, I haven't done much.  The saltines remain (I just checked the ingredients to make sure they were vegan); instead of Hershey bar pieces I've used stevia-sweetened chocolate chips, and the caramel is tweaked date paste.  The result is pretty darn close in taste to what I remember Paula's recipe was like.  So much so that I feel a twinge of remorse after each square goes into the Grand Canyon that is my stomach.  And it wouldn't be Paula Deen-worthy if one didn't feel slightly guilty about eating it.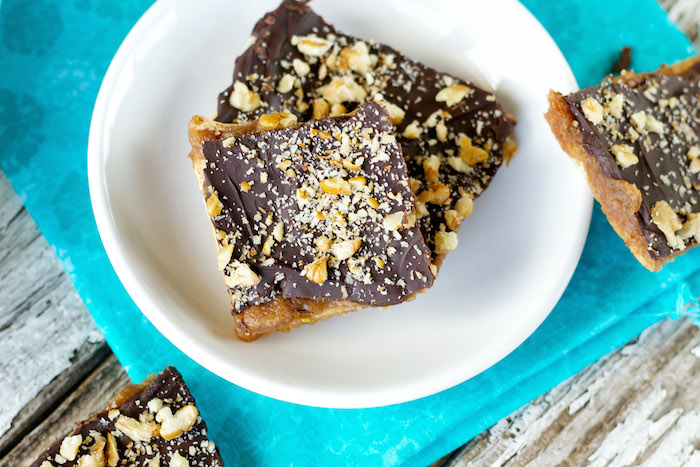 Pine Bark
Ingredients:
27 saltine crackers (make sure they're vegan)
1 cup 

date paste

2 Tbsp. pure maple syrup
1 Tbsp. coconut oil
1 tsp. vanilla extract
9-ounces stevia-sweetened semi-sweet chocolate chips (such as Lily's Sweets)
1/2 cup chopped pecans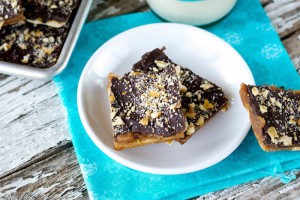 Directions:
Line a 8″ x 11 1/2″ baking pan/sheet with aluminum foil and spray it lightly with cooking oil.  Place the saltines, salted side up, in neat rows, filling the pan.  You may need to break 2-3 of the crackers in half in order to completely fill up the pan.
In a small saucepan, combine the date paste, maple syrup, and coconut oil and bring to a boil.  Lower the heat and simmer, stirring occasionally, for about 3 minutes.  Stir in the vanilla extract.
Gently and evenly spread the date paste mixture over all of the saltines.  Place the baking sheet in the oven and bake the saltines for 10 minutes.  Remove pan from the oven and sprinkle the chocolate chips over the date paste mixture.  Let sit for about 5 minutes or until the chips have turned glossy and have melted.
Using an offset spatula, carefully spread the chocolate all over the date paste mixture.  Sprinkle the pecans on top of the chocolate and gently press them into the chocolate.  Let the bark cool completely (I put mine in the refrigerator).
To serve, remove the bark (in one big piece) from the pan and carefully flip it over onto a cutting board.  Cut into squares following the saltine shapes.  Store the bars in the refrigerator.
(The saltines will firm up a little bit once they've been refrigerated for a while, but they will not be crispy.)