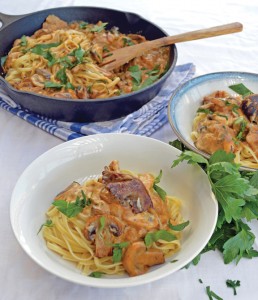 This is traditional stroganoff, minus the cow. The sauce is creamy and tangy enough and the mushrooms are meaty enough without the need for animal products. All that and, to boot, this meal can be on your table as soon as your pasta is cooked.
Mushroom Stroganoff 
Ingredients:
12 ounces linguine
3 tablespoons olive oil
1 1/2 pounds mushrooms, wiped clean, cut into 1/2-inch slices
1 teaspoon sea salt
1 small onion, finely chopped
6 garlic cloves, minced
2 teaspoons tomato paste
2 tablespoons unbleached all-purpose flour
2 cups vegetable broth
2 tablespoons broth mix
1 tablespoon dijon mustard
1/2 cup vegan sour cream
Fresh ground black pepper
Finely chopped fresh parsley
Preparation:
Cook the linguine in a large pot of boiling salted water until al dente. Drain and set aside.
Heat the oil in a large skillet over medium-high heat. Add the mushrooms and salt. Cook until the mushrooms begin to brown and release their liquid, stirring occasionally, about 5 minutes. Add the onion and garlic and cook, stirring, until the liquid has evaporated and the onion begins to brown, about 7 minutes. Stir in the tomato paste, then stir in the flour and cook for 30 seconds. Scrape up the brown bits on the bottom of the skillet as you stir.
Add the vegetable broth, broth mix, and mustard. Stir well to avoid lumps. Simmer the sauce until it thickens, about 3 minutes. Stir in the pasta. Continue to cook until the pasta is heated through.
Remove the skillet from the heat and stir in the sour cream. Season to taste with salt and black pepper. Garnish with parsley and serve.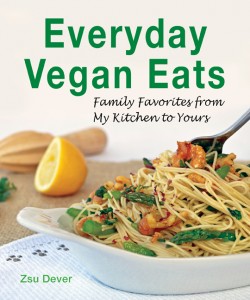 Note:
To make this dish gluten free, use gluten-free pasta. Also, omit the all-purpose flour and reserve 1/4 cup of the vegetable broth. Mix the reserved broth with 1 tablespoon of arrowroot starch and simmer the sauce for 3 minutes. Stir in the arrowroot mixture when you stir in the pasta and simmer only until the sauce is thickened and the pasta is heated through before proceeding with the recipe.
Serves 4
From Everyday Vegan Eats by Zsu Dever. ©2014 Zsu Dever. Used by permission from Vegan Heritage Press.