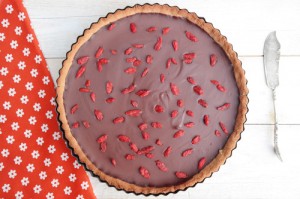 I finally managed to create a satisfactory gluten-free shortcrust pastry: it's tasty, friable but it doesn't disintegrate in the twinkling of an eye after slicing the tart (hail to the thickening power of coconut flour and cornstarch)!
Gluten-Free Chocolate & Coconut Tart
Ingredients:
For the shortcrust pastry
1/3 cup (50 g) instant vanilla pudding mix (ingredients: cornstarch, vanilla)
2/3 cup (100 g) gluten-free oat flour
1/3 cup (50 g) coconut flour
1/3 cup (100 g) agave syrup
4 tablespoons (35 g) cocoa butter, melted
2 tablespoons (15 g) coconut oil
water
For the cream:
1-14.5 ounce can (400 ml) coconut milk
7 ounces (200 g) dark chocolate
1 tablespoon unsweetened cocoa powder
1/4 cup (50 g) cane sugar
½ teaspoon vanilla
½ teaspoon cardamom
½ teaspoon cinnamon
1 heaping teaspoon agar agar
For garnish: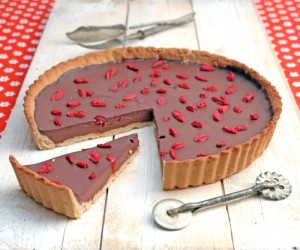 Directions:
Make the pastry: dump all the ingredients in a bowl and hand knead till you get a soft but non-sticky pastry (add some water or more flour if need be); stretch the pastry out into a 3-4 mm sheet and then finish stretching on a prepared cake pan; bake for about 15 minutes (temp. 180°C). I didn't let the pastry rest in the fridge before baking, as the presence of cocoa butter/coconut oil and the lack of gluten would have turned the pastry ball into a crumbly brick, which would have been impossible to stretch (source: experience).
Make the cream: put all the ingredients in a small saucepan and let them simmer over low heat for about 5-10 minutes, whisking continuously. As soon as the pastry is ready, take it out of the oven and pour the chocolate cream onto it. Let it cool down at room temp, then garnish as you please. Let it rest in the fridge overnight before serving.