The quick and easy sauce is made with just three ingredients, but it provides a big bang of flavor as a coating for the lightly fried tofu. When making the sauce, mix in the sriracha a little at a time and taste as go, to be sure turns out at the heat level you prefer. I like to serve this tofu over rice or quinoa with sautéed greens on the side. The sauce also makes a great dip for roasted cauliflower florets. This recipe is from MORE Quick-Fix Vegan by Robin Robertson © 2014, Andrews McMeel Publishing. Photo by Zsu Dever.
More Quick-Fix Vegan is filled 150 all new recipes, tips, and strategies for preparing healthy, delicious, and economical meals in 30 minutes or less. If you loved Quick-Fix Vegan, you will love this book too!

Big Bang Tofu
Serves 4
Ingredients:
1/3 cup Asian sweet chili sauce
1/3 cup vegan mayonnaise (I like Just Mayo)
1 to 2 tablespoons sriracha sauce
14 to 16 ounces extra-firm tofu, drained and pressed
2 tablespoons cornstarch
Salt and freshly ground black pepper
1 tablespoon safflower oil or other neutral oil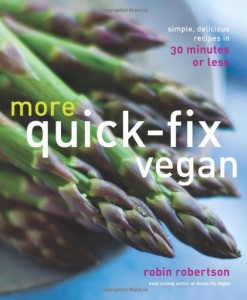 Preparation:
In a small bowl, combine the chili sauce, mayonnaise, and sriracha. Mix well until thoroughly blended. Set aside.
Cut the tofu into 1/2-inch dice and place in a bowl. Sprinkle with the cornstarch and salt and pepper to taste and toss to coat the tofu.
Heat the oil in a large nonstick skillet over medium-high heat. Add the tofu and stir-fry until golden brown, about 8 minutes. Toss the tofu with the reserved sauce and serve hot.