The days seem be flying by this year. It's difficult to keep track of the days, but since a new Cuts Vegan Beauty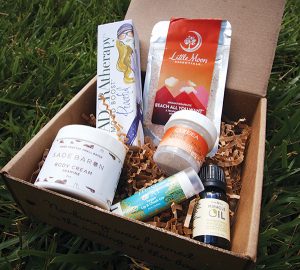 Box has arrived on my doorstep, I know that another month has passed.
The Vegan Cuts Beauty Box is a subscription service that delivers a box of cruelty-free beauty products to your door each month. Each box contains 4-7 products, which range from unique cosmetics to luxurious skincare. Sometimes the products are samples and other times they're full-sized products, like this month's Adoratherapy Mood Boost. It always feels like I'm receiving a gift when the Vegan Beauty Box arrives, since I never know what I'll find inside. And this month the box arrived right before my birthday, so it seemed extra special.
The Vegan Beauty Box is a great way for chic vegans and newbies to try products without spending a lot of money, and it's also a wonderful way to discover new brands. It has helped me to find products that I like without spending a lot of cash on things I might end up throwing away.
The June Vegan Cuts Beauty Box was full of products that can help to recharge the body, mind, and soul!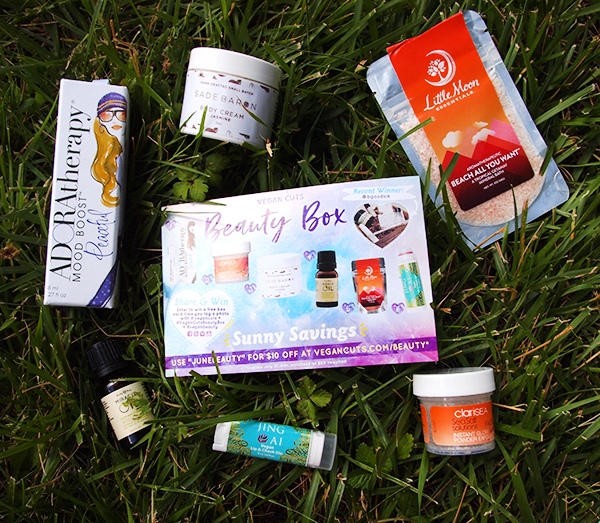 The June Vegan Cuts Vegan Beauty Box Contained: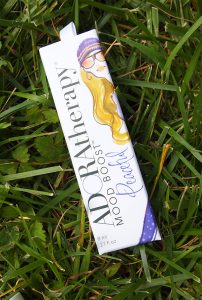 Adoratheraphy Mood Boost – I received a blend called "Peaceful," which contains lavender, rosewood, bergamot, lemon, geranium, and cardamom essential oils. I love lavender and bergamot, and I find this scented spray to be quite heavenly. I've been using it daily since my box arrived to help keep me calm in stressful situations.
Clarisea Sea Salt Solutions Instant Glow Powder Exfoliant – Since I love lavender, I also really enjoyed this lavender-scented facial scrub. It's made with sea salt, rose and orange peel powders, and sweet almond powder, and helps to exfoliate, nourish, and heal the skin. Simply add the powdered scrub to cleanser to buff away impurities and dead skin cells.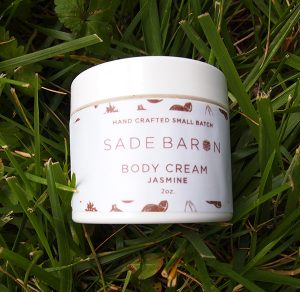 Sade Baron Body Cream – This hydrating body cream is formulated with hemp seed oil, camellia oil, and Vitamin E to improve dryness and cracking of the skin. It has the sweet scent of jasmine and pomegranate, which is a nice, light fragrance for summer. I almost always have rough patches on my feet and elbows, and this cream has helped to soften them.
Earthly Body Miracle Oil – This oil is made with natural plant oils such as tea tree, hemp, avocado, and jojoba, and it really is a miracle in a bottle. Its many uses include helping to heal minor cuts and burns, healing shaving bumps and waxing irritation, preventing stretch marks and scars, caring for tattoos, and providing relieve from sunburns and mosquito bites. It's also a great moisturizer!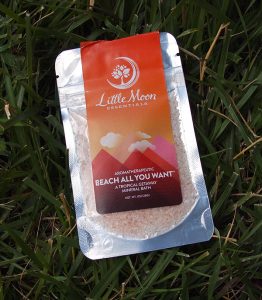 Little Moon Essentials Aromatheraputic Mineral Bath – I received Beach All You Want, which gives you the feeling of being on a tropical getaway! Handmade in Colorado, this mineral bath is made with essential oils to uplift, and mineral-rich salts to leave you feeling renewed and refreshed. I can't take baths in my current bathroom, so I'll be passing this one along to a friend.
Jing Ai Vegan Lip and Cheek Glow – This pretty Pink Chiffon stick does double duty as both lip gloss and blush. It's made with organic oils and waxes, and is free from harmful ingredients such as petroleum and parabens. It has a light, fresh citrus scent.
The Vegan Beauty Box is available as a monthly subscription, which means that once you sign up, a new box of products gets delivered to your door every month.