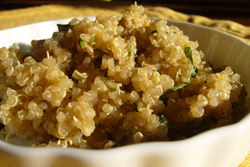 As a vegan, there are plenty of reasons to love quinoa (all together now: 'KEEN-wah'). It is a complete protein. It is a good source of dietary fiber and phosphorus and is high in magnesium and iron . It is gluten free and considered easy to digest. It is fun to say.
There seems to be about 8,375,835 quinoa recipes for every reason it is fabulous. This weekend I made Chickpea-Quinoa Pilaf, found in the holy grail of veg cookbooks:Veganomicon. It was nummy.
Other quinoa recipes:
Quinoa Carrot Zucchini Casserole
Quinoa Balls with Puttanesca Sauce
Portobellas Stuffed w/ Lemon Scented Quinoa and Arugula
Kale-Eggplantalicious Quinoa Loaf
Warmand Nutty Cinnamon Quinoa – I couldn't pass this one up because I almost ate the photo. Make sure to replace the milk in the recipe with soy or rice milk!
Enjoy Quinoa-fest 2008!