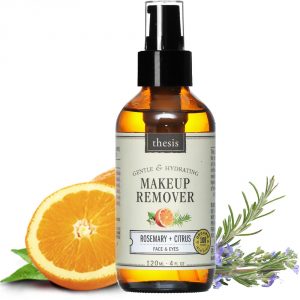 Chic Vegan readers who've been around for a couple of years may remember our previous review of Thesis beauty products.  With such an array of offerings, we decided it was well worth it to try out a few more of them and fill you in.
Let me start by telling you a few things about me, as the reviewer.  I am at the tail end of the baby boomer generation.  That gives you an idea of my age.  And I still have oily skin.  If you are way younger than me and you think you'll outgrow this, I'm sorry to possibly burst your bubble.  After many years of trying to find natural products that work on my skin, I finally have a daily regimen that I adore. Really adore. And it happens to include a Thesis product.  I'll get to that.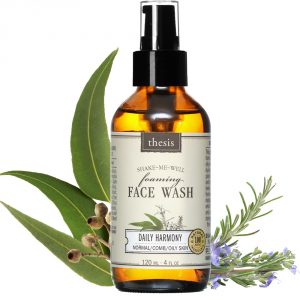 Thesis products are vegan and cruelty-free and contain certified organic ingredients.  Founder Julia Teren explains:
"Since 2009, we have been passionately making 100% vegan, truly clean and eco-friendly face, bath and body products comprised of mostly food-grade, raw ingredients and NO synthetics whatsoever. 
The uncompromised purity and opulent sensorial appeal of our products helped us win multiple awards in the organic and natural space. Each product is a spa-in-a-bottle experience with divine aromas, delectable textures, and captivating colors – all surprisingly organic and natural, no dirty chemistry involved!"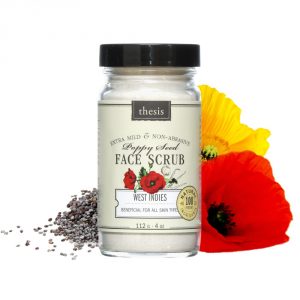 Julia sent us a few headliners from the company's summer collection.  The first item I tried was the West Indies Poppy Seed Facial Scrub.  This is a lovely product.  I didn't notice any  of the scratchiness you sometimes feel with scrubs, yet my skin felt very smooth after I used it.  My only complaint is that it is a bit messy.
Next was the Rosemary & Citrus Makeup Remover.  It's an alluring blend of oils, it's easy to use, and you don't need much.  In fact, that's one thing I really love about all of these creations.  They cost a bit more, but they are going to last.
Now for the cleanser.  I tried the Balancing Face Wash Daily Harmony for normal, combination or oily skin (yeah!).  I loved this.  Most natural cleansers for oily skin contain some amount of tea tree oil, and I wasn't surprised to find that in the ingredient list.  While I appreciate the benefits of this essential oil, I do not like the way it smells.  But the Balancing Face Wash also contains lavender, geranium and other oils, and the overall blend smells positively yummy.  I applied it to dry skin, rubbed it in gently, then added water for some additional massaging – and also to get the foam action started.  It was a invigorating experience, especially when the minty oils kicked in and my face woke up.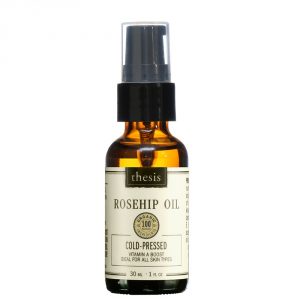 As mentioned, my regimen includes one Thesis product, and that's the Organic Pure Cold-Pressed Raw Rosehip Oil.  I've been using this for a couple of years now and have seen a meaningful difference in my skin tone.  I use a pump or two at night, and I'm good to go.  I've tried other rosehip oils, but they simply don't compare.  By the way, rosehip oil can also be used to soften your cuticles, to shave, or as a massage oil.
These are all standout offerings that deserve consideration for a spot in your skin-care regimen.  Or, perhaps you want to try some of the company's shower gels and bath soaps, or something from its home or baby collections.  Shipping is free on orders over $75, and you get free samples with your order.  Not a bad deal for great stuff.