My skin has always been one of my main concerns.  When I was younger, actually most of my life, acne was my big problem.  I tried everything to get rid of my acne, even if it wasn't proven to help.  I avoided greasy food, I never touched my face, I scrubbed it raw thinking it would finally get rid of all the evil oil, and I never EVER thought about rubbing oil all over my face.
Luckily, I've grown older and wiser and I know most of those habits probably contributed to a lot of my skin problems.  I've been making the change to more natural beauty products, so when I got the chance to try a few products from The Jojoba Company, I jumped on it.
The Jojoba Company is an Australian based company that produces an entire line of vegan skin and beauty products.  The company was started by Ian Turner in 2008 after he had been planting jojoba on his family farm for over a decade.  Together with his daughter, he created an entire skin line that uses 100% jojoba oil and other all-natural, vegan ingredients.
I go to try their 100% Natural Australian Jojoba and 100% Natural Jojoba Lip Balm.  Spoiler alert: I absolutely love both of these products!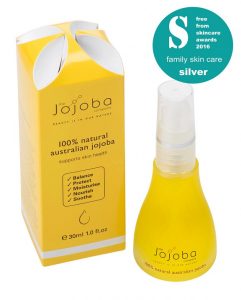 I'll start with the Jojoba oil.  A 2.9 fl oz bottle costs $29.95 and it's literally only jojoba oil, no other ingredients, fillers, preservatives, or additives.  If you don't know much about jojoba, here are a few facts I found interesting:
It isn't actually an "oil" but a wax ester which is a key component of our skin.  Because of this, skin recognizes jojoba as it's own and absorbs it more deeply than any other moisturizer.
Naturally rich in vitamins A, D, and E which are all important for hydrated skin.
Jojoba not only hydrates skin, but smooths lines and stretch marks, balances imperfections, softens scars, minimizes blemishes, and soothes irritations.  It can even be used on hair to hydrate and add smoothness and shine.
You can see that jojoba oil is pretty much a powerhouse when it comes to good skin.  I've been using it right after I get out of the shower in the morning and I've noticed my skin is brighter and smoother.  Even with harsh winter winds, my skin has stayed supple.
The lip balm I tried was also amazing. A .35 oz tin cost $9.95, which might seem high but this balm is worth it.  I find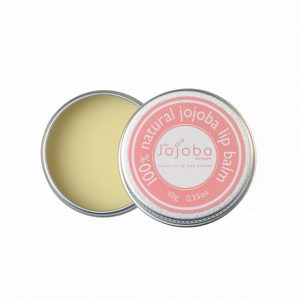 that most chapsticks actually make my lips MORE chapped which entirely defeats the purpose!  The 100% Natural Jojoba Lip Balm is entirely vegan and made with jojoba, coconut oil, Kakadu plum, castor oil, candelilla wax (instead of bee's wax), and safflower oil.  All of these ingredients help hydrate your lips and protects them from harsh elements. Again, cold winter wind was no match for this balm and I find myself putting it on once in the morning and enjoying moisturized and protected lips all day.
You can find more skin products on their website such as cleansers, exfoliators, masks, moisturizers, and even a line that is safe for your baby.  You can also search for products based on your needs like blemish control, redness reduction, pigmentation control.  I urge you try this company for all of your skin needs because they make quality products that actually help improve your skin!
And who doesn't want that?