Finding body care that is both certified vegan and organic can prove an exhausting challenge.  Luckily, I recently got my hands on the Surya Brasil brand, certified vegan and organic hair and skin care with a cruelty-free guarantee by PETA!  Sustainably farmed native botanical ingredients from the Amazon fill Surya Brasil products without excess damage to the environment.  Hair and skin care come in products ranging from hair coloring and treatment to a men's line to lip balm. The Surya Brasil brand has earned awards in Brazil, Europe, and the U.S., including selection as one of Better Nutrition magazine's Best of Natural Beauty Award Winners in 2010.
I tried a variety of their products–mostly in the Amazônia Preciosa line–like shampoo, conditioner, hand soap, massage oil, and others.  These products each had distinctly earthy, nutty fragrances and felt naturally light.  Here's a couple of my favorites: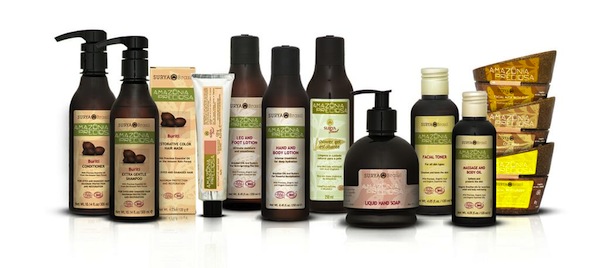 Facial Toner
Acne has never attacked my face too mercilessly, but I have definite problem areas.  Recently–who knows by what; weather, stress?–my forehead has fallen victim to ever-present blemishes and bumps regardless of my facial care routine.  I do not utilize toner too often and figured I had nothing to lose by trying Surya Brasil facial toner before my moisturizer.  It did wonders!  My skin's impurities retreated and natural radiance restored.  Needless to say, I'm a convert to Surya Brasil facial toner.  It's now part of my permanent routine.  Plus, it smells faintly of aloe and citrus rather than the alcohol smell of most other toners.
Hand and Body Lotion
This product applies light and is a refreshing addition to my hand and body moisturizers.  The soft hydrating formula made my skin feel silky and is ideal for an all-over daily lotion.  An interesting aspect of this product that I love is that it separates if I don't use it for a few days (so does the shampoo and conditioner).  I love this because it proves that what I am putting on my skin is natural.  A product whose main ingredient is water ought to separate naturally.  The separation made me even more confident of its organic and vegan certifications.  Just don't forget to shake it up every once in awhile.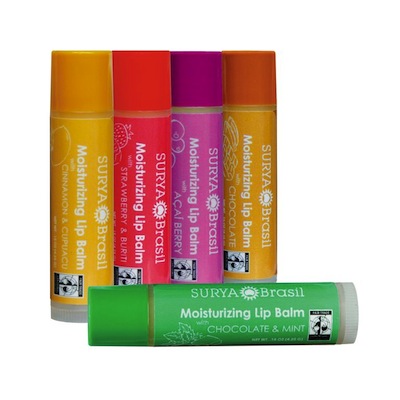 Lip Balm
Truly vegan lip balm?  Finally!  I'm sure that anyone who has tried to search for vegan lip balm can share in my frustrations with the search.  Lip balm is harder than any other body care item for me to find in a vegan variety.  Many labels claim "no animal ingredients"/ "cruelty-free" yet list beeswax as the first ingredient. Surya Brasil lip balms come in 5 flavors and uses candelilla vegetable wax with certified fair trade cocoa butter to nourish lips. I am still deciding on my favorite flavor, but I'm currently loving the chocolate & mint.
Surya Brasil hair and skin care products make it easy to shop vegan.  They are not only explicitly labeled certified organic, vegan, and cruelty-free; but they also feel like vegan products.  They are light in texture and fragrance, making you experience the earthy, natural elements of your product.  These products make you feel healthy and natural and welcome you to "detox your beauty."