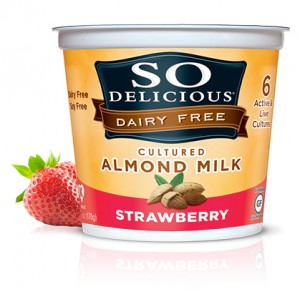 In the early days of my veganism, there were only two choices of plant milks – soy or rice. (I remember the girl who was checking me out at the health food store once asking if it was milk made from rice or milk that was supposed to be used to cook rice.) Dairy-free dairy products have come a long way since then, with milks being made from everything from coconut and flax to oats and cashews. Vegan yogurts, creamers, ice creams, and frozen dessert bars were pretty much unheard of back then, so when I find myself in the dairy area of the grocery store, I'm usually in awe of the vegan choices we have now. So Delicious has been a leader in perfecting dairy-free "dairy" products. They recently launched two new tasty almond milk products, and they were kind enough to send me some to try.
I was never a big fan of dairy yogurt in my omnivore days, but I do like vegan yogurt now. The So Delicious Dairy-Free Cultured Almond Milk "yogurts" are creamy, and, well… so delicious! These tasty little cups are full of calcium and probiotics, and they make for an excellent breakfast or snack. They are lower in calories, sugar, and sodium than their dairy counterparts. They come in five flavors: plain, blueberry, strawberry, vanilla, and my personal favorite – chocolate.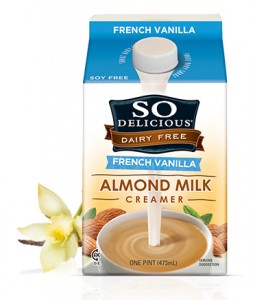 I'm not much of a coffee drinker, but after pulling the So Delicious Almond Milk Creamers out of the delivery box, I had a hankering of a cup of joe. I didn't actually have any coffee in the house at the time, so I had to make do with herbal coffee substitute (which is just as good in my opinion!). I've since picked up a few bottles of cold-brewed coffee, and I've been making afternoon iced coffees. With a supply of Almond Milk Creamers at the ready, I could get myself hooked on lattes! The creamers come in original and French vanilla and are the perfect accompaniment to your morning brew. They're gluten-free, soy-free, oil-free, and a much healthier alternative to cow's milk creamer.
So Delicious products are always non-gmo certified and certified vegan. Because they are 100% plant-based, they area also hormone free, dairy free, egg free, and cholesterol free. The new almond milk products are also free of carrageenan.
So Delicious is kindly offering two free product coupons to one lucky Chic Vegan winner! Follow the instructions below to enter. U.S. residents only, please. Contest ends at midnight eastern time on Wednesday, September 17, 2014. Good luck!
a Rafflecopter giveaway