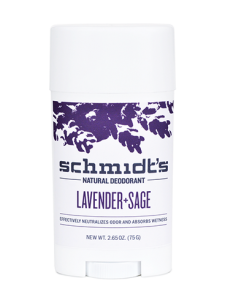 I have a confession to make. I sweat. A lot. And I get stinky.
I am a pitta in the ayurvedic theory. If you know anything about ayurveda, you'll know that pittas are know for having a fiery constitution. I can break a sweat and begin to stink just sitting at my desk if the temperature goes above 72 degrees, so I don't even want to talk about what happens when I exercise. I'm always trying new deodorants. I like to stick to the natural ones, because I hate putting chemicals on my skin, but in the hot months they just don't cut it, and I find myself in the deodorant aisle of the local CVS looking for the least offensive of the drugstore brands. (And they don't always work to well either.)
When Schmidt's Natural Deodorant asked if I was interested in trying their new sticks, I jumped at the opportunity. I've tried their deodorant jars before, and I had pretty good success with them, but I didn't really like applying them with my fingers.
As the name suggests, Schmidt's Natural Deodorants are made with natural ingredients, such as arrowroot, coconut oil, shea butter, and essential oils. They don't contain any of the nasty stuff, like aluminum, propylene glycol, parabens and phthalates, because you don't really want to be putting chemicals onto delicate areas of your skin. They're also free of animal ingredients, and they're never tested on animals. It doesn't surprise me that Schmidt's deodorants are made in Portland, the vegan capital of the US.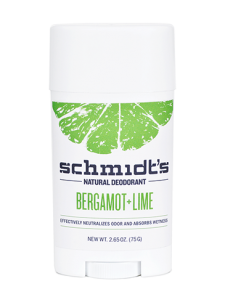 I've been using Schmidt's Lavender & Sage Stick Deodorant for several weeks now, and I'm happy to report that the only scents I've been able to detect on myself are lavender and sage. The application is easy, because it's in stick form, and even though it is white, I haven't noticed any deodorant streaks on my clothing. The stick also has antiperspirant qualities to it, as I haven't been sweaty or sticky either.
Schmidt's Natural Deodorant Sticks are also available in Ylang-Ylang & Calendula, Cedar Wood & Juniper, and Bergamot & Lime (which I plan to try next). There's also a fragrance free stick as well. If you can't decide which scent to try, Schmidt's has a 5-Pack that includes one of each. Their jar deodorants are still available, and they come in the same scents as the sticks. You can purchase their deodorants on the Schmidt's website, or look for it in a health food store near you.