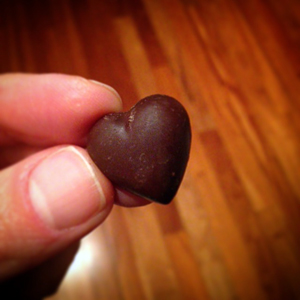 I've said it before and I'll say it again: one of the best things I discovered when I went vegan is that chocolate is a naturally-vegan product because it comes from a plant–the cocoa bean to be exact. How much do I love that not only did I discover an abundant, compassionate lifestyle, but I get to have my chocolate and eat it, too! That's why I was absolutely giddy over the opportunity to review Rawmio's raw chocolate treats.
I was sent their Mini Chocolate Truffle Cake, the Super Trail Mix Raw Chocolate Bark, the Organic Gourmet Sprouted Almond and Sea Salt Raw Chocolate Bark, Orange Chocolate Hearts, Mint Chocolate Hearts, and Chocolate Covered Figs. Everything was fabulous, delicious, and I can't say enough how much I enjoyed every morsel of chocolate I nibbled on. (There are even more products on their website, so be sure to check them out!)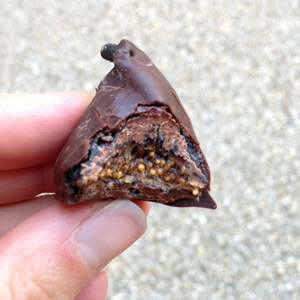 All of Rawmio's products are carefully stoneground to a wonderfully smooth chocolate consistency. I've had stoneground chocolate before and if it isn't ground smoothly enough, it can taste gritty. This was not the case with Rawmio's finely crafted sweets. And because these chocolates are sourced from the best organic and raw ingredients, many of the natural health benefits of chocolate are preserved in every bite. I also love that part of Rawmio's mission is to "support small farms and villages both domestic and beyond." As a vegan who cares not only about the animals, but about my health and the environment, I feel really good about choosing Rawmio chocolates, as well as the fact that they are a recommended chocolate on the Food Empowerment Project's Chocolate List.
It's hard to choose a favorite out of the bunch of samples I was sent, but I can't deny there were a few not-to-be-missed goodies I want to tell you about. First off, the chocolate covered figs were fantastic. I love figs, so if you want to go ahead and pour some chocolate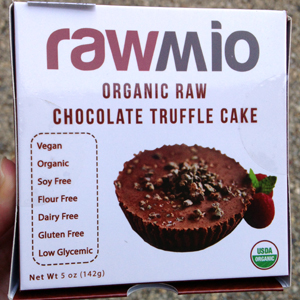 over them, fine by me!
Secondly, the chocolate truffle cake–omg! This mini, raw cake is a little bigger than the palm of your hand, which may sound small for a cake, but its dense, rich flavor is sure to satisfy even when you share it among friends. (Disclaimer: No, I didn't share this cake; I totally polished it off proudly all by myself, teehee.)
Even though I'm a lover of cake, raw or not, my absolute favorite product was the Super Trail Mix Raw Chocolate Bark. Firstly, it was so beautiful. One side had an artisan design stamped into the bar with the Rawmio logo and the other side is completely sprinkled with nuts, seeds and bright, colorful dried fruits such as goji berries, mulberries, and pumpkin seeds. The smoothness of the raw chocolate, the crunch of the nuts, and the soft chewiness of the dried fruits made for an incredible combination.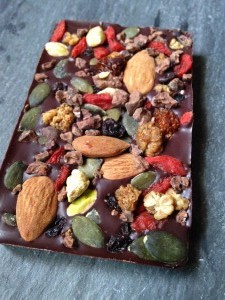 Whether you come across some of the Rawmio products on the shelves of your local health foods store or order them online, I promise you will love whatever you can get your hands on. I hope you'll give them a try and treat yourself to some delectable chocolate!
To purchase Rawmio products, visit: http://www.rawguru.com/store/rawmio-raw-chocolate/ Use the coupon code RACHIC20 for 20% off all Rawmio treats at RawGuru.com.