In pursuit of the most ethical, compassionate, and both body and planet-friendly options available, many vegans do their best to avoid animal products in everything that they purchase and consume, such as food, clothing, beauty products, toiletries, etc. Furthermore, most of us vegans try to avoid products that have harmed or exploited animals at some point in the manufacturing process as much as we can, such as cosmetics that have been tested on animals.
"Veganic" products—a term that I had never heard of until a few weeks ago—are rooted in these principles of eliminating animal products in favor of more natural, less harmful options. Simply put, veganic products are organic crops grown without the use of any animal by-products, such as animal-derived fertilizers. By using plant-based fertilizers from organic sources, veganic products are not exposed to antibiotics and chemicals (often given to the animals that animal-based fertilizers are derived from) and are a safe, ethical, and "true to Mother Nature" option for both vegan and non-vegan shoppers.
Why the long explanation about what veganic is? Because I was recently given the chance to review several products from One Degree Organic Foods, a company that is committed to providing the highest quality veganic breads, flours, and grains available. From what I researched about the company, One Degree Organic Foods is genuinely committed to upholding their philosophy of offering pure and simple foods, and running their business transparently. First off, they offer a lot of information for consumers about the definition and benefits of veganic crops, and only use ingredients sourced from the best veganic farms "grown responsibly by people with integrity." The aim is to make their products as sustainable as possible by keeping the final product close to the original source in terms of ingredients used and their relationships with the growers. In addition, consumers can explore the website to find out about many of the farms that One Degree Organic Foods partners with. Furthermore, in efforts to make information readily available, One Degree Organic Foods allows consumers to scan a QR code on their packaging to reveal not only the contents and nutritional information of that particular item, but the origin and grower of each individual ingredient!
In terms of brand philosophy and values, I'm sold. But how do the actual products stack up? One Degree Organic Foods was kind enough to send me sample loaves of both their Lentil Grain Bread and Sesame Sunflower Bread. I decided to put these breads to the test by using them to make my favorite bread-y concoctions, as well as trying them in forms that I thought other Chic Vegans might enjoy. The following are my general impressions:
Test 1: Plain bread
I love anything sunflower and/or sesame, so I was most excited to try out One Degree Organic Foods' Sesame Sunflower Bread first. I find this bread to be fluffy with a mild and faintly sweet taste. The Lentil Grain Bread is heartier, has a more distinctive crust, and all in all tastes quite traditional. I did not make out the taste of actual lentils, for better or for worse. You can tell that both varieties are packed full of grainy goodness, and the slices are definitely quite filling. It's not the kind of bread you would mindlessly eat half a loaf of while watching your favorite show, nor one that a child would necessarily favor (in other words…it tastes quite healthy!), but pretty solid in my book.
Test 2: Toasted, with almond butter and banana
This is one of my favorite breakfasts/snacks to have. I prefer to use bread that is fairly dense so that it holds the bananas up well. When toasted, One Degree Organic Foods' breads definitely gets my approval. The bread is somewhat porous, making it a great vessel for the almond butter, and both the slight sweetness of the Sesame Sunflower and the oats in the Lentil Grain make for pleasant yet subtle complements to the toppings. I like the Sesame Sunflower slightly better for this combination.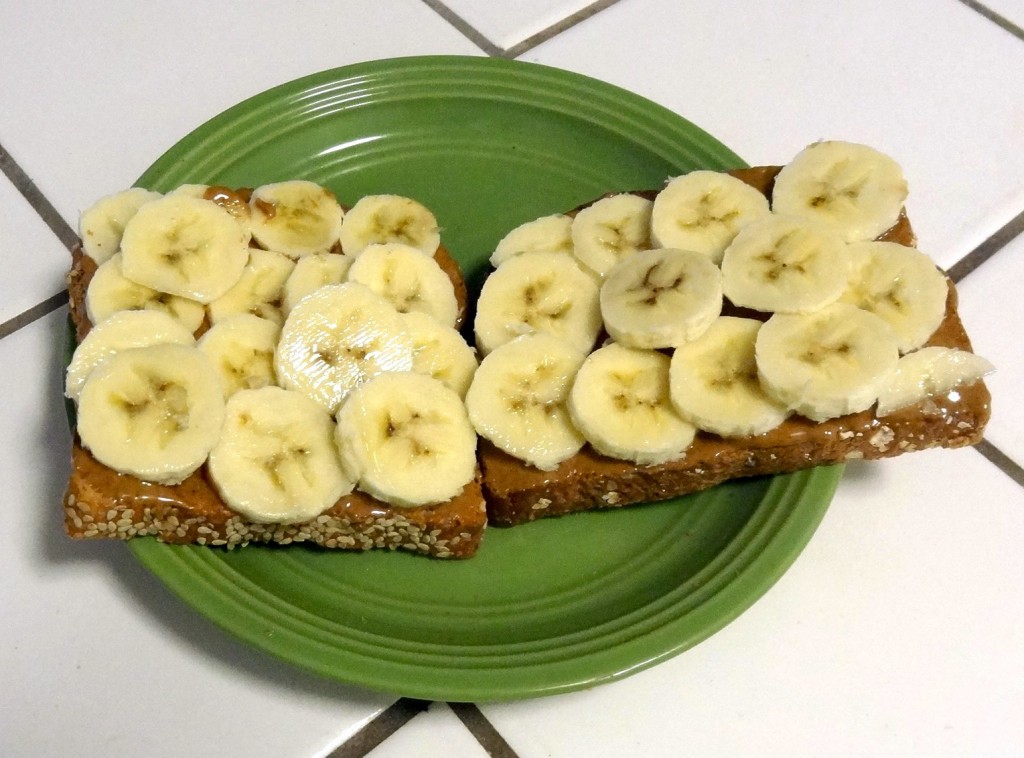 Test 3: Toasted, with Earth Balance and avocado (as a side for tofu scramble!)
Aaah…avocado: Mother Nature's butter, and a great topping for toast. I wanted to make my go-to avocado toast as a crunchy side for a breakfast tofu scramble, so used both flavors of bread to test out avocado spread, Earth Balance spread, and a combination of the two. The overall meal was quite fantastic, though the bread did get a little soggy from being next to the tofu.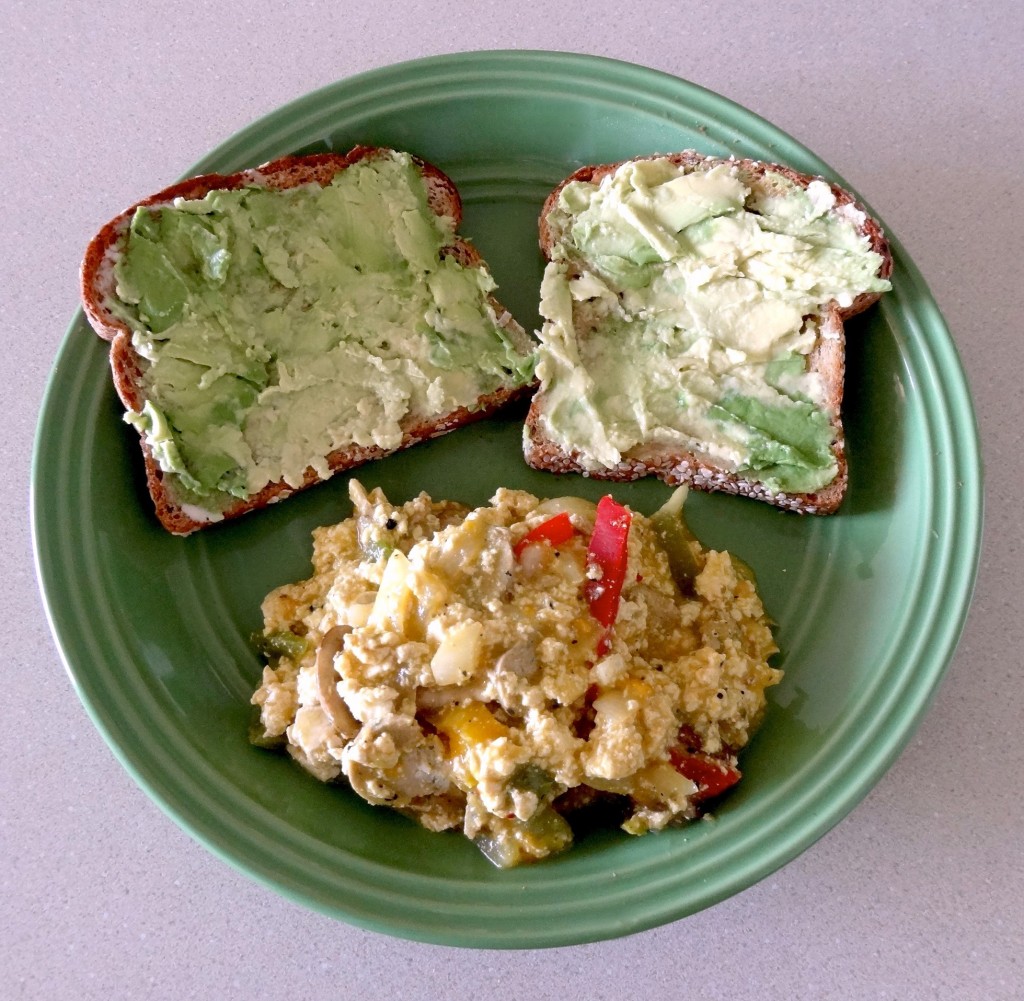 Test 4: Untoasted sandwich, with lots of flavors
The bread really holds its own! I tend to pile a lot of toppings on my sandwiches, sometimes with multiple flavor pairings (think pesto on one slice, and garlic rosemary vegan mayo on the other!), so the mild flavor of the One Degree Organics Bread does not detract from my preferred sandwich arrangements at all. In fact, its awesome texture accentuated the sandwich-eating experience, being just the right amount of softness for sandwich bread. Big thumbs up.
Test 5: Grilled sandwich
Another win! As the picture I took proves, this bread is able to hold a lot in while teetering on that perfect line between fluffy and toasty. The Lentil Grain Bread really shined here, though I can't quite put my finger on why. I didn't dwell on it too much, though…I had a sandwich to devour!
Bottom Line: 
I definitely recommend checking out One Degree Organic Foods bread, especially for making sandwiches. I must admit that, for me, the taste of the bread on its own was nothing especially impressive, but this did not deter it from doing well on my "tests." What is undeniably impressive is the company's commitment to veganic ingredients, small farms, transparency, and well-being for their customers and the planet. For the ethically-minded Chic Vegan looking to make an even more conscientious statement with her purchases, or anyone who appreciates simple, clean ingredients, One Degree Organic Foods' bread varieties are tasty, versatile options worth exploring.