Scrumptious snacks that fuel.
After
trying to find an on-the-go, veggie-based snack that was nutrient dense, Lindsay Williambrown decided to make her own.  Munchos! Raw Snacks are the fruits, or veggies in this case, of those labors.
These snacks have a lot going for them.  They are vegan, raw, seasonal, locally sourced, and help support small farmers who are using sustainable farming techniques.  In a snack world where kale chips dominate the vegetable snack market, these snacks are a tasty breath of fresh air.
I got to try out a few of these snacks and I have to say I am fairly impressed.  In my little sample pack, I got their Sweet Hotties, Skinny Irishman Chips, Hard-Livin' No Bull Jerky, and Carob Yammie Flatcakes.
I have to say my favorite ones were the Hard-Livin' No Bull Jerky.  It is made with a mix of root vegetables that might include sunchoke, daikon, and or potato, and then it has lemon, garlic, coconut oil, Himalayan salt, liquid aminos, peanut oil, and spices.  The vegetables really do have a jerky-like taste to them and because they are raw have the same chewy texture that you would find in regular jerky.  The Skinny Irishman chips were also really good with potato, cabbage, lemon, coconut oil, Himalayan salt, liquid aminos, and salt.  These ones are a little crunchier than the jerky but not the same as your typical chip.  I liked the addition of cabbage and it just goes to show that kale doesn't have to be the only leafy green you can turn into a chip!
The Carob Yammie Flatcakes were a little different than the other snacks I tried.  It is made with sweet potato, dates, cider vinegar, citrus, ginger, horseradish, coconut oil, sesame oil, grapeseed oil, carob, Himalayan salt, and spices.  I was expecting it to be a little sweeter than it was, and it was very chewy.  It wasn't my favorite, but I did like trying something a little different.
If you like super spicy snacks, then the Sweet Hotties are for you.  These snacks are made with root vegetables including carrot, sweet potato, beet, acorn and/or butternut squash, cider vinegar, orange, coconut oil, Himalayan salt, and spices.  The heat doesn't hit you right away but by the time I swallowed my first bite my mouth was on fire!  I'm not a huge spicy fan, but my husband had a few and they didn't seem to sear is mouth as much as mine.  So, if you're looking for a super hot snack you will like these.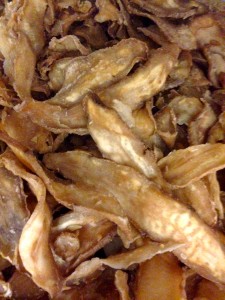 These snacks are very different than what you are going to find on the shelves right now.  I like the fact that they cater to a large variety of eaters.  It can be difficult to find something that meets the needs of everyone and these ones get pretty close.  While they aren't verified gluten-free, I didn't experience any discomfort as a gluten intolerant person, but if you have to avoid gluten for health purposes I would proceed with caution.  Munchos! Raw Snacks have an intense flavor that might take some getting used to.  I liked that they had a lot of flavor, but I couldn't eat too many in one sitting, which is a good thing!
In addition to the flavors I got to try, they have Salt and Vinegar, Parsnip Leek Cumin Chips, and Tater Chao Chips.  I would love to try the Salt and Vinegar ones!  If you are looking for a snack that not only gives you a ton of flavor but will help fuel you through your day, then try out Munchos! Raw Snacks.  Each 1.5 oz bag is $6.00 and comes individually packaged.  If you want to learn more about their farmers and where they get their local ingredients you can check out their website.
So if you're ready for some delicious and healthy snacks, grab a bag of Munchos! Raw Snacks!