We want to be beautiful without harming our planet, our bodies or our future says La Bella Figura, and I think Chic Vegan readers will agree.
It's ironic that much of the multi-billion dollar "beauty" industry has a dark side that relies on the exploitation of animals through animal testing and/or using animal ingredients in products—how is that supposed to make us feel beautiful? Fortunately, there are companies like La Bella Figura who produce high-end, luxurious beauty care that are fabulous for both you and the animals.
La Bella Figura products are crafted from raw, organic materials sourced from non-gmo resources. As often as possible, the ingredients are cold pressed, ice pressed, and unheated. They even grow some of their own herbs and flowers in a community garden for their extracts. They take their craft very seriously in order to produce pure, unprocessed, unrefined and gentle products.
I was able to test out multiple items from their skin care line that included the Gentle Enzyme Cleanser, Modern Radiance Concentrate, Daily Elements Defense Free Radical Fighter, Skin Revitalizer, and the new Elysian Fields Hair and Body Hydro-Essence.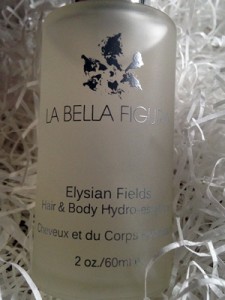 My favorite product was the Elysian Fields Hair and Body Hydro-Essence. I would add a few spritzes to my hair after styling to give it a light, summery scent and a bit of shine before my work day. Some days I even sprayed it on my arms in lieu of perfume. The Gentle Enzyme Cleanser was my next favorite product as it works like a cold cream in that you don't have to wet your face first to remove your make-up. Even when I was wearing foundation, powder, blush, eye shadow, eye liner, and mascara, the cleanser was very effective in removing all my makeup. However, unlike a cold cream the enzyme cleanser doesn't feel heavy and greasy in your hands or on your face. It left my skin feeling clean, light and moisturized.
I live in Maryland where we've been experiencing some pretty humid weather—which isn't great for my acne-prone skin. I had to be careful about layering on the Modern Radiance Concentrate and Daily Elements Defense Free Radical Fighter after using the cleanser. That level of application was too much for my skin type, but that doesn't mean these products aren't absolutely divine! I can see how they will be quite hydrating in the winter months, or moisturing year-round for anyone who has normal, dry or maturing skin. And because of the clean ingredient list, La Bella Figura products would be gentle enough for sensitive skin as well.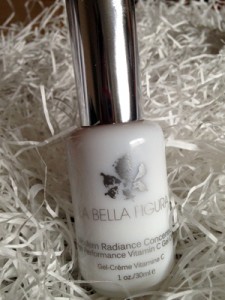 As I mentioned, La Bella Figura is a high-quality line and not your buy-it-at-Target type of product. The products come in sophisticated glass bottles (no yucky plastics!) and will last you quite a while. Each pump or spritz of a bottle delivers the perfect amount of product to get the job done.
In addition to the products I tried, La Bella Figura also offers perfumes and makeup which is free from talc, corn, soy, beeswax, coconut, parabens, synthetic lake dyes, chemical preservatives, and GMOs. So if you're looking for vegan, cruelty-free make-up and skin care, look no further! Best of all, you can order their products online and treat yourself to the same pampering I was able to experience.