Do you love local, organic, natural and pure ingredients in your food? So then why not make it a priority when it comes to your beauty products? Thankfully there are options out there for you that can make you feel as good about your beauty products as you do about the food you eat. One of them is Gourmet Body Treats!
Gourmet Body Treats is an entirely cruelty free and vegan line of small batch skincare, hair care and cosmetics based out of Texas. They take a very strong stance against GMOs and harmful ingredients such as SLS, SLES, phthalates and other common ingredients found in beauty products. Every ingredient is organic, natural and locally harvested. Plus their packaging is either glass or recyclable plastic, helping reduce overall waste.
Recently I was provided some products from Gourmet Body Treats to try, with a little bit of everything!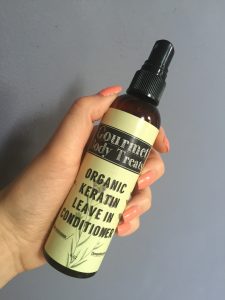 Keratin Leave In Hair Conditioner ($19)
My hair isn't particularly dry or damaged, but I do color it from time to time and eventually the ends of my hair get rough in between haircuts. I don't usually use leave-in treatments since they tend to make my scalp really oily. Welp, I've been proven wrong.
The Gourmet Body Treat's Keratin Leave In Conditioner is the leave-in I've been waiting for my whole life! It's a clear, non-sticky spray and has amazing ingredients like quinoa protein, aloe vera gel and green tea extract. After I use this I get so many compliments on my hair. One of my friends gushed over how shiny my hair looked my first time trying it, so I was hooked right away.
When applying I concentrate the spray on my ends, and it doesn't leave my hair feeling greasy or oily in the slightest. I think you'd like this even if you have oily hair and you're looking for some extra strength and shine. This is easily my favorite product from Gourmet Body Treats of the ones I've tried, and you're talking to a chick who rarely finds hair care she loves!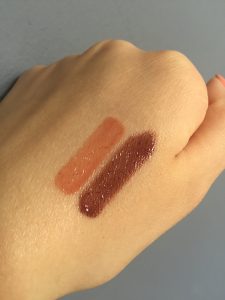 Lip Glosses (Melon & Vixen) ($11/each)
Usually I avoid glosses since it just brings me back to my middle school days with sticky and shimmery lips that haunt me in old photos. Once again, Gourmet Body Treats is proving my initial instincts wrong!
The two glosses I tried were absolutely dreamy – Vixen is a deep plum and Melon is a peachy nude. Both are fairly sheer and provide a nice wash of color that would bring together any dewy, spring look – plus the formula is not sticky! Personally I like these layered on top of a lipstick or lip pencil to provide some shine and depth.
As with all of Gourmet Body Treats' products, the glosses have stellar organic and natural ingredients. Bonus – your lips will get a boost of hydration wearing these delicious shades.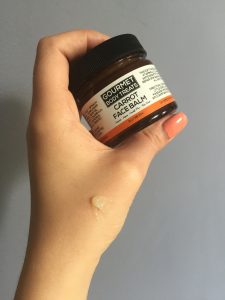 Carrot Face Balm ($28)
I was really intrigued by this product with ingredients like kale, spinach and carrot oil – it sounded more like a salad than a facial moisturizer. Turns out this face balm is ultra moisturizing and luxurious. Trust me, a little bit goes a long way. My face felt so nourished after I used it!
Unfortunately I won't continue to use this as I have oily and acneic skin and it's too heavy (especially moving into the summer months). However, if you have normal, dry, sensitive or mature skin this face balm could work great for you! Plus, it can double as a makeup remover or primer underneath foundation.
Overall I'd say I loved the Gourmet Body Treats products I tried. The ingredients are so pure and natural that you can truly feel good about what you're using. They also have a rewards program where when you spend  you earn back points that you can  use for free items!
Have you tried Gourmet Body Treats? Share the products you've tried and your thoughts in the comments!
These products were provided for my consideration but all opinions are my own.