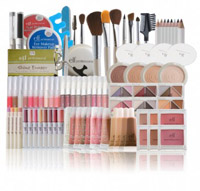 No, they were not bought out by Nordstrom and in turn selling everything for the low, low price of $1 each. Everything is ALWAYS a buck at eyeslipsface.com , and absolutely fabulous to boot.
I had the pleasure of falling for this internet urban legend and discovered
a wonderful line of cheap, cruelty free, quality cosmetics.
Review Time!
Natural Radiance Blusher – I'm pretty much thrilled that this
ended up being THE PERFECT shade for my complexion (Glow). It requires a little
bit more application than most blushes, but otherwise it is perfect.
Brightening Eye Liner – Nice and simple pencil liner. Goes on smooth, and the color is very bright.
Plumping Lip Glaze – It plumps.. sorta. I noticed a slight difference but nobody else really did. It is very glossy and the color is nice and subtle. Warning: some people experience intense tingling and even burning with this product.. I did not. If you have that type of reaction to similar products, I would avoid using this.
Nail Polish – Love, love, love, love, love! First off…. this
nail polish is Toluene, Formaldehyde, and Dibutyl Phthalate (DBP) free. It
contains no animal ingredients or testing (obviously). It does not have a strong
chemical smell like most nail polishes. The polish on my toes have not chipped
or scratched at all, and I applied the polish over 2 weeks ago. (These are
summer feet too!) I have been waiting my whole life for nail polish like this!
Brightening Eye Color – Eh.. The color is kinda weak and it's
not very long lasting. The eye color is good for a neutral day of makeup, but
most definitely not if you are trying to make an impact.
Although my overall experience with Eyes Lips and Face was pretty excellent,
there were some drawbacks. My order did not arrive until over a month after
I ordered it. However, I had received emails of apology informing me that my
order would be delayed. I assume that they are understaffed for the amount
of orders being placed. (Time to do some hiring, peoples!!!) If you are planning
on placing an order I would suggest not ordering anything you need ASAP and
be prepared to wait a bit for your order to arrive.
Also, the package size for everything is very small, but seriously, everything
is a dollar: buy 10!!
To order some cheap, makeupy goodness go here: http://www.eyeslipsface.com
**Product Review was updated due to new info on product ingredients. Please take this list into consideration when buying. I apologize if this has caused any cosmetic hardship.
Animal Derived ingredients in following products:
Earth and water mascara- beeswax
Shielding gloss – beeswax
Tone Correcting Concealer – beeswax
Soothing Gloss – beeswax
Shielding hydro tint – beeswax
Hypershine Lip Gloss – beeswax
Lip Elements- beeswax
Eye Elements-beeswax
Brushes all but below excluded -animal hair
Vegan Friendly
Foundation brush
Eyelash & brow Wand
Brow Comb + Brush
Smudge Eye Brush
Wet Gloss Lash & Brow Clear Mascara
Feather Proof Moisturizing Long Wear Lip Liner
Color Protection Nail Lacquer
Brightening Eye Liner
Face Elements
Brightening Eye Color
New Moisture Care Lip Color
Therapeutic Conditioning Balm
Plumping Lip Glaze
Super Glossy Lip Shine SPF 15
Natural Radiance Blusher
Clarifying Pressed Powder
Shimmering Facial Whip
Brightening Eye Liner
Nail Block
Nail File Set
Toe Separators
Nail Polish Remover Pads
Mirror
Blending Wedges
Powder Puffs
Eye Shadow applicators
Eye Lash Curler
Makeup cases
Eye Makeup Remover Pads
Nail Polish Remover Pads
Healthy Glow Bronzing Powder
Shine Eraser
Slant Tweezer