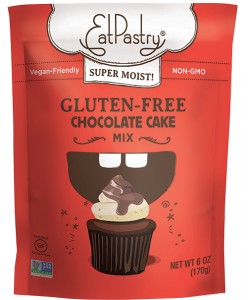 Eat Pastry.  I love that name.  And I usually have a container of the company's yummy cookie dough in my refrigerator. Just in case I need a hot cookie or a spoonful of dough.  So when the company recently offered to send Chic Vegan some samples of their new gluten-free baking mixes, I was eager to try them out.
First, a little background.  Eat Pastry is a vegan-owned and operated business.  While the products are not certified organic, they use select organic ingredients.  Everything is 100 percent vegan, non-GMO Verified and made in a Gluten-Free Certified Facility.  Impressive.
I tried three of the new mixes.  Here's my impression of each: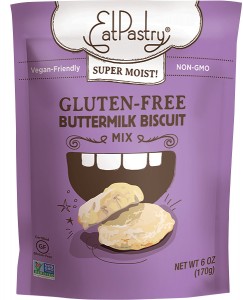 Chocolate Chip Muffin.  This was my least favorite of the three.  The chocolate chips all sank to the bottom and I had a hard time getting the muffins out of the tin.  They tasted OK, but they weren't very good muffins overall.  Perhaps some ingredient tweaking is in order.  Note that they offer a plain muffin mix, which might be a better choice.
Buttermilk Biscuits.  I love biscuits.  I especially love them plain and hot out of the oven.  I've made them for years and I know how easy it is to overcook them, so I was especially careful to watch the time on these.  Good call.  They were yummy.  A tiny bit grainy, but nice and doughy overall.  I would buy this mix again.
Chocolate Cake.  This was the best of the three and a winner all around.  It made a cute little cake (you can also make cupcakes) that tasted great.  My husband, who isn't remotely vegan and who loves anything sweet, tried a piece and loved it, too.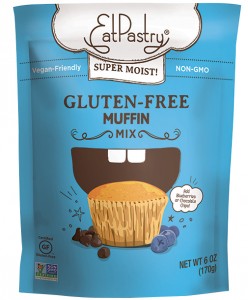 By the way, the batter for each mix was tasty on its own.  Raw batter – isn't that one of the perks of being vegan?
The mixes are all simple and only require the addition of oil and non-dairy milk.  You can dress them up as much as you want (the boxes have some suggestions).  They would be handy if you need a quick treat and they would also be great additions to a gluten-free care package.  Start with the chocolate cake.  You'll like it!