I recently had the opportunity to sample a number of shea butter based skincare products from Beurre.  In short, I loved them!  Read on to find out more about each one.
Essentiel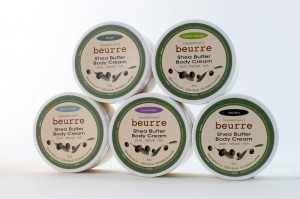 This is Beurre's line of shea butter body creams.  It comes in a variety of fragrances: Vanilla, Lavender, Sage, Lemongrass, and Unscented.  I had a chance to sample all of these (except for Unscented) and they are all great.  The scent is very light and pleasant, and not overpowering at all.  The vanilla was my favorite!
I was definitely impressed by the texture of the product.  It is somewhere between a paste and a cream, but spreads on super-smoothly and has a luxurious, silky feel on the skin.  While it does feel a little greasy at first, it soaks in within a few minutes, leaving only a smooth, soft feel.  I typically use it right after showering and then wait a few minutes before getting dressed, but one day I was in a rush and got dressed almost immediately, and was pleased to find that there were no ill effects to my clothes from doing so.
I have to say, this is a really great moisturizing cream for the body.  It has definitely been a great way to combat any and all dryness, and the moisturizing effect really lasts!  Even if I accidentally forget to use it for a day, my skin still feels smooth and hydrated.  It has also been an absolute godsend for treating the terrible winter-fueled alligator skin on my hands (even now that it's April, the lingering cold where I live still has me reaching for this on a daily basis).  The relief is immediate, and after only 2-3 days, that scaly skin is completely gone!
Visage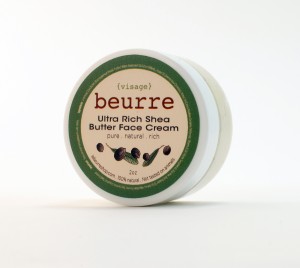 I am in love with this and it was my favorite of all the products I tried.  It has a lighter texture than the body cream (a little more like a mousse), smells beautiful (my husband even commented on it!), and has completely changed the way the skin on my face feels.  Despite using a daily moisturizer, my skin had lately been feeling tight and sometimes dry and itchy.  Using Beurre face cream before bed has ended that.  In addition, unlike the body cream, it soaks in immediately with no greasiness, so it's perfect as a night cream.  I've already ordered more through Beurre's online shop.
Baume
Beurre's shea butter lip balm comes in a convenient little canister.  It is in solid form inside, but converts easily into spreadable balm once you run your finger around it.  This is a very mild, unoffensive balm. It leaves the lips feeling covered and protected but avoids that greased-up feeling that lip balms can sometimes give.   It has no detectable fragrance or flavor, which I appreciate.  After using it for 4 or 5 days, my lips were noticeably softer.
One word of warning: this stuff WILL melt in a warm environment.  I had it in my purse during a recent 2-day trip to Florida (where the temperature was in the mid-80s) and it definitely liquefied.  However, it's worth noting that there was no spillage whatsoever (meaning that the canister is very secure!).  Once summer hits here in the northeast, though, I will be keeping this in air-conditioned environments only.
Overall, I have been extremely impressed with the Beurre products and will definitely continue to use them, especially the Visage.  Their online shop is super-easy to use, the delivery time is quick, and the customer service is great too!