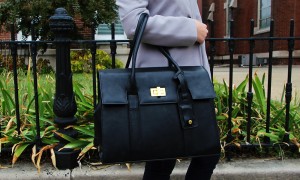 The new trend is to downsize your life and live with the bare minimum of things that "bring you joy".   Carry a small purse, travel with necessities only and only have in your closet what you actually wear.
As an Image Consultant, I understand and agree with that.  However, some of us are on the go and need to have various things with us at all times.  I, for example, live in New York City and don't have (or need) a car. I travel around the city for business and social events most days of the week. I usually need to have my laptop with me, as well my smart phone, back up batteries and all the power cords. Not to mention my wallet, keys and makeup.  Sometimes I need to bring lunch and snacks, supplies for a presentation or a change of shoes. That's just my reality.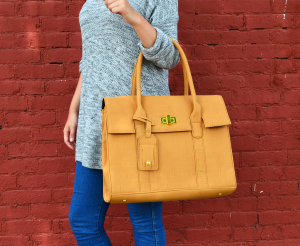 I don't like traditional briefcases, and backpacks are not my style.  But carrying both a large purse and a laptop bag is not efficient and doesn't look great. I've been dreaming of a handbag that could hold everything I need and I wouldn't have to awkwardly fish around for a pen or my phone or other smaller items that get lost at the bottom of a large bag. But, of course, I need to have something that suits my personal style and is ethically made.  No matter where I go, I want to feel fabulous and not weighed down. I also want to know that no animals were harmed to make any product I own.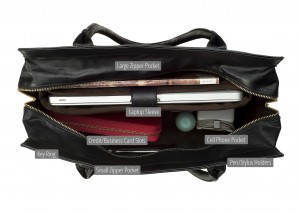 Graceship has come up with an excellent solution!  Their Laptop Purse is light, roomy, compartmentalized and around the same size as my other tote bags. It is designed for the fashion forward with class, using animal free and sustainable materials.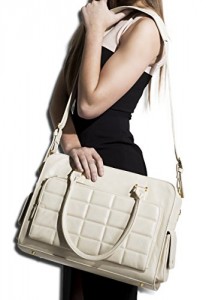 I love my "London" style bag, in black.  It also comes in a very stylish camel color.  The "New York" bag also comes in black (of course).  The new "Hong Kong" design comes in a creamy, light color called "stone", with an extra front pocket and elongated shoulder strap.  They all have a soft, chocolate colored lining, so nothing gets scratched.  The external material is scratch resistant and the gold hardware is a perfect finishing touch.  There is something for every discerning and sophisticated taste!
Graceship is designed by Emily Gimmel, who has worked as an entertainment reporter.  She really understands what a professional woman on the go needs.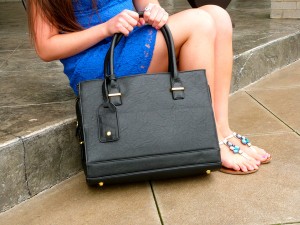 Graceship bags are Vegan Certified by PETA and Fair Trade Certified by the Fair Trade Federation. They are also certified by the Women's Business & Enterprise National Council where at least  51% of the company is owned, operated and controlled by women. The $175 price point is completely reasonable for this durable, fabulous, ethical product.  This Fashionista Compassionista, looks forward to using it proudly, for a long time.
If you think I carry a lot of stuff, check out this video to see how much it can really hold! Watch here
Find Graceship products at: www.thegraceship.com, Facebook , Twitter and Instagram