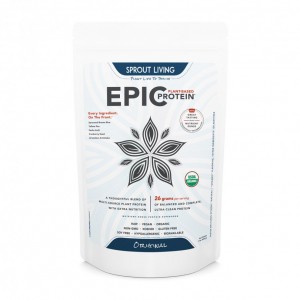 I know a little about a lot of things but one of the few things where I'd really consider myself an expert would be plant-based proteins.  Vegan protein powders are part of one, sometimes two, of my mails every single day. It's safe to say that I go through a lot of protein powder. When I had the opportunity to review Epic Protein, I jumped at the chance. Although I have my favorite brands and flavors, I'm always interested in trying new ones.
I opted to sample the Original flavor made from: sprouted brown rice, yellow pea, sacha inchi, cranberry seed, and jerusalem artichoke. They come in four unique flavors:  Original, Green Kingdom, Chocolate Maca, Vanilla Lucuma. One serving of the Original protein powder has 26 grams of protein! Low in carbs and fat, it's one of the best ratios I've ever found in plant based protein. It's also raw, vegan, non-gmo, organic, gluten free, nut free, and kosher! Each tub has 14 servings and costs $29.95, which is a pretty average price compared to other plant-based proteins.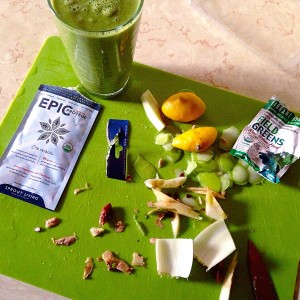 While flavor is an important factor for me, I have to admit that I can probably stand some flavors/brand over others because they might be more affordable or are closer to the macronutrients I'm trying to hit.  I decided to test Epic Protein powder the three ways I'd normally consumer protein: pancakes, smoothie or just with water. 
First, I made a gorgeous smoothie of celery, kale, pineapple, green apple, ginger, dates, lemon, water and the protein. The worst thing about this smoothie is that I drank it all way too quickly because it was delicious! I wanted more, more, more, more. Granted, the ingredients themselves are tasty and refreshing but I think the protein added a subtle layer of thickness. Also, people tend to add protein to smoothies and are surprised by the way it changes the flavor which can be drastic if you don't pick the right powder. Not all protein powders are created equal! Some just do not work in the blender, while others taste better in baking or alone.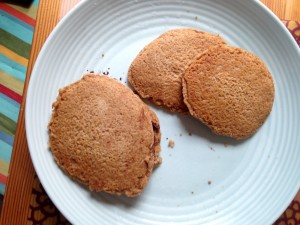 Which is my the next way I tried Epic Protein was just with some chilled almond milk. I'll admit that I would never, ever try the Original with just almond milk again. It was really bitter and just awful and, like I said, a lot of times I'll sacrifice flavor for efficiency but I just couldn't get past that awful taste. It might be better to try one of the other flavors with just water or almond milk but the Original flavor did not work.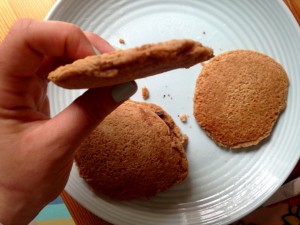 Needless to say, I was a little bit nervous about my last packet of powder. So far, Original Epic Protein was tied 1-1 and the nutritional value and price were giving it a bit of an edge but I just couldn't get that awful taste out of my mouth! I saved the best for last though: protein pancakes! A classic in my household and I've made enough of them to know which brands work and which don't. I used my simple 4 ingredient protein pancake recipe.  The flavor was just okay but since I don't sweeten my pancakes with anything, they do tend to be a little bland. Again, one of the other flavors might have worked better but I usually end up sweetening my pancakes with really amazing toppings or good old syrup. What I was really looking for though, was would they hold up? Sometimes certain protein powders just don't cook up and can fall apart, leaving you with a big pile of raw mush, really a bummer. The pancakes held together well, were fast cooking and I loved knowing that I was indulging a little bit but still eating something that would keep me full and strong.
It was interesting the way the protein didn't work when just mixed with almond milk because the other two ways I tried it (pancakes and a smoothie) turned out great. I'm not sure specifically what changed when incorporating other ingredients but I would absolutely use Epic Protein in baking or smoothies. In fact, I just ran out out of protein this morning so it's time to place an order!