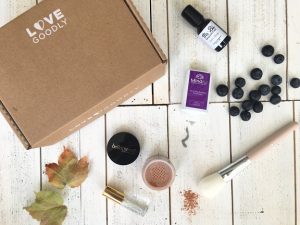 I know I say this almost every time I do a Love Goodly review, but this just might be one of my favorite boxes.  I have used the products in this one almost every day, especially the blush (insert heart-eye emoji), and they all work amazingly!
If you haven't heard of Love Goodly, they are a bi-monthly subscription box that introduces you to amazing health and beauty products.  Every item you get is non-toxic, cruelty-free, organic, non-GMO, eco-friendly, and vegan.  Pretty much, you're getting high-quality products you can feel good about using!  Also, each box purchased helps support their charity partner Farm Sanctuary.  Amazing products and supporting animals? Win.
Let's dive right in and see what this month's Love Goodly box has!
Belle Pierre Blush Autumn Glow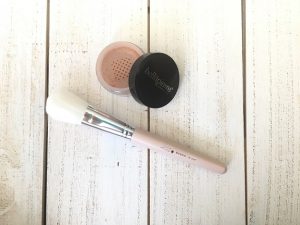 I'm starting with my favorite product in this box because I have seriously used it every day since I got it!  I hardly ever wear makeup since I work from home and I don't feel the need to impress my cats or husband anymore.  But I loved how this blush made me look sun-kissed and shimmery and it's made it into my very minimal morning routine.  Just a little swipe is all it takes and it lasts all day.  The color is flattering on pretty much all skin tones, either as a healthy glow for lighter skin or luminous highlight for darker skin.  Even better is that is made from cruelty-free and vegan ingredients that don't upset sensitive skin!
100% Pure Blush Brush
Super glad that the good folks at Love Goodly realized that I wouldn't have a blush brush of my own and included one in this box!  But this isn't just your run of the mill blush brush.  It is made of antibacterial synthetic fibers so it is kind to the animals and your skin.  I'm no expert on makeup application, but I like to pretend I'm a pro as I swirl, tap, and swipe my blush on with this brush.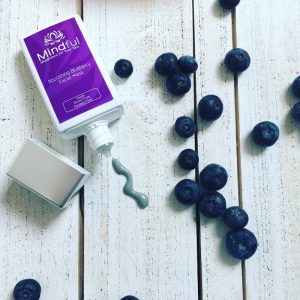 Mindful Skincare Blueberry Mask
I don't know if it's the changing seasons or what, but my skin has been freaking out lately.  I've been trying different face masks each weekend to see if I can help calm it down and wouldn't you know?  Love Goodly sent a great one just in the nick of time.  First, this mask smells DELICIOUS.  Like, I have to stop myself from licking my face after I put it on.  It also leaves my skin feeling refreshed and hydrated and I have noticed a little clearer.  It's made from ingredients like organic aloe vera, green tea, vegan Hyaluronic Acid, and of course, organic blueberries.
Mr. B's Neccessities Calm Aromatherapy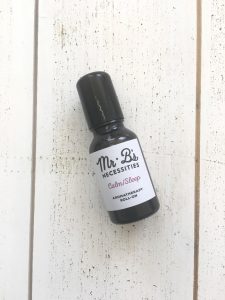 I'm already a huge fan of essential oils and have a diffuser going 24/7 in my apartment.  It's amazing how certain oils can energize you or calm you down.  I usually spray a homemade concoction of lavender and rosemary over my pillow before I sleep, but I love this little roll-on.  It contains a blend of lavender, orange, spruce, almond, and jojoba oils and creates the perfect atmosphere for falling asleep.  I do a little swipe on my temples and neck, take a deep breath, and instantly feel a bit calmer.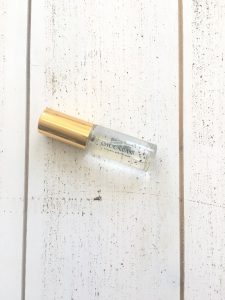 Moondani Mystic Mint Breath Spray
I'll be honest, I didn't expect much from this breath spray.  After I stopped buying and using traditional mints, gum, and breath strips/sprays a few years ago, I tried a few more natural versions.  They never worked.  The never lasted, tasted horrible, or were way too expensive to purchase regularly.  So my expectations were low when I tried this spray.  I used it before an appointment where I would be talking a lot and not once did I feel like my breath was bad.  I like that it is made with simple ingredients that I recognize like ginger, cardamom, and fennel and love that it actually works.  This one will become a constant in my purse!
Since October is breast cancer awareness month, the wonderful people at Love Goodly also included a handy door hanger that reminds you to check yourself.  The Keep A Breast Foundation created this hanger with the notion that prevention is the key to lowering your chances of having breast cancer.  The hanger gives you a step by step process to check your breasts as well as simple tips on what to do if you find any abnormalities.  This is currently in my bathroom and I'm proud to say it's reminded me to check every day!
If you want to get in on the Love Goodly fun (and you totally should), each bi-monthly box is $29.95.  That's a total deal because most boxes have a value of over $100.  You can also shop for individual products through the Love Goodly site and get the items you loved from each box.
Thanks again to Love Goodly for making another awesome box!
SaveSave