Helsinki calling! (What? Where? Check here!) Since this is my very first contribution for Chic Vegan I'd like to correct two common misconceptions about my home country Finland and its capital, Helsinki. Firstly; no, we don't have polar bears wandering around in the streets – in fact we have no polar bears at all! Secondly: yes, there is a thriving ethical and vegan fashion scene in Finland – if you just know where to look. To prove the latter I present you not one but two lovely Finnish ladies who design ethical and ecological fashion. (Can't prove the lack of polar bears though so you'll just have to take my word for it!)
Nordic style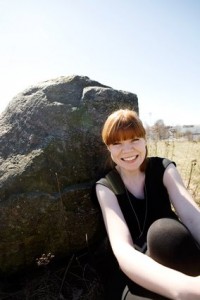 Anniina Nurmi is definitely a rising star in the ethical fashion world. After her graduation as a fashion designer in 2007 she went to work for a large Finnish clothes design company with "conventional" ethics – as in not much ethics at all. Since Anniina had been thinking green long before that (until recently she was joint-owner of an online organic grocery store) in 2010 she took the leap and started her own company, Nurmi Design. With Nurmi Design she lives true to her dream of designing ecological fair trade fashion that also looks good. Her favorite material might be organic hemp but her clothes are a far cry from the stereotypical eco-hippy look – we're talking more Carrie Bradshaw meets modern day Grace Kelly here!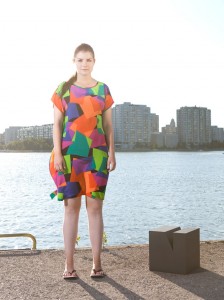 The Auli dress that is Anniina's favorite of the last summer's collection captivates the essence of Anniina's design idea. Auli is a cleverly cut classy dress made of textile industry waste material – the cloth had been abandoned for the last twenty years before Anniina discovered it. Result: a unique dress that is simple, stylish and sustainable. And modeled by non professional models since Anniina doesn't want Nurmi Design to reinforce the narrow and sometimes dangerous beauty ideals so often presented to us.
I for one am really looking forward to the launch of Nurmi Design's fall collection. And here's a good reason for you to be on the lookout too: using the code CHICVEGAN you get 20% off everything in the Nurmi Design online store. This offer is valid till the end of the year 2012 only so hurry up, sisters and brothers! (Do note though that even if most of the collection is vegan Anniina does use some non-vegan materials too. All the materials and the production chain are clearly spelled out in the webstore.)
Making green more pink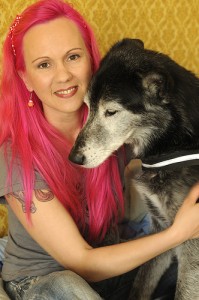 If Anniina's design is Nordicly classy and cool then this lady is somewhat more difficult to pigeonhole. Meet Raisa Kettunen, owner of all-vegan quirky accessory company Pinkkis, author of two vegan recipe books, mother of two children, carer of four rescued animals… Raisa tells us she gets her super-human energy from her healthy vegan diet and keeping active. Active she certainly is! She became an enterpreneur at an early age by selling sweeties to her class mates at school so that she could buy cool gear for her beloved Barbie dolls. Nowadays the stuff she sells is more of the eye candy variety, still sweet but always with a twist.
Raisa is passionate about all things vegan and wants to show both with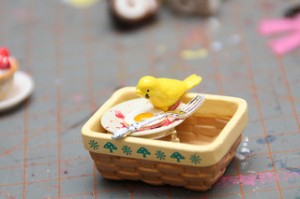 her books and designs that even if animal rights and environmental issues are a serious business, veganism doesn't necessarily have to be so. Raisa wants her Pinkkis products not only to reflect her ideology but also to be fun. So what do you get when you combine cuteness with criticism of animal exploitation? Answer: something weird and wonderful. Like this ring where a little bird cries after her baby. Or a brooch featuring a plump baby's arm on a dinner plate…
Raisa loves to use recycled materials for her pouches and jewelry when possible. She hunts and gathers from flea markets and thrift shops and also from the internet. If she buys new, it's most often something Japanese – after all, she got the inspiration for designing and making jewelry from weird Japanese doll house decorations. The skill for sewing and jewelry making is something she's mostly picked up along the way. She did study at some point to become a fashion designer but says that the studies only gave her serious hatred for sewing machines for several years. Luckily for us she recovered!
Pinkkis has been involved in a lot of charity projects over the years of its existence. If you are a member of an animal rights organization, Raisa usually offers a hefty discount from her products. For readers of Chic Vegan Raisa can give not only free postage but also a free mobile phone charm for each order using the discount code CHICVEGAN. Have a browse through her shop – your jewelry box will never be the same again!
That's it for this time folks! Next time we'll see what Nordic nature has to offer us hungry vegans at this time of year!