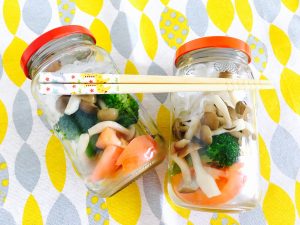 These cute jars of noodles are perfect for an afternoon lunch-in, especially if you, like me, work in a sub-zero freezing environment. The air-conditioning in my office is on full blast year round. (I suspect I am working wth polar bears.) Puffer jackets and fuzzy scarves are the norm despite it being 35 degrees celcius outside. And when I am too frozen up for my packed salads, I turn to these comforting handy pots of slurpy goodness.
You can put a whole variety of vegetables and condiments in these portable 'cup noodles' but I always turn to this Japanese inspired combination for its umami goodness. Prepared ahead, they can store well in the fridge for up to 4 days. You can add extra protein such as pan-fried tofu, chickpeas or edamame to them.
When ready to eat, just add hot water from the water dispenser or microwave a cup of water to pour into the jar. Stir to mix the condiments and enjoy!
Don't forget to give yourself a pat on the back, knowing that these 'cup noodles' are high in fiber and vitamins with none of the MSG like the ones in your office's pantry.
Miso Noodle pots to-go
Serves 2
Ingredients
1 packet shirataki noodles*
200 grams Japanese shimeiji mushrooms
1 cup broccoli
1 large tomato, cut into wedges
2 tablespoons miso paste
2 teaspoons of light soy sauce
Directions
Rinse Shirataki noodles 4-5 times to remove the residual package water.
In a saucepan, boil shimeiji mushrooms and broccoli for about 2-3 minutes. Drain and let cool.
Divide and place the tomatoes, broccoli, mushroom and lastly the shirataki noodles in a heat-proof glass jar.
Add soy sauce and miso to it.
To serve, add hot water, stir well and let sit for 3 minutes.
Viola!
*I use shirataki noodles here as they do not clump and are very low in calories. They are often called zero-calorie noodles. You can also use other varieties of noodles such as beehoon(rice noodles) or cooked ramen. Mixing in a teaspoon of sesame oil will prevent these noodles from sticking.