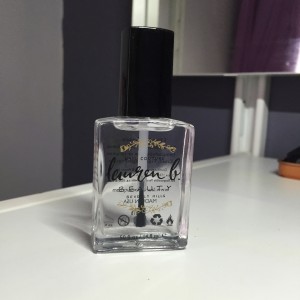 It's my favorite time of the month! The Petit Vour Beauty Box arrived at my doorstep and I'm so excited to use these goodies.
The Petit Vour beauty subscription box is $15/month with free shipping in the US. Each box is packed with 100% cruelty free, vegan and non-toxic products, with typically 1 full size and 3 sample sizes. You take a survey when you first sign up, and they'll use that info to help customize your boxes. There's always an amazing mix of skincare, makeup, body and hair care. I can always find at least 1 item I love in each box!
Lauren B. Beauty Dual Base/Top Coat (full size, $22)
This baby alone covers the entire cost of the box! Personally I've been struggling to find a vegan base and top coat that can handle my hands – typically I chip nail polish in just 1-2 days 🙊
So far this dual base/top coat has not disappointed. I've been wearing the same nail polish for the past 4-5 days and NO chipping – it's a miracle! The polish goes on evenly and it's not too thick or thin. Out of everything in this month's box, this one is probably my favorite.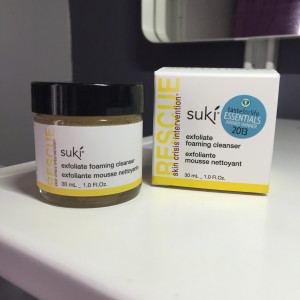 Suki Exfoliate Foaming Cleanser (deluxe sample, $11)
I love love love exfoliating my face! As someone with oily and acne prone skin, it's important to exfoliate regularly to get off dead skin. Otherwise dirt and oil to get trapped underneath, causing pimples. While I love exfoliating, I haven't tried a foaming exfoliator since going vegan, so I was super intrigued when I got this cleanser.
The Suki Exfoliate Foaming Cleanser smells amazing – just like fresh lemongrass! It wasn't too harsh on my skin, and the fine granules were very powerful. My skin felt so squeaky clean and soft after… I guess you could say I'm a fan 🙋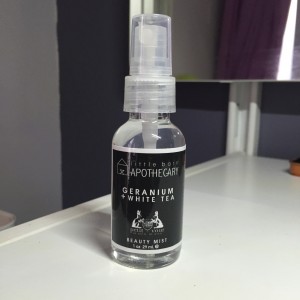 Little Barn Apothecary Geranium + White Tea Beauty Mist (deluxe sample, $8)
My first Petit Vour exclusive item since I subscribed! This mist smells lovely and is perfect if you're looking for a simple, gentle toner to add to your routine. It is a nice pick-me-up if your skin needs a hint of moisture during the day, too. The geranium oil is an astringent to tighten and tone, minimizing the effects of aging. It's also a stress reliever and mood booster, so try spritzing some if you're feeling a bit on-edge.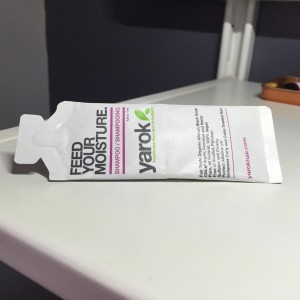 Yarok Feed Your Moisturize Shampoo (sample size, $1)
This is the only product in this month's box that I haven't tried yet, but I'm super excited to! Yarok is a vegan hair care line that I've been hearing about for months and months, and everyone seems to swear by the Feed Your Ends product. Hopefully this shampoo will live up to the hype!
This month's box including $42 worth of product for just $15 – what an amazing deal! Some subscribers got the Suki Purifying Mask instead of the exfoliator, but I'm happy with what I got. The Dual Base/Top Coat was probably my favorite this month since I know I'm going to be putting it to good use.
Do you subscribe to Petit Vour? Share your favorite item in this month's box in the comments!