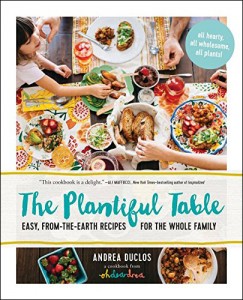 For food and lifestyle blogger Andrea Duclos (known as Drea to her friends and followers), "the good life" is a natural, plant-based one. But when she sits down with her husband and their young daughter, what's on the menu? The quick-to-make, tasty creations in her new cookbook The Plantiful Table!
In The Plentiful Table, you'll find comfort classics made vegan, such as Mac & Cheese and Shepherd's Pie, a world tour of flavors, from Garam Masala Pancakes to Bánh Mì Chay, as well as hearty one-pot dishes, festive Latin American fare, chocolaty treats, smoothies, and more!
This sunny, down-to-earth cookbook is proof that eating vegan doesn't mean taking options off the table. Throughout, Drea gives kid-friendly tips so that one meal can feed everyone. Plus, she takes the guesswork out of reviving leftovers. So, from Drea's family to yours—large or small, all-vegan or not—here are hearty meals straight from the earth, perfect for your happy home, every day!

Mac & Cheese
Serves 4 to 6
I could make this recipe one-handed, with my eyes closed. Marlowe probably could, too, with a little help with the chopping and cooking. I've improved upon this recipe throughout the years, and I'm pretty sure it's perfect at this point. When I cook for friends, 92 percent of the time they request this meal. This is great for me, because I could eat it every day. The most amazing thing about this recipe is not only that it's not bad for you, like a lot of mac and cheeses, but that it's actually pretty good for you! It's cholesterol-free (like every recipe in this plant-based cookbook), and it's also packed with protein and nutrient-filled vegetables. Don't let this health factor scare you away, though—I promise you, it's rich, creamy, and intensely comforting, making it a pleasure to sit down with a bowl.
Ingredients
One 14- to 16-ounce (397 to 454 g) package of your favorite pasta (we like to use shells for this)
2 carrots, chopped (about ¾ to 1 cup [96 to 128 g])
1 small onion, roughly chopped (about ¾ cup [120 g])
1 cup (205 g) roughly chopped butternut squash
1 medium to large potato (creamer or red; not a baking potato), roughly chopped (about 1½ cups [225 g])
3 to 3½ cups (700 to 825 ml) water
6 tablespoons dairy-free butter, divided
½ cup (60 g) raw cashews
1 garlic clove
Pinch of cayenne pepper (optional)
1 cup (160 g) nutritional yeast + extra for topping
1 tablespoon lemon juice
Salt and black pepper to taste
½ cup (50 g) fresh bread crumbs
Spicy smoked Spanish paprika to taste
Preparation
Place the mac and cheese in an oven-safe
Combine the sauce with the prepared pasta—add as much as you want. In my opinion? More sauce is better!
Mix in the lemon juice, then season with the salt and pepper.
Slowly add the leftover water from the simmered vegetables and blend until you create a velvety, "cheesy" sauce.
Add the cooked vegetables and the nutritional yeast and blend until fully incorporated.
In a blender, puree 5 tablespoons of the butter with the cashews, garlic, and cayenne, if using. If more liquid is required, slowly add a little water from the simmered vegetables to the mixture and puree until creamy. It's important to make sure the cashews are completely smooth.
Once boiling, reduce the heat down to a simmer and cook until all the vegetables are soft, about 10 to 15 minutes, depending on the size of the vegetables. Do not drain the water when they're done.
Place the carrots, onion, butternut squash, and potato in a large pot and fill it with enough water to cover all the vegetables. Bring to a boil.
Prepare the pasta according to the package directions and set aside.
Preheat the oven to 375°F (190°C).
Melt the remaining tablespoon of butter in a small pan over medium heat, then add the bread crumbs and lightly toast them for 1 to 2 minutes, tossing frequently, until golden.
Sprinkle the toasted bread crumbs over the pasta, then top with the paprika and a sprinkle of nutritional yeast.
Cover with aluminum foil and bake for 10 minutes. Remove the foil and broil for about a minute, until the top is golden brown.
Serve hot, and enjoy this creamy goodness!
Healthy Tip: Although this is already pretty good for you as far as mac and cheese goes, if you want to make an even healthier version, you can substitute cauliflower for the potato.
Tip For Leftovers: When possible, I like to put double or single portions of this mac and cheese in containers to freeze. That way, on the cold, rainy days when I don't want to think about feeding everyone, I can just set it on the counter to defrost for a few hours beforehand and then reheat. You can easily heat this back up on the stove—I like to warm a bit of almond milk, maybe ¼ cup (60 ml) or so, in a pot first and then add the defrosted pasta and a sprinkle of nutritional yeast to it, mixing everything as it heats. It becomes extra-creamy and delicious. Just be careful not to overcook the pasta, so it doesn't turn to mush!
Bonus Tip For Leftovers: Have leftover sauce? Great! Use it in quesadillas, nachos, or whatever else you might want to add a "cheesy" sauce to!
Recipe from The Plantiful Table: Easy, From-the-Earth Recipes for the Whole Family, copyright © Andrea Duclos, 2015. Reprinted by permission of the publisher, The Experiment. Photo by Andrea Duclos. Available wherever books are sold. theexperimentpublishing.com