We at Chic Vegan are always on the lookout for new and unique products.  As Chic Vegans, we not only want to look our best, we also want to purchase products that are cruelty-free.  If these products are also organic, that's a big plus.  Le Splendour fits the bill.
We recently interviewed the company's founder, Linh Le.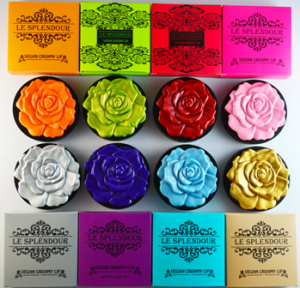 Chic Vegan – Tell us a little bit about the Le Splendour line and what inspired you to create it.
Linh Le – Le Splendour is a vegan skin care and cosmetics company. I have products for both men and women.  I have been vegetarian for many years and I like to use organic food and products. However, it was kind of difficult for me to find skincare and cosmetic products that are both vegan and organic. So, I decided to create my own skin care and cosmetics line.
Le Splendour creates an innovation where beauty and skin care become one, instantly enhancing your beauty with natural colors while moisturizing your skin. Our cosmetics are made in the U.S.A. and they are all naturally formulated, combining exquisite botanical colors and actives with rich nourishing vitamins.
Le Splendour products are Certified Organic.  They have been produced through approved methods. These methods integrate cultural, biological, and mechanical practices that foster cycling of resources, promote ecological balance, and conserve biodiversity. Synthetic fertilizers, sewage sludge, irradiation, and genetic engineering may not be used.  The products have also been certified Vegan by Vegan Action. Le Splendour does not test products or ingredients on animals, or use source materials and ingredients that have been tested on animals. Our products are made without beeswax, carmine, elastin, lactose, lanolin, silk derivitives, or tallow.
Finally, Le Splendour has been certified by the Green America's Green Business Network as an environmentally and social responsible business. We have adopted principles and practices that demonstrate a strong commitment to conserving the environment and supporting social justice.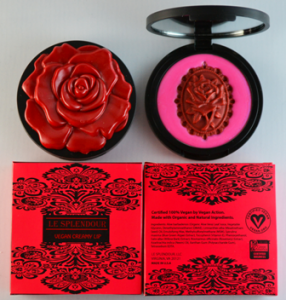 CV – What has been your biggest challenge?
LL – Since I started my business, there have been so many challenges.  I am constantly multi-tasking – creating products, designing packaging, advertising, and selling.  Whenever a show or festival comes, I have to work harder to prepare the products.  Even though I have a few employees to help me, I always feel pressed for time.  It's a work in progress.
CV – What is your favorite product in the line?
LL – My favorite products as well as many customers' favorite products are Vegan Eye Creme, Vegan Rosewater Facial Toner, and Vegan Facial Serum.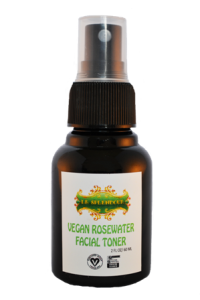 CV – In your wildest dreams what will your life look like in 5 years?
LL – In 5 years, I hope that I can expand my business and sell my products not only in U.S., but also in other countries. I would love to see everyone use vegan, natural and organic skin care & cosmetics products.
And now for a quick review of some of the products:
Organic Sheer Blush Powder and Organic Bronzer Powder.  Both of these went on smoothly and felt very light on my skin.  I'm personally not a fan of glittery powders, but the colors were very nice and subtle on my pale skin.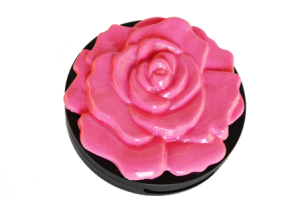 Organic Tightening Facial Toner and Vegan Rosewater Facial Toner.  I tried both for a few days each.  My favorite of the two, in fact my favorite of all of the products, was the rosewater toner.  This product is divine.  The smell is lovely and it feels wonderful on your skin.  If you have to pick one item, this is the one I recommend.
Vegan Eye Cream.  I really liked this, too.  There is a subtle, pretty scent.  It goes on smoothly and doesn't irritate your eyes.  I even accidently rubbed my eyes shortly after using the product and had no issues.
Vegan Lip Gloss.  A bit sticky, but stays on and feels nice.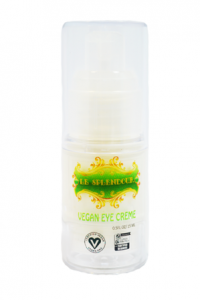 You can purchase Le Splendour products at www.lesplendour.com and also at Loving Hut, 2842 Rogers Drive, Falls Church, VA 22042.  Chic Vegan readers can take 20% off any purchase made before September 30, 2014, by using coupon code SUMMER20.