This delicate yet rich-tasting pumpkin spice cheeze-cake makes the perfect dessert for any fall or winter holiday event. Served with a generous dollop of vegan whipped cream, this cheeze-cake will be dressed to impress!

Pumpkin Spice Cheeze-Cake
Makes 8 to 10 servings / Ease Factor 3
Crust
1 3/4 cups vegan cookie crumbs (ginger cookies work well)
1/4 cup vegan margarine, melted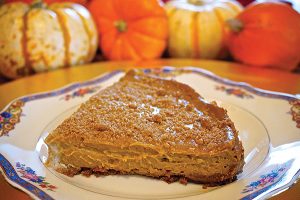 Filling
2 tablespoons rolled oats
14 to 16 ounces firm regular tofu
1 can (about 16 ounces) unsweetened pumpkin purée
2/3cup dark brown sugar
1 teaspoon vanilla extract
1 teaspoon ground cinnamon
¼ teaspoon allspice
Topping
3 tablespoons vegan cookie crumbs
Preparation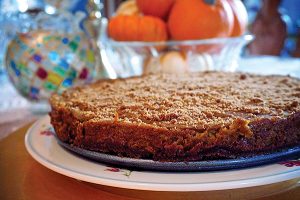 Preheat the oven to 350 degrees F. Liberally coat a 10-inch round springform pan with vegan margarine.
To make the crust, put 13⁄4 cups cookie crumbs and the melted margarine in a medium-sized bowl and mix with a fork until well combined. Pat the crumbs firmly into the bottom of the prepared pan. Bake the crust for 5 minutes. Remove from the oven and let cool 5 minutes.
To make the filling, put the rolled oats in a blender and process into coarse crumbs. Add the tofu, pumpkin purée, brown sugar, vanilla extract, cinnamon and allspice and process until smooth and creamy.
Pour the filling into the crust and bake for 30 to 35 minutes, or until firm to the touch. Remove the cake from the oven and place it on a wire rack. Cool for 15 minutes, then carefully run a table knife around the perimeter of the cake to ensure it does not stick to the side of the pan.
Sprinkle 3 tablespoons of cookie crumbs evenly over the top of the cake, gently pressing them into the top, so the crumbs adhere. Release the side of the springform pan to unmold.
Cover the cake very loosely and refrigerate 3 to 24 hours before serving. Serve with vegan whipped cream on the side, if desired. Covered tightly and stored in the refrigerator, leftover cheeze-cake will keep for about 2 days.
Recipe from Laura Theodore's Vegan-Ease: An Easy Guide to Enjoying a Plant-Based Diet © Laura Theodore (Jazzy Vegetarian, LLC 2015), reprinted by permission. Photo by David Kaplan.