This quick hummus is ready in five minutes flat! Rich, smooth and full of garlicky flavor, it's accented with the tangy taste of freshly squeezed lemon juice and a tiny bit of heat from the chili powder.

Lots of Garlic Hummus
Makes 4 servings / Ease Factor 1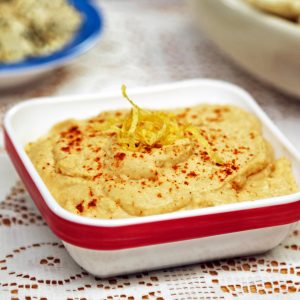 Ingredients
1 cup chickpeas (garbanzo beans), drained and rinsed
¼ cup plus 2 tablespoons filtered or spring water, plus more as needed
5 cloves garlic, chopped
2 tablespoons sesame tahini
2 tablespoons freshly squeezed lemon juice
½ teaspoon chili powder, plus more for garnish
¼ teaspoon sea salt
Preparation
Put all of the ingredients in a blender and process until smooth. Add a bit more water if needed to achieve desired consistency. Transfer the hummus to a pretty bowl and sprinkle the top with a pinch more chili powder, if desired, for a festive presentation.
Recipe from Laura Theodore's Vegan-Ease: An Easy Guide to Enjoying a Plant-Based Diet © Laura Theodore (Jazzy Vegetarian, LLC 2015), reprinted by permission.