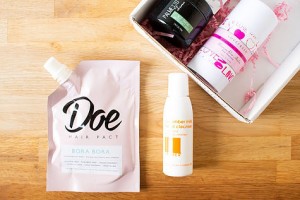 LaRitzy is a monthly subscription to some great beauty products! As always with LaRitzy, everything is 100% vegan and cruelty free!
The February box was fantastic!  There are 4 products this time, but they are full size and will last you quite a while.  As always, with LaRitzy everything is 100% vegan and cruelty free!  Let's look inside…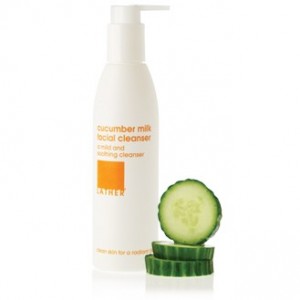 Lather Cucumber Milk Facial Cleanser: This non foaming facial wash is very creamy and gentle.  If your skin is sensitive or on the dry side, this will work well for you.  It contains cucumber and sea algae which cleanses well and has antioxidants to help prevent free radical damage caused by sun exposure and pollution. Sulfate- and paraben-free.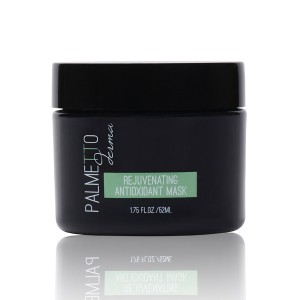 Palmetto Derma Rejuvinating Antioxidant Mask:  This clay mask is good for oily skin to help clear out your pores.  It also contains glycolic acid, which is great for exfoliating but be careful if your skin is sensitive. It does give a little tingle, so you know it's doing it's thing!  There was also a 20% discount code for future orders.  I love when that happens!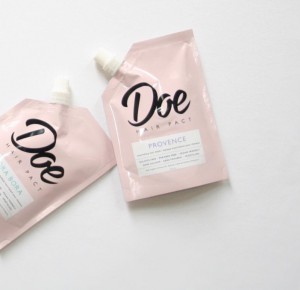 Doe Beauty Hair Pact Bora Bora nourishing hair mask:  This is enough for 4-5 applications on shoulder length hair.  My hair is very long, so I got 3 out of it.  It left my color treated and partially highlighted (bleached) hair soft and shiny.  The product is also sulfate & paraben free.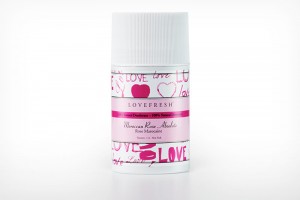 Love Fresh Moroccan Rose Absolute 100% Natural deodorant:  This Toronto-based luxury line of fun and natural beauty products includes this deodorant stick, which has a lovely, subtle scent.  The wax is coconut derived and contains baking soda to help keep you dry, as well as fresh, just where you need it ;-).
LaRitzy subscriptions are $24.99 a month and you get 4-5 full size products.  They also have a mini box with 2-3 full size products, for $14.99 a month.  All of the boxes are worth exponentially more, so it's always a great deal!
Sign up for LaRitzy at www.laritzy.com and follow them on Instagram at @laritzybox