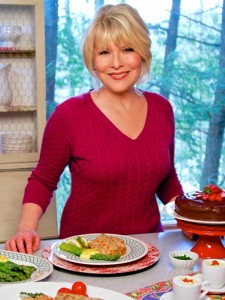 Healthy food lovers are in for a treat: Jazzy Vegetarian is back for a fourth season full of celebrity guests and celebratory meals. From easy brunch fare to a festive Thanksgiving feast, "Taste" award-winning host Laura Theodore—with help from celebrity guests like Ed Begley Jr.—shows viewers how to cook easy, great-tasting vegan food for family and friends. Season Four of Jazzy Vegetarian returns to public television September 1, 2014.
Fans of this highly successful series know that vegan chef Laura Theodore can turn any meal into a delicious special occasion. In season four, viewers will learn to make a portable picnic, a Mexican fiesta, and even a romantic Valentine's Day dinner. Each half-hour episode includes hands-on instruction and tasty tips for seasoned cooks and newcomers alike.
An expert celebrity guest joins Laura in every episode as well. We'll meet actor, director and environmentalist Ed Begley Jr.; "America's Piano Sensation" Jim Brickman; New York Times bestselling author Chef Del Sroufe; nutritional expert Dr. Pam Popper; nutrition research leader and co-author of the bestselling book The China Study, T. Colin Campbell, Ph.D.; and actress and environmentalist Rachelle Carson-Begley.
"Jazzy Vegetarian brings vegan comfort food mainstream in a very accessible way," says vegan actor Emily Deschanel, star of Fox TV's hit show Bones. "Who doesn't love comfort food? Dishes always taste even better when they are cruelty free!"
In 13 new episodes, Laura creates scrumptious entrées like Holiday Stuffing Casserole, Easy Burrito Bake and Butternut Squash Paella. Satisfying sides include Pear and Apple Breakfast Pizza, Chilled Avocado Soup and Kale with Creamy Walnut Sauce. And when sweet treats are in order, Laura highlights decadent and rich-tasting desserts like German Chocolate Cake, Strawberry Tartlets and Homemade Pumpkin Pie.
Tune in to Season Four of Jazzy Vegetarian to embrace healthy and delicious cooking served up with a jazzy twist!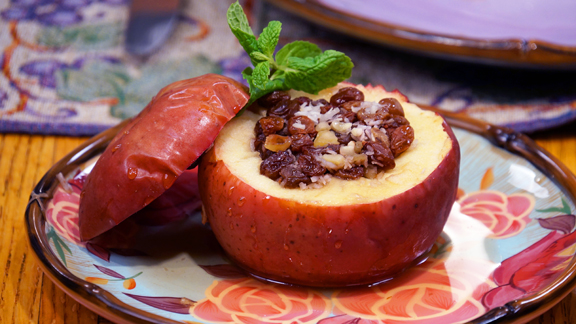 Baked Apples in Parchment
Makes 2 to 3 servings
These delectable baked beauties are kept moist and juicy by wrapping them in parchment before baking. The result is a mouthwatering, healthy dessert that doubles as a delightful breakfast treat! This recipe is featured in episode 404 of Jazzy Vegetarian.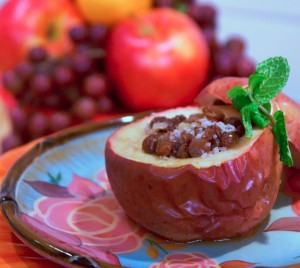 Ingredients
2 very large (or 3 medium) baking apples, such as Rome Beauty or Jonagold
5 heaping tablespoons raisins
1 tablespoon chopped walnuts
2 teaspoons raw unsweetened shredded dried coconut
2 tablespoons maple syrup
Preparation
Preheat the oven to 375 degrees F. Line a large loaf pan with unbleached parchment paper, leaving a 6-inch overhang of the paper on each of the lengthwise sides of the pan. Cut a 1/2-inch slice off the stem end of each apple and set aside.
Remove the cores to 1/4 inch of the bottom of the apples by using a paring knife to cut around the stem area, and then cut around the core. Use a teaspoon or serrated grapefruit spoon to dig out the core and seeds. Make the holes about 1 to 1 ¼ inches wide. (Alternatively, use an apple corer for coring the apples.)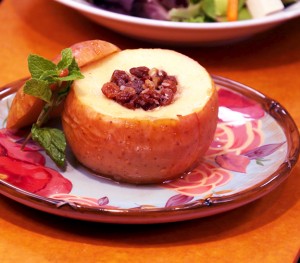 To make the filling, put the raisins, walnuts, coconut, and 2 teaspoons maple syrup in a small mixing bowl and stir to combine. Stuff each apple with the raisin filling, dividing it evenly between the apples. Brush the tops of the apples and stuffing with the remaining maple syrup using a pastry brush. Put the stem ends of the apples back on top of the apples. Carefully position the apples in the pan so they will remain upright while baking. Wrap the apples tightly in the parchment paper by pulling the excess paper over the apples and folding it together to firmly seal.
Bake for 45 to 50 minutes or until the apples are soft and the filling is bubbly. Let stand 20 minutes before serving. Serve warm, or cover tightly, refrigerate and serve cold.