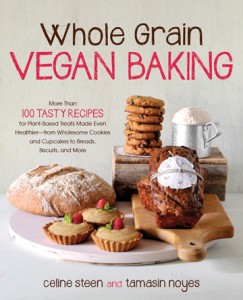 Tamasin Noyes, a long time vegan, grew up in a meat- and-potatoes family. After years of cookbook testing, Tami was honored to become an author herself. With her first book American Vegan Kitchen she established herself as an expert in the area of vegan comfort food. With recipes such as Beer-Battered Onion Rings, Southern Fried Seitan and Around-the-Clock Coffee Cake, American Vegan Kitchen is chock-full of veganized versions of the type of dishes you can find at diners and delis across the US. Her second cookbook was a collaboration with Celine Steen, and they tackled the ultimate of comfort foods – the sandwich. Vegan Sandwiches Save the Day is packed with 101 recipes for creative and tasty meals to be eaten between two slices of bread.
It seems that in recent days Tami has been one busy cookbook author, with not one, but two new cookbooks hitting the shelves. Whole Grain Vegan Baking is a collaboration between Tami and her Vegan Sandwiches Save the Day co-author Celine Steen. Grills Gone Vegan is a solo book Tami wrote in hopes that vegans will take back the grill from the meat-eaters of the world. (As a big fan of grilling, I can appreciate this!)
Tami is continually experimenting with ingredients and techniques that coax the most flavors from any dish. To her, cooking is the kindest form of nurturing for the planet as well as all of us who live on it.
CHIC VEGAN –  YOU'VE BEEN VEGAN FOR A WHILE. WHAT MOTIVATED YOU TO START EATING THIS WAY? WAS IT AN OVERNIGHT SWITCH OR MORE GRADUAL SHIFT?
Tamasin Noyes – I've been vegan for almost 10 years. It was gradual. I'd been vegetarian since 1980, and often ate vegan, but never really committed to it until 2004. I had made a mental connection to rejecting eggs and dairy but not a mental one until then. As soon as that happened it was easy. The "epiphany" was just "why am I eating this"?
CV – CAN YOU TELL US A LITTLE BIT ABOUT HOW YOU STARTED COOKING VEGAN FOOD AND WRITING COOKBOOKS?
TN – Around the same time I started my blog, I started doing recipe testing for other authors, such as Isa Chandra Moskowitz, Terry Hope Romero, Dynise Balcavage, Kelly Peloza, and Robin Robertson. It was the testing that really got me thinking about food more analytically, and then more creatively.
I was testing for Robin Robertson, and her husband became aware of my blog. At the time he was starting a publishing company and asked me if I'd be interested in doing a book.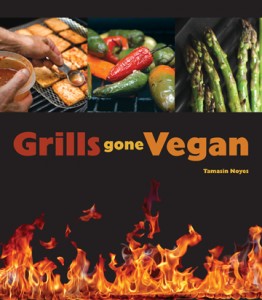 CV – CONGRATULATIONS ON YOUR TWO NEW COOKBOOKS! TELL ME A LITTLE BIT ABOUT GRILLS GONE VEGAN AND WHAT INSPIRED YOU TO WRITE IT.
TN – It was such an exciting thing for me to work with Book Pub Co. They are truly a pioneer in the American vegan movement, and published landmark books such as The Farm Cookbook and Tofu Cookery, and many more. So I was bouncing off the walls when they agreed to do Grills. Grilling has always been thought of so meat-centric. I really think it's time for vegans to take their own place at the grill! With that in mind, I started compiling recipes and ideas and before I knew it, I had the makings of a book.
CV – HOW DID WHOLE GRAIN VEGAN BAKING COME ABOUT?
TN – While I'd love to say that Celine and I came up with that theme, we didn't. The publisher (Fair Winds Press) did and we jumped on it when they approached us. Celine is very established with them and as a baker in general, and I was very happy she asked me along for the ride.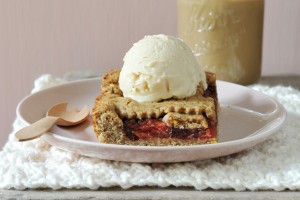 CV – IS THERE A DIFFERENT PROCESS FOR BOOK WRITING WHEN YOU'RE WORKING ON YOUR OWN VERSES WORKING WITH CELINE?
TN – Working with a partner is the best. It's like having a built in sounding board so brainstorming can be fast and furious, which helps us both think more outside the box. When I'm on my own, it tends to be a slower and more deliberate process. I come up with lots and lots of ideas, but then dismiss a good number of them. Celine also shines at photography, so she spurs my thinking on how to make food look more appealing.
CV – WHAT TIPS WOULD YOU GIVE TO NEW COOKS TRYING TO FIND THEIR WAY AROUND THE KITCHEN?
TN – The best tips I ever got are the same ones I'd pass on to others. Mike Crooker (What the Hell Does a Vegan Eat Anyway?) told me to just cook; cook all the time. The more you do it, the better you'll get. The other tip I got was from a chef friend who said the key to cooking is to master a few techniques, apply them to different foods, and you'll always eat well.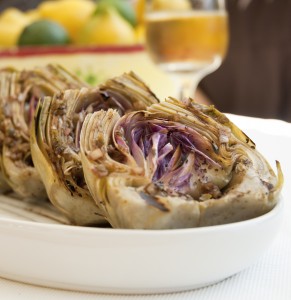 CV – DO YOU HAVE ANY ADVICE FOR ASPIRING COOKBOOK AUTHORS?
TN – Theme is everything. You need to start with a strong concept, and then think about how it can be expanded for broader appeal. Another thing is not to get knee-deep in text. Focus on the recipes, not the other text in the book. All publishers and editors are unique and have different style sheets and standards, as well as "feel". Be open to their ideas, but don't abandon your own either.
CV – YOU LIVE IN THE MID-WEST, WHICH IS USUALLY KNOWN AS MEAT AND POTATOES COUNTRY. IS IT DIFFICULT TO LIVE A VEGAN LIFESTYLE THERE?
TN – It used to be, but not so much now. You're right, it's still very much the land of meat and potatoes, and I'm sure that has shaped my style of cooking. I lean toward comfort food.
I live in a rural area, and there are 2 places we could eat in our county, not counting all the Subways. But because it's a rural area, the people at those two restaurants became our friends and worked with us to come up with dishes we could enjoy. Every time we head into Cleveland, it gets even easier to find vegan food. The ethnic places such as Indian and Ethiopian are our favorites.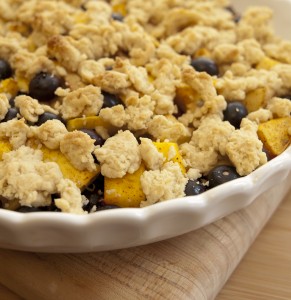 CV – DO YOU HAVE ANY FAVORITE DISHES FROM YOUR COOKBOOKS?
TN – Of course, but those favorites also change day to day. It's safe to say anything resembling a Reuben (I've got lots of versions) is always up there on the list.
CV – WHAT ONE FOOD COULD YOU NOT LIVE WITHOUT?
TN – Can I pick more of a category? It would be hot sauces. I love sambal olek, Sriracha, plain old American hot sauce, you name it. If I had to pick just one food, I guess it would garlic. But you add garlic to any hot sauce, and magic happens!