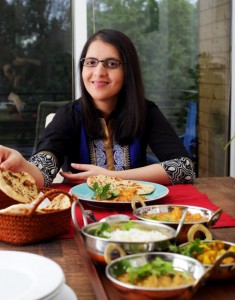 Richa Hingle is the prolific and award winning recipe developer, blog­ger, and photographer behind VeganRicha.com. She has a growing community of ardent followers who love making her recipes and shar­ing them with family and friends. Her brand new cookbook Vegan Richa's Indian Kitchen just came out yesterday, and I was fortunate to spend some time chatting with her about it.
Chic Vegan: What motivated you to become vegan? Was it an overnight switch or more gradual shift?
Richa Hingle: It was a slow switch over months. I was stuck at home recovering from surgery and not able to get back to my job. I adopted Chewie, our Pomeranian, from a rescue in 2008 to keep me company. After his adoption, I became a part of the rescue groups on Facebook to help with spreading awareness about adoption of shelter dogs. Around the same time I also started blogging about food (baked recipes) with phone pictures. I started reading vegan food blogs and about veganism because of some vegans who were a part of the dog rescue groups. I started with eliminating meats first and looking for dairy alternatives as we used dairy in various forms much more compared to meats. Meanwhile, I continued to read and watch videos to help answer my own questions about the transition. Eventually, I, and my home, went vegan.
CV: When people learn that you are vegan, what is the #1 question they ask and what is your response?
RH: What do you eat? 🙂 I just point them to my blog.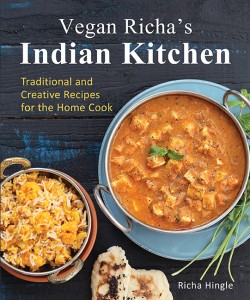 CV: Tell me a little bit about your new book Vegan Richa's Indian Kitchen and what inspired you to write it.
RH: Vegan Richa's Indian Kitchen has Indian food made accessible and simplified. If you love dals, would love to try chickpeas or lentils, find out what to do with chickpea flour, like rich curries, flatbreads, savory breakfasts, exotic desserts, and all flavors Indian, then this book is for you.
I am always asked for a print book on the blog and after speaking to some authors, I thought I should give it a try. I started developing recipes and concepts before thinking about committing to a date and somewhere along the way publishers approached me for a proposal. After a few iterations, we decided on an Indian cookbook with Vegan Heritage Press. I am Indian, so the food comes a lot more naturally to me. The book has been a fabulous journey for me as well in terms of learning about several regional cuisines, cooking techniques, spices and flavors. I hope everyone loves cooking through the book as much as I did.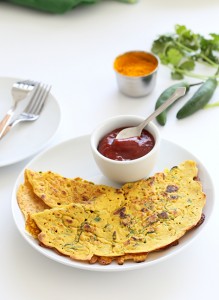 CV: Was it difficult to veganize traditional Indian dishes?
RH: It was easier to veganize most meals as Indian food is generally already vegetable and legume centric. Indian food celebrates vegetables and beans in various forms. The most difficult dishes to veganize are usually Indian desserts as they are heavily dairy dependent.
CV: What tips do you have for someone who's new to Indian cooking? (Other than to buy your book, of course!)
RH: Ha, yes of course buy the book! Indian cooking needs a good spice pantry. Spices are used to add layers of flavor to a lot of dishes, which will not taste the same without the spices. Invest in whole spices to be ready to start cooking. A lot of Indian spices are also used in other ethnic cuisines, so they will not go to waste.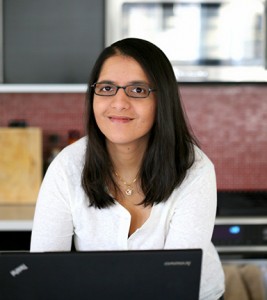 CV: When not eating Indian food, are there any other ethnic cuisines that you enjoy?
RH: Ethiopian, Mediterranean, I like my burgers and pizzas full of beans and veggies.
CV: What is your favorite vegan indulgence?
RH: A fudgy brownie, or fried Samosas.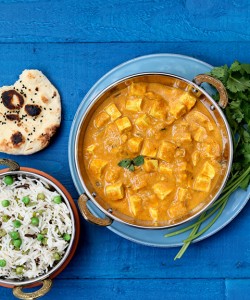 CV: What vegan product could you not live without?
RH: Not anything in particular, but the easy availability of non-dairy milk makes things simpler.
CV: In your wildest dreams what will your life look like in 5 years?
RH: No clue what so ever!