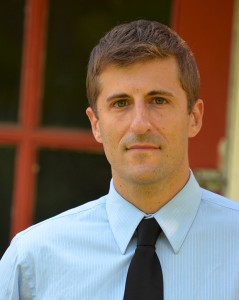 Nick Cooney is the author of Change Of Heart: What Psychology Can Teach Us About Spreading Social Change and Veganomics: The Surprising Science on What Motivates Vegetarians, from the Breakfast Table to the Bedroom. His new book How to be Great at Doing Good: Why Results Are What Count and How Smart Charity Can Change the World was just released in April, and it's a must read for activists.
He is Director of Education at Mercy For Animals, a national non-profit animal protection organization, and founder of The Humane League.
I recently had the opportunity to chat with Nick, and we talked about veganism, animal rights, and doing good.
Chic Vegan: What motivated you to become vegan? Was it an overnight switch or more gradual shift?
Nick Cooney: When I was 18 I read the book Animal Liberation by Peter Singer. It was the first time I'd ever seen or heard how farm animals are treated. I immediately went vegetarian, and then went vegan a few months later when I learned more about how egg-laying hens and dairy cows are also abused.
CV: When people learn that you are vegan, what is the #1 question they ask and what is your response?
NC: Hmm, I'm not sure – I feel like the most common response (and I had this just today with an Uber driver) is people saying they do eat meat, but try not to eat too much of it and don't like how animals are treated. I think we have a public that is growing in sympathy for vegan eating, although we have a lot of work to do to help make vegan eating easier and more appealing.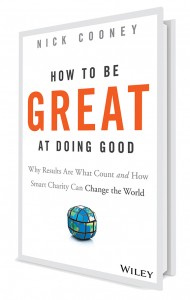 CV: Tell me a little bit about your new book How to be Great at Doing Good and what inspired you to write it.
NC: How To Be Great At Doing Good is about how to make smarter decisions when donating or volunteering for animal advocacy and vegan advocacy causes, or any other cause. It looks at how our brains try to trip us up and lead us toward bad charity decisions, and it discusses how so much of the advice we are told about how to "do good" is flat out wrong. It's a book that helps us think more clearly about how to not just do something good, but rather how to do the most good – for example, how to spare the greatest number of animals with the limited amount of time and money that each of us has.
I was inspired to write the book based on a mixture of disappointment and optimism. On the one hand, I have for years been disappointed that so much of the money that goes toward helping animals is, you could say, wasted. Not wasted in the sense that it does no good whatsoever. Rather, wasted in the sense that it could help far, far more animals that it does, if the money were put into more carefully-chosen programs and causes. It's very sad to think about how many hundreds of millions more animals that we in the animal protection movement could be sparing right now, if only we would make more calculated charity choices.
On the other hand, I'm incredibly optimistic when I look at how much good each one of us can do for animals. Each one of us has the ability to help hundreds, thousands, tens of thousands of animals over the course of our lifetime, and it doesn't require a huge bank account or endless hours of spare time. All it involves is making very smart, rigorous decisions about how to use the limited time and money we have in a way that does the most good for animals. I wrote How To Be Great At Doing Good to help animal advocates (as well as those involved with other charitable causes) be able to make those smart decisions.
CV: What are some of the hurdles we face in trying to do good?
NC: Ourselves and our own brains! It's very obvious that we face a lot of external challenges when trying to change the world for animals. The people we hope to persuade have all sorts of psychological biases and predispositions that make them not want to change, not want to agree with us, etc. We as a movement have only a tiny fraction of the money of the animal agriculture industry. Our political system is set up in such a way that makes legislative change for animals difficult to bring about, even on issues where the majority of people are on our side. All of those hurdles are obvious.
But there are also hurdles within ourselves that we face when trying to do good, and we often don't realize that they are there. We have all sorts of biases and predispositions that lead us to make poor charity decisions. This includes mental quirks like caring more about the suffering of an individual than we care about the suffering of large groups of individuals. And it also includes the general self-focus that we're all born with. We often favor small benefits to ourselves (like getting involved in causes we're passionate about, or enjoy working on, or our friends are working on, etc.) even when foregoing those small benefits to ourselves (by working on the issues and projects that will do the greatest good) would spare countless individuals from misery.
CV: What would you say the goal of charity is?
NC: Both the dictionary definition and the common sense definition of charity are that charity is acts done to relieve the suffering of the needy. I think almost all of us would agree with that general definition. The challenge is generating within ourselves a desire to succeed as much as possible at the goal of charity, as opposed to being content with just doing something, anything, that is charitable. Cultivating that attitude, and making decisions around that attitude, can be more difficult.
CV: What is the number one tip you'd give to someone who is trying to decide what charity to donate to?
NC: Try to make those decisions based an honest answer to the question "What cause/non-profit/program/etc will accomplish the most good for the greatest number of individuals with the money that you have to donate?" For those who donate to animal charities, I'd strongly suggest checking out http://www.AnimalCharityEvaluators.org for insight into the charities most worth donating to.
CV: You've been very involved in activism work for animal rights. Do you have any tips for preventing activist burnout?
NC: Most animal activists are initially motivated to get involved with animal rights causes because they have seen the cruelty that animals endure. Seeing and thinking about that suffering drives them into action.
But to prevent burnout, it helps to not remain fixated on that suffering. Instead, focus on what you can accomplish and how you can be smarter and more successful at what you're doing. View activism like a game or a puzzle that you're trying to solve as best you can. Pay attention to the successes you have instead of the cruelty that is still going on. Doing this can will help keep you motivated, and will provide the emotional distance from animal cruelty that you need to make smart advocacy decisions and to avoid getting burned out.
CV: Who are your heroes in the animal rights world?
NC: Of course there are a lot of people doing very big things for animals. Some of those who I have a lot of respect for and have learned a lot from include Josh Balk and Paul Shapiro at the Humane Society and Nathan Runkle at Mercy For Animals. There are also many non-activists whose work has changed the world for humge numbers of animals, including businesspeople like John Mackey (founder of Whole Foods) and authors like T Colin Campbell. Longer term, I think that scientists working to create cultured meat and other animal products are going to be the biggest heroes of all for animals.
CV: What advice would you give to someone who wants to go vegan but doesn't know where to start?
NC: Visit ChooseVeg.com/VSG and order a free Vegetarian Starter Guide from Mercy For Animals – we'll send you a free magazine-style Guide, and can sign you up for a series of emails that will guide you through the process of moving toward vegan eating. We'll also give you any personal feedback or support that you need!
CV: Where do you see vegan movement heading? Will we have a vegan-leaning world in 10 years?
NC: I'm sure we won't have a vegan-leaning world in 10 years but I think that the U.S. at least (and most of Europe) will be more vegan-friendly in 10 years than they are today. I think we'll continue to see gains in terms of the treatment of farm animals, and I'm hopeful we'll continue to see a decline in per-capita meat consumption and an increase in rates of vegetarian or vegan eating. I'm optimistic that environmental resource constraints and the advancement of technologies like cultured meat will help significantly decrease meat consumption over the next several decade Of course what's important is not what we think or believe, but what we do to make the world a better place for animals 10 years from now!