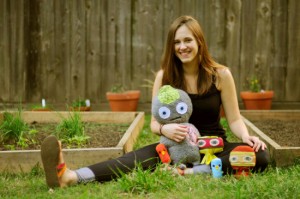 I first became aware of Nathalie VanBalen through a guest blog she wrote on Crazy Sexy Life back in 2010 titled, "Five Tips for Talking About Veganism with Kids." This led me to her website, ThoraThinks, where I promptly ordered a copy of her children's book, "Garlic-Onion-Beet-Spinach-Mango-Carrot-Grapefruit Juice!"  Reading GOBSMCGJ with my daughter always inspires lots of questions from her…and that is what I want from my child.  I want her to think about the world and why it is the way it is all the while wondering what she can do to make it a better place.  Besides the fact that her book always prompts wonderful discussions, the illustrations keep my daughter wonderfully engaged as she sits with the book on her own thumbing through the pages.
Nathalie is clearly very committed to children and I for one am very grateful for that.  Nathalie has generously offered a signed copy of her book as a giveaway (details at the end of the interview).
It is my pleasure to introduce you to Nathalie Van Balen…
CHIC VEGAN –

What motivated you to become vegan and was it an overnight switch or more gradual shift?
NATHALIE – I was curious as a child, but didn't stop eating animals until I learned about factory farming as a teenager. I made this decision for the same reason that many people do: I was deeply disturbed by the violence against animals and couldn't justify eating meat any longer. As I entered my college years my compassion grew and I was given more tools for thinking critically about the world around me. I saw connections between violence towards animals and other forms of violence. I learned more about the environmental, health, and social repercussions of raising animals for food. I started buying and preparing my own food. Each bit of new information reinforced my choice to be vegan. My reasons for not eating animals are complex and always evolving, but at the core is the simple desire and commitment to be peaceful.
CV – Tell me a little bit about Thora Thinks and what inspired you to create it.
N – ThoraThinks Press is my self-publishing company. I saw that there weren't enough resources for vegan/vegetarian/veg-curious kids and wanted to contribute. First I self-published Garlic-Onion-Beet-Spinach-Mango-Carrot-GrapefruitJuice, a silly story that raises questions about eating animals. Last year I self-published Happy Thanksliving!, a fun coloring zine that illustrates a vegan Thanksgiving celebration. On ThoraThinks.com and the corresponding blog, I post veg-themed coloring sheets for kids to enjoy.
CV – I absolutely love your book, "Garlic-Onion-Beet-Spinach-Mango-Carrot-Grapefruit Juice!"  My daughter will sit on the couch FOREVER just looking through it.  Have you always been so gosh-darn creative?
N – Thank you! I'm so glad that you and your daughter have fun with the book. My mom is an artist and I grew up in her drawing classes. I studied art in college and currently exhibit paintings, videos, and handmade books. I have always loved making things.
CV – I am also a HUGE fan of your

coloring pages

!  My friend's son handed out the images from the Valentine's page as his Valentines (Great message to share with other kiddos).  How long does it take you to create the pages and what made you decide to offer them for free? 
N – Awesome! The coloring pages are fun to make, and it's important to me to share a resource that's free– simply because it is more accessible to more people. Some coloring pages take longer to draw than others. The average is probably a couple hours.
CV – Walk me through a day in your life.

N – For the first half of the day I work in my studio. Sometimes I'm working on ThoraThinks projects; sometimes I'm making a piece to exhibit; sometimes I'm planning art camps and workshops for kids in Nashville. I take breaks to work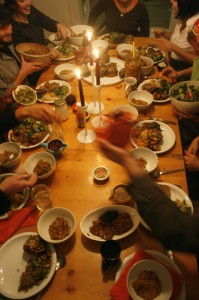 on kitchen projects, exercise, and eat. During the warmer months, I spend a couple mornings each week helping my farmer harvest.  In the afternoon I work with K-3rd graders at the University School of Nashville. I love seeing all of my kid friends– they're such fantastic people! After work, I make dinner with my partner, Ki. He built an outdoor wok table last year, and we have a great time cooking outside. We are both passionate cooks, and love to share meals with friends. In the evening I snuggle with my love, go contra dancing, spend time with friends, take walks, play with my tiny-adopted-hamster-buddy, go to potlucks, host parties, listen to my sweet friends play the best old-time music, look at the stars, read, watch movies, etc.
CV – What do you typically eat in the span of a day and are you a snacker?
N – I usually eat one meal during the day and one in the evening, with occasional juice or snacks thrown in. Ki and I eat with the seasons since most of our produce comes from local farmer friends. Lately we've been eating lots of kale, parsley, sweet potatoes, butternut squash, homemade kraut & kimchi, beans, lentils, soup, tempeh, and corn bread. Winter food! I've been making some great fermented nut cheeses, which are delicious with crackers made from nut and veggie pulp. I also LOVE to make desserts, particularly raw ones. Ice cream is my specialty.  Recipes here! 
CV – What is your favorite vegan indulgence?
N – Ki and I are regulars at Woodlands, a nearby vegetarian Indian restaurant. We go to their lunch buffet just about every weekend and get stuffed. Incredible!
CV – When people learn that you are vegan, what is the #1 question they ask and what is your response?
N – Usually people ask if it's difficult being vegan in Nashville. (There aren't many veg restaurants here and eating animals is an integral part of many Southern traditions). I tell them that it's very easy to eat well. We are lucky to have such rich farmland so close to the city, and I am thankful for all of the extraordinary food I eat every day. Social challenges arise, but I am happy to live in a place where there's room for growth.
CV – What vegan product could you not live without?
N – Water.
CV – In your wildest dreams what will your life look like in 5 years?
N – In my wildest dreams, humans would be living much more compassionately and sustainably. Ki and I would live in a house we designed ourselves, surrounded by a lush, romantic foodscape with lots of berries. The stars would be bright and clear. I would be making books for kids, and my work would be widely– yet responsibly– distributed. I would travel to schools to talk with children about food and animals, and we would make art together. Cheers to that– sounds delicious!
GIVEAWAY GIVEAWAY GIVEAWAY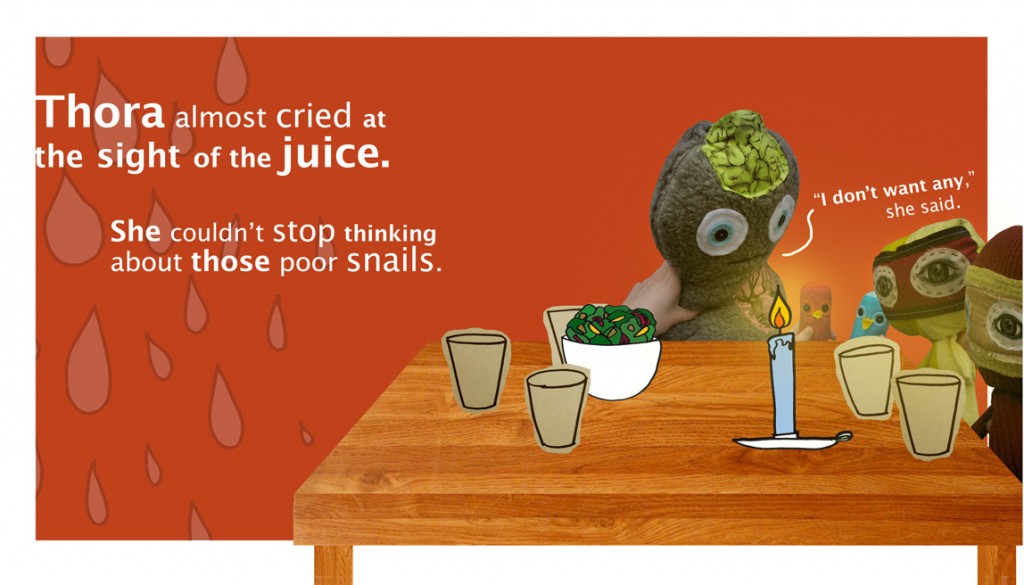 WE HAVE A WINNER… SIERRA HAWKSLEY!!!
GIVEAWAY IS NOW CLOSED

– TO ENTER THE GIVEAWAY
You will receive one entry for each of the following tasks.  You must LEAVE A SEPARATE comment for EACH of the tasks you complete.
If you are not already a subscriber to our weekly newsletter, become a subscriber by entering your e-mail address in the green box on the upper right corner of this page and clicking "count me in."
LIKE us on Facebook (click

HERE

)
FOLLOW us on Twitter (click

HERE

)
The contest will run through Sunday, June 17 midnight EST.
The winner will be announced June 18, 2012.  GOOD LUCK!