Julie O'Niell has always been excited by the power of photography. In her own words,
"I am mesmerized by a camera's ability to capture a moment, a mood, or a beautiful light. Images have a limitless capability to inspire, frighten, educate and warm hearts. For me, photography is a tool to inspire change and awaken compassion within others."
Once Julie decided to become a photographer, she trained professionally and then decided to go a road-trip with her camera before beginning "work."  That roadtrip is now on it's eighth year (with a few brakes to make money to fund the next trip).
How awesome is it that Julie has found a way to bring attention to compassionate causes through photography, support herself, and travel to over 50 countries while doing what she loves?
Meet Julie O'Neill…

Chic Vegan – What motivated you to become vegan and was it an overnight switch or more gradual shift?
Julie O'Neill – I was a vegetarian for many years before making the shift to veganism.  I loved cheese and I suppose I didn't want to give it up.  On my first trip to India 8 years ago there were none of my favourite cheeses to tempt me so I wasn't eating any cheese.  Then I met the founders of Animal Aid Unlimited (an amazing organization in India) whose veganism seemed so natural and normal.  After one conversation with them about how much animals suffer to produce dairy for our consumption I was sold and never looked back.  These days I am thankful to say that the thought of eating cheese totally turns me off.  With time all of our habits and cravings can change.
CV – Your photography is awe-inspiring.  Looking through your galleries I am moved by the humanity you have captured…it is as if the photos you take make us realize that we truly are all the same; whether human or animal.  Tell me a little bit about your photography, travels, and what inspired you to follow your passion.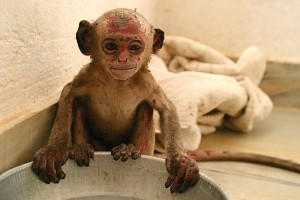 JO – Firstly, thank you!  I have always hoped that my photography would invoke change and compassion within others.  So your compliments mean a lot to me.
My greatest passions are photography, travel and animals. Upon graduation from my Photography course in college I put my things in storage and hit the road with my camera, unsure of where my journey would take me.  I believe that travel is one of the best forms of education one can receive and I learned a lot. After several years and several trips I realized that I still was not fulfilling my greatest passion and I needed find a way to help animals.  I began shifting the focus of my travels to documenting the state of animals within the countries that I visited and of photographing those helping them.  I consider myself extremely lucky for the getting the opportunity to meet such compassionate and hard working people all over the world.
CV – What type of camera do you use?
JO – Canon 7D
CV – What projects are you currently working on?
JO – At the moment I am back in Canada, busy working for money while editing photos from my recent trip to China in my time off.  In October I will return to India to work with some new organizations and revisit some old ones.
CV – Walk me through a day in your life.
JO – I actually have two lives.
In one of my lives I am in Canada working my butt off to save as much money as I can.  During my days off work I edit photos from previous trips, write blogs and participate as much as I can with local organizations helping animals and fighting for animal rights.
In my second and much more exciting life I travel in foreign countries in search of organizations that I can volunteer with and donate my photography to.  Here my days are filled with finding the cheapest transportation, accommodation and food.  Once I am settle in with a new organization, I will stay put long enough to make a difference, document the work that is done there, and edit the photos to leave with them.  In between visits and volunteer work with these amazing organizations I document the state of animals within the countries that I visit.

CV –  I read on your website that you have been traveling for the past 8 years.  What advice do you have for others who are interested in traveling the world on an open-ended basis?
JO – To be honest I can't keep travelling for years on end like I could when I was younger. I need to return to Canada to work to fund my travels.  All of my travels and volunteer work is self-funded therefore I must spend a few months between trips to work and save up for the next one.
For anyone that has the travelling spirit and craves to hit that beautiful open road for long periods of time, I totally recommend volunteering.  As magical as travelling the world can be, volunteering can magnify the experience by widening one's mind and heart.  By volunteering in foreign lands we are able to learn so much more about the local culture and create true friendships with local people rather than passing through as a voyeur.  I travelled for years before I stopped and volunteered, now I can't "just" travel I need to get involved.  Volunteering has changed and enriched my life more than I can put into words.
CV –  Since you have traveled to over 50 countries, you are probably the ultimate authority on how to travel the world as a vegan.  Has it been difficult to find vegan meals?
JO – Every country is filled with an abundance of wonderful fruits, vegetables and animal free products.  It is easy to get good healthy food anywhere.  But being vegan is certainly not common everywhere and in many places unheard of.  I make a point of learning a handful of simple phrases in each local language such as "please, thank you, no meat, no dairy, no fish and no eggs".  As long as I can make myself understood and am always polite and friendly people are always happy to help.  In fact, I find travelling a great opportunity for vegan outreach.  I have come across so many curious and open-minded people who want to learn all about all of the reasons to be vegan.  Since it may be the first time that they have heard of veganism many times people are very interested and intrigued with the idea of veganism.
CV –  What do you typically eat in the span of a day and are you a snacker?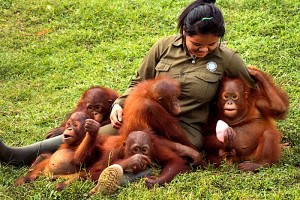 JO – When I am travelling I have to rely on restaurants most of the time.  It is possible to get rice, veggies or a salad almost everywhere.  Although eating vegan is possible anywhere, the selection may be quite limited.  When I am in Canada I fill my fridge with a very wide range of food, constantly snacking on all of the treats that I may not be able to find on the road.
CV – When people learn that you are vegan, what is the #1 question they ask and what is your response?
JO – I think that the reaction that I get most often is, "really that must be so hard."  I always stay positive and prove to those around me that it is the opposite of hard.  It is easy, fun, healthy and rewarding knowing that I am not contributing to the suffering of animals through my choices.
CV – In your wildest dreams what will your life look like in 5 years? 
JO – Although I love to travel and I love meeting compassionate people around the world one thing that I have had to sacrifice for this lifestyle is having my own companion animals.  I long for the day that I can be set up my own sanctuary or rescue center somewhere.  In my "wildest" dreams I will open my own little paradise where animals live out their lives in peace, while still being able to squeeze in the occasional adventure with my camera.
.
All photography courtesy of Julie O'Neill.  Click HERE to learn more and view her work.