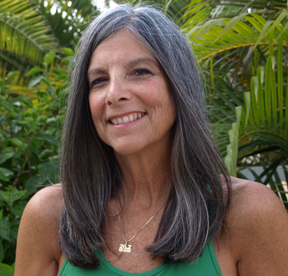 Ellen Jaffe Jones is an inspiring motivational speaker, personal trainer, running coach, author, and instructor of healthy cooking classes designed by respected doctors and registered dieticians.
Ellen was a popular, award-winning TV investigative reporter and anchor for 18 years in Miami and St. Louis. She became known as the "Earth Mother in a Suit" when she left TV and became a successful financial consultant at Smith Barney for 5 years. Combining both backgrounds, she wrote Eat Vegan on $4 a Day after seeing too many news stories saying eating healthfully was impossible on a budget. Her newest release, Kitchen Divided, was written for vegans who find themselves sharing a kitchen with an omnivore.
Ellen is a Nationally Certified Personal Trainer by the Aerobics & Fitness Association of America and is also a Certified Coach with The Road Runners Club of America. RRCA certifies most road races in the US, and is the premier national organization dedicated to promoting the development and growth of running and walking throughout the country. Ellen is also the volunteer assistant coach for the Manatee High School Girls' Cross Country & Track Team.
Ellen recently competed in the 2013 National Senior Games in Cleveland, where she placed seventh in the U.S. in her age group in the 1500 meter run. She also placed 10th in the 400 meters, placed 19th in the 100 meters, and with a stormy, puddle-filled track she placed 16th in the 200 meters. Ellen considers herself a "weekend warrior", while most of her fellow competitors paid to bring their trainers with them. She says many of the people she was competing against "scratched" on the subsequent days because they were too sore. Ellen believe a vegan diet reduces inflammation and credits it as being the reason she was able to keep sprinting 3 days in a row.
CHIC VEGAN – WHAT MOTIVATED YOU TO BECOME VEGAN? WAS IT AN OVERNIGHT SWITCH OR MORE GRADUAL SHIFT?
Ellen Jaffe Jones – I began with a macrobiotic diet when I was 28. It was the year I almost died of a colon blockage, which was also the year my sister got breast cancer. Doctors told me they had never seen a blockage that large and I would need to be on medication for the rest of my life. I thought I was too young for that. I ran to the health food store and read all 4 books on fiber, because that's all there was at the time. My mom, aunt and both sisters would go on to have breast cancer, one sister had it 3 times. Doctors said, "You better do something very different with your life unless you want to end up like everyone else in your family." As a TV investigative reporter, trying to figure out how to dodge our family history became the investigative reporting job of my life.  We were part of the original breast cancer gene studies donating blood samples to Myriad Genetics, which did those studies. After a year macro, as a reporter, I couldn't keep up with the rigid rules.  I felt lucky if I had time to zip through the drive-through at Taco Bell. I went vegan before I married, and had several zig-zags along the way. I believed misinformation that my children needed dairy, but eventually went back to vegan when facing a hysterectomy, which never happened as a result of returning to eating vegan.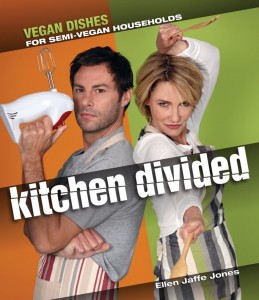 CV – TELL ME A LITTLE BIT ABOUT YOUR NEW BOOK KITCHEN DIVIDED AND WHAT INSPIRED YOU TO WRITE IT.
EJJ – I wrote in my first book, Eat Vegan on $4 a Day, "It is more important to have someone who loves and respects you than a clone at the dinner table." When I would talk about that on book tour, I started asking as an aside, "How many of you live in a mixed marriage where one of you is veg, and the other is not?" I was really surprised to find that in most of my audiences, the majority of attendees raised their hands. There was much head-nodding and eye-rolling with looks of frustration. I felt there was a need to address especially new vegans who made the decision in a family or living arrangement where not everyone jumped on board at the same time.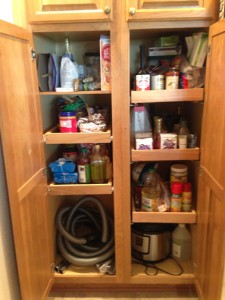 CV – DO YOU LIVE WITH A DIVIDED KITCHEN?
EJJ – Yes. We were both investigative reporters in Miami at competing TV stations and had a relationship back then. We had no contact for 20 years and to make a long, romantic story short, we reconnected and married during a time when I was working an intense schedule in financial services and had no control over the working pizza lunches or fixed-menu dinners at Mortons. As a woman in a Wall Street brokerage office where the ratio was 1 woman for every 10 men, the only choice I got in food was what topping I wanted on my pizza. Our firm was involved in and eventually settled two high-profile sex-discrimination lawsuits. I had nothing to do with filing those, but it was a challenging time, to say the least. I had gained 25 pounds at the brokerage firm and I was feeling desperate to lose that weight as breast cancer kept claiming more family members. My husband and I reconnected after my tumultuous divorce, during a time when Atkins was getting interviewed on Larry King and the New York Times published a piece, "What If It Was a Big Fat Lie." The article reiterated the high-protein diet myths and said the science had changed. What I would eventually realize was that the science had not changed, only the marketing had.
Keep in mind, as a reporter, I had covered and even worked undercover on some of the worst animal abuse of the times. I had seen some of the first elephant circus abuse videos. And yet, because of my rare and horrific family history, of not only breast cancer, but heart disease, diabetes, Alzheimer's and crippling arthritis as well, my radar was up to avoid these diseases. I wanted to eat vegan for animal and health reasons. But health held a slight edge in my motivation because of what I lived with since my aunt died of cancer in our home when I was 5. I had battled weight all my life. I was looking for the answer to keep my weight manageably healthy which is so important in avoiding breast cancer. As the youngest in my family, I had seen my sisters and other relatives go through intense pain and suffering from these diseases.  It wasn't until I faced an emergency room-ordered hysterectomy with beginning heart disease that I returned to a vegan diet and realized that the Atkins re-incarnation was just powerful marketing at work. By this time, my husband and I were married. He is significantly older than me. From having been around nursing homes and assisted living facilities much of my life, I understood that the chances of his changing, despite my best efforts, were slim. Don't think I haven't tried. It is literally the only issue we disagree about. But it is important to understand that people change over time and divorce is not always an option for various reasons. I've had some people take issue and say, "You're just making excuses. You shouldn't tolerate that." My answer is, "Have you ever been in a really awful marriage? Until you walk a mile in my shoes, until you experience some of the things I have, it may be difficult to understand why having a true soul mate you can talk to about everything else in life is equally important." Another factor to consider is that when my husband and I married, there was no e-harmony, match.com or other online dating service where you could screen potential dates or mates with the vegan filter. It is a very different world now for those who can go to meet-ups, vegfests and all kinds of other physical and online events to connect with "like-minded souls."
Sadly, my hubsand is on some of the major meds for health issues. I would like to think his health has improved or at least remained stable having me around. He has eliminated most processed foods. Frankly, I don't know how much longer he'll live and I am just grateful for every day we do have. Others have asked him point blank, "You've seen your wife transform and improve her health dramatically, so how come you don't eat the way she does?" He'll be the first to say, "I've seen how it has worked for her and totally support her efforts. I've tried it, and I just can't do it." In my Cancer Project cooking classes, sometimes I would say, "People can get desperate on their deathbeds. But for many, it's too little too late." You can lead a horse to water, but you can't make it drink.
CV – WHAT'S THE NUMBER ONE PIECE OF ADVICE THAT YOU WOULD GIVE TO A FRUSTRATED VEGAN LIVING WITH AN OMNIVORE?
EJJ – At my parent's 50th anniversary, I asked my mom, "So how'd you do it? What's the secret to 50 years of mostly wedded bliss?" "One word," she quipped. "Tolerance." "Tolerance of what," I sassed back. "Don't go there," she laughed. I do think our parents' generations tolerated way more than we do today. But the main thing is leading by example and patience. One of the nicest things my dad ever said to me before he died was that he really respected me. One of my best memories was when he reduced his life-long sinus problem by dumping dairy, and then got the assisted living facility to carry plant milks. It is never too late to inspire change. You never know what it is that may make the light go off for someone. I have made my hubby watch all the animal rights and health movies. I keep trying/hoping! But I also understand that you can change yourself first, but others have to create change from within.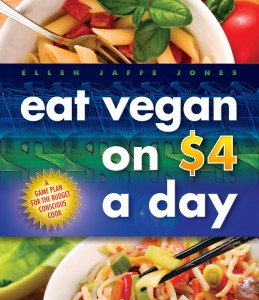 CV – THE IDEA BEHIND YOUR FIRST BOOK EAT VEGAN ON $4 A DAY IS TOTALLY GENIUS! I OFTEN HEAR PEOPLE COMPLAIN THAT EATING VEGAN IS TOO EXPENSIVE. HOW DID YOU COME UP WITH THE BOOK'S CONCEPT? 
EJJ – Thank you for the kind words! It had been stewing for a long time. But I remember the moment in 2008 sitting on my couch watching an evening news story with a morbidly obese woman loading her cart with Twinkies and mac and cheese while saying to the reporter, "You just can eat well on a budget." After I sassed at the TV, I said to my hubby, "I've got to put both of my careers together and write this book. Where is the fair and balanced side of this reporting job?"
Since I'd eaten this way much of the past 32 years, and had a working knowledge of food prices, I thought, I have to really crunch the numbers and show people that if you dump meat and dairy, you have plenty of money left over for produce. I'd heard one too many quotes like that woman saying you can't eat well on a budget or food stamps, and started tracking hundreds of food and recipe ingredient prices on excel sheets. As an investigative and consumer reporter for 18 years followed by 5 years as a financial consultant, my job was to follow the Consumer Price Index. So I already knew food prices. During my media consulting for PCRM, I smelled my way into their kitchen and became a trained cooking instructor for the Cancer Project. I taught 2 classes a day, 5 days a week at the peak pre-book. I saw a March 2008 Dr. McDougall newsletter saying he believed most of his recipes could be prepared for under $3/day. All of this came together and the original title of my book was "Eat Well on $3 a Day." That gives you an idea how long I shopped it until I finally found a publisher. I was really persistent because my biggest fear as a reporter always was that someone would beat me to the punch. Patti Breitman, an author herself, shopped it for a year in 2009 with the big publishers. But as is often the case, I wasn't already an author or celebrity, so I got turned down.
As a reporter, I had been trained to never take no for an answer when it comes to something you're passionate about. I thought it would be helpful to do a recipe book with every ingredient priced out. I used common, unprocessed everyday ingredients you could find at a big-box store. To be clear, I don't recommend shopping at big-box stores. But since 20% of the US already lives below the poverty level, I know that many people are already shopping there and spending only $4/day on food whether they want to or not. It might as well be healthy foods. And that way, they save by avoiding doctors and disease. One of the ways I try to bring it home to my audiences when I speak is using comparisons like, "The cheapest form of hamburger meat…30% fat…is 7 times more expensive than an equal 4 ounce serving of beans, or beef tenderloin is 37 times more expensive than beans. And with global warming creating draught conditions that will continue to put cattle farmers out of business, the price of meat can only climb, even with the outrageous farm bill subsidies."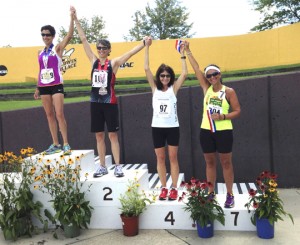 CV – WHY DO YOU CALL YOURSELF "THE BROCCOLI REP"?
EJJ – I jokingly started doing that during a talk, and it stuck. I usually add, "Because who else is?" As I have written and often say, "When you understand there is no money in broccoli, no broccoli association, board or lobby, no corporation that makes broccoli, then you understand why you have to be your investigative reporter like I was, and figure out the truth about food. And ask your doc if broccoli and veggies are right for you!" Similarities between pharma commercials on TV intended. 😉 I developed this analogy when I read a great book as a La Leche League leader (volunteer breastfeeding information and support non-profit) called "The Politics of Breastfeeding." It made the same analogy to breast milk…since there is no corporation that makes it, it is challenging for new mothers to hear accurate advice about breastfeeding from the medical and pharmaceutical industries who stand to profit from the global sales of artificial baby milk. Mammalian milk is very species specific, and it is mind-boggling to me how many new moms don't get this kind of education before they reject their own species' milk for their baby and readily consume another species' milk or artificial baby milk. Out of the 5000 or so mammals on the planet, we are the only species that decided to go rogue fairly recently archeologically speaking, about 3000 years ago and experiment with another species' milk.
CV – YOU'RE AN ACCOMPLISHED ENDURANCE AND SPRINT RUNNER, ARE PEOPLE SURPRISED WHEN THEY FIND OUT THAT YOU'RE VEGAN?
EJJ – Sometimes, yes. I hired a production company to document my training for the National Senior Games. They interviewed my great coach, who has worked with me for years. She is the cross-county/track coach at our local high school, and when she saw me run an 8-minute mile a few years ago, she asked if I would be her volunteer assistant coach. I did that until I had to go on book tour. She kindly had me come talk to the girls about how to eat healthfully. And yet, in the video, she shared even her surprise to see that I could do as well as I had on "just" plants.
There has been a surge in vegan athletes taking over sports like endurance and ultra running, and bodybuilding. Although most of what I've seen so far has been male-dominated. I'm honored that the website "Great Vegan Athletes" has chosen me as one of the few women they have featured. It was fun that at the National Senior Games, one of the fastest runners there I got to meet, a 75+ woman running a sub-7 minute mile, was "mostly raw vegan." She showed me the cover story about her in the current edition of "Masters News." She said, "Stop running on hard tracks! Get off the asphalt and on to soccer fields." While I had done that for marathon training, I still had been doing training twice a week at the track. Here I talk about having dinner with her, eating raw foods she had prepped in her room:
I think there are some differences between the needs of men and women, as well as ages. I commend the many vegan ultra-marathoners, for example. But I also believe it takes some maturity and even restraint for us mere mortals to ask questions like, "Is that right for me? Is running 26.2 miles (the distance in a marathon) on concrete streets the best thing for my body? If I do the kind of training it takes to run 100 miles now, what will my body be or feel like in 10, 20 or 40 years?" These amazing accomplishments may grab headlines, but they may not be right for you. As a personal trainer at a gym, I've seen many clients come through the front door and say, "I used to be a runner." I never want to say that or have my clients I coach who want to continue to run until 100, say that. I always ask my clients, "What is your most important goal?" If it is to do those extreme runs to get them off your bucket list, then go for it. But if you really want to be running, athletic or active until you're 100, or even 80, then it may be time for a reboot in short-term bucket list items. I don't mean to go into Nervous Nelly mode, but I want clients to try to be objective. Finish without injury. Build. Don't break.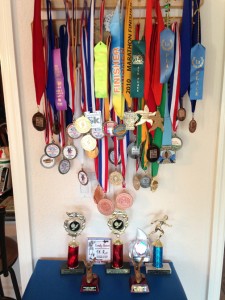 CV – YOU'RE ALSO A PERSONAL TRAINER AND A RUNNING COACH. DO VEGAN ATHLETES NEED TO BE CONCERNED ABOUT THEIR INTAKE OF CERTAIN NUTRIENTS?
EJJ – If you have concerns about anything, there's a test for that. I always encourage getting baseline tests before beginning any program if there are concerns. For vegans, getting Vitamin D and B12 is always a good idea. Blood tests never lie. Like with any diet, it is important to eat a broad spectrum of unprocessed foods. I always ask, what did our ancestors do? What did mother nature intend? I don't think our ancestors were busy calculating protein grams. I think they, as we should, must listen very carefully to our bodies and tune into what we need and when. That said, if you're first starting out to increase exercise, it is important to have adequate amounts of protein. But like T. Colin Cambell in "The China Study" and others have written, protein is greatly overrated. The daily 4 food groups guide I have always used, which is in "Eat Vegan" is what has been in PCRM's books for decades: http://pcrm.org/health/diets/vsk/vegetarian-starter-kit-new-four-food-groups It is also important to eat a recovery snack of protein and carbs within 30 minutes of a workout to expedite muscle re-building that begins to take place. If I'm training or racing more intensely, I may add another serving of legumes. But I don't stress over it, if I'm listening to my body. Your body is quite good at giving cues.
CV – YOU SEEM TO BE EXTREMELY BUSY. WHAT'S A DAY IN YOUR LIFE LIKE?
EJJ – No day seems to be the same. I have always loved to write since I was a child. Writing 6 stories a day, as I often did in TV news, or later, writing 20 re-writes of a 5 part series on topics like "Alternatives to Ritalin" seemed easy. I love writing about my passion, which is helping others avoid preventable disease. But first thing in the morning when I'm home, I always try to run on the beach or other soft surfaces, though in recent years, not every day. I'll cross-train biking, doing yoga or weight-lifting. When I'm volunteer coaching for the cross country team, my running happens on weekday afternoons from August to December. I try to be very "present" and engage my readers and followers in social media. As of this writing, my "Eat Vegan on $4 a Day" Facebook page is closing in on 24,000. After a New York Times reporter blogged how I helped her increase her marathon time by an hour, my online coaching for personal training, running and vegan lifestyle coaching really took off. http://well.blogs.nytimes.com/2012/06/28/my-vegan-marathon/?_r=0 I work online coaching in-between.
CV – IN YOUR WILDEST DREAMS WHAT WILL YOUR LIFE LOOK LIKE IN 5 YEARS?
EJJ – More of the same! I once made the comment to my publisher, "A friend of mine told me years ago that if you have 7 books in your head, you're ready to get one of them published." My publisher said, "We want all 7." I don't know if that will happen, but my publisher did tell me that in 2014, he hopes I'll be able to speak at as many vegfests as possible. I've already spoken at many and love doing it. I love the connection with readers as I hear their concerns and questions. I enjoy doing food demos since I did that so much as a Cancer Project instructor. I do this not for money, but because no animal, human or otherwise, should experience the pain and suffering I've seen in my lifetime. My parents were so sick and diseased by the time I had children, they couldn't lift them, let alone babysit them. Entire generations are losing each other and don't even know it. I want my children to grow old in a world that is much healthier…in all respects…than our world is now.