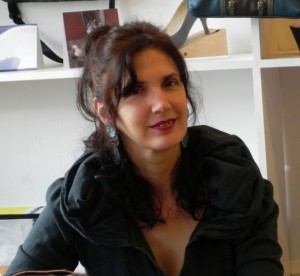 Donna Oakes is an angel among us. She owns and runs "Cow Jones Industrials", a great, all vegan, on line boutique, filled with elegant and easy women's styles.  She curates the store's collections from some of my favorite designers, like Olsenhaus, Cri de Couer and Prairie Underground. Donna is also one of the mentors for the "5-Day Ghost-Free Journey", working with people on transitioning to the vegan lifestyle. This program is inspired by the recently released movie, "The Ghosts in Our Machine", both of which we'll talk a bit about, as well.
Chic Vegan: Donna, let's start with your vegan journey. How long have you been vegan and what was your inspiration?
Donna Oakes: I have been vegan since 1989 – it was and will always be because of the animals. Late one night (in the summer of 1988), I saw an anti-fur ad for Friends of Animals. I joined them and started to receive newsletters from other groups. One in particular stands out in my mind – it was from PETA. On the back page was a picture of a cow with the words: "Good intentions are not enough – stop eating meat". It immediately clicked and I became a vegetarian – it really was quite simple. A few months after that, I became a vegan. I have never felt as if I was missing out on anything or deprived – quite the contrary. I was very active for a few years with the organization Trans Species Unlimited (I lived in NYC at the time). I read everything I could get my hands on as far as animal rights books, etc. There seemed to be a lot of momentum back then for effecting change. The NYC chapter disbanded and I moved out of the city a few years after that – my involvement in activism changed through the years. Opening my shop in 2007 was a different form of activism – to some people, it might only have been a shop, but I had photos of animals with messages on them scattered throughout the shop and in the storefront windows. I had brochures for numerous sanctuaries and I had my own personal library of books on animal rights that people could borrow.
CV: Tell us the story behind Cow Jones Industrials. How did it all start and where did the name come from?
DO: Cow Jones opened in the summer of 2007. I had been thinking about opening a shop and everything seemed to come together at that time – learning about stylish vegan brands that were out there, plus there was an empty store front on The Main Street where I live. It seemed that the time had arrived to bring vegan specific styles to the area where I lived, even though the demographics were not right. I had already been a vegan for about 18-19 years by that time and knew how challenging it could be to find alternatives. The website didn't go live until 1 ½ years after opening the storefront.
As far as the name – that was a struggle. I wanted something that reflected the ethics/values of the shop – but everything that I came up with sounded so trite. It was my husband who suggested the name – really as a joke – but I loved it. It is a play on words in several ways – the obvious one being Dow Jones Industrials. We envisioned a cow reading a ticker tape that showed readings of stocks that were all cruelty free. And of course, the fact that there were no cows in any of the styles made it perfect.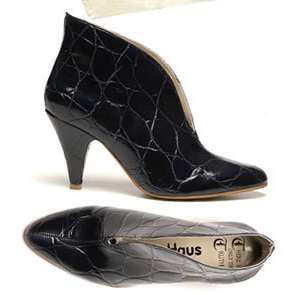 CV: It is a memorable name, I wish I'd thought of it! I actually bought my first pair of vegan shoes from your store about 5 years ago. My Olsenhaus "Truth" booties. I still wear them. How do you curate your collection?
DO: Since the business is based on personal ethics, it is easy to narrow the scope. The first qualification is that the product must be vegan – after that is established, it also has to be eco-friendly and produced using fair labor – and it has to be beautiful (at least to me). I look for styles that are not too trendy – ones that are timeless and well made – ones that you will reach for again and again. Clothing and accessories that fit that criteria will stay in your closet for years – they will become comfort pieces.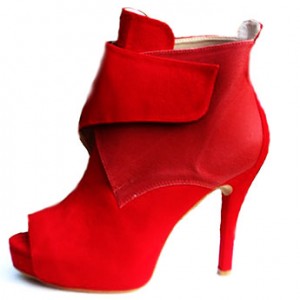 CV: Describe your own style and how it/if it differs from Cow Jones? Who are your style icons?
DO: I am inspired a lot by street style – by the way that people can put together looks that have nothing to do with traditional fashion magazines. The designers who push the envelope of creating ethical products in the most sustainable way inspire me. Their dedication to doing it right keeps me motivated. As far as a style that defines Cow Jones, I would probably have to say it's all about searching for styles that are beautifully timeless – and wearable!
My own style is very much what you see on my website (although not so much the high heels which I adore but can rarely wear). This might be a downfall – ordering based on what appeals mostly to me. I don't really have style icons per se although I loved the mod styles of Carnaby Street (late 60's/early 70's).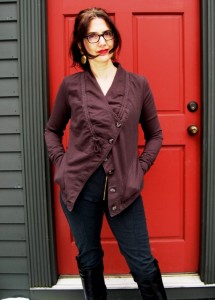 CV: Well, I love that you choose styles that you would wear and even model some of them yourself. You look so chic! It creates accessibility and we can really see ourselves wearing them.
What is your advice to someone who wants to start their own vegan business?
DO: Do your research and make sure to create a business plan. This might sound dull, but I neglected to do both of these. My business plan was as follows – I know about veganism. Let's just say that there is a lot more to it! If you are opening a storefront, make sure to know the demographics. If you are going to be online only, don't duplicate what is already out there. Create a buzz before you launch. I think about Vaute Couture and Leanne (Mai-ly Hilgart's) success. Everyone knew about her coats before they were available to buy. Most recently, the Kickstarter campaign for Nicora Johns was greatly successful. People who pledged received outstanding quality footwear in return.
Be prepared to have people question what you are all about – this is a good thing. Having an opportunity to discuss veganism and vegan products with others is how awareness starts.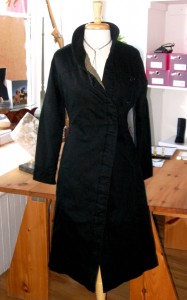 CV: I agree, any opportunity to discuss vegan products plants that seed. So many people just don't realize how materials we see & use every day are sourced. Let's take that further, how did you get involved as a mentor for "The 5-Day Ghost-Free Journey" and the movie, "The Ghosts in Our Machine"?
DO: More than 2 ½ years ago, I saw a post on "Our Hen House" about an amazing documentary that was being made. At that time, the director Liz Marshall was asking people to help spread the word about "The Ghosts in Our Machine". When I saw the first trailer, I was mesmerized. This was the film that would be a catalyst for deep and meaningful change. Needless to say, I became obsessed with this incredible project.
"The 5-Day Ghost-Free Journey" started as a Vegan Challenge that took place on the Ghosts FB page. It was informal and from what I remember lasted somewhere from 7-10 days. It was personalized for 1 person – there was no lottery system then because everything was just starting. It took place every month and there were 2 mentors. I did not become a mentor until the 3'rd journey. After that, Liz Marshall and Nina Beveridge asked Rosemary Tarentino Foos and me to be the 'official' mentors and the journey started to evolve. Rosemary and I knew in advance who the participant would be and what the focus would be. She and I collaborated and did a great deal of research before each journey began. Eventually it became a 5 day journey – taking place on the website every other month and there was a lottery system.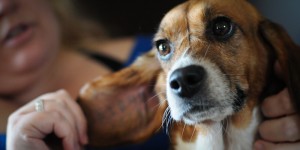 CV: What is the 5 day journey like?
DO: I hope you will not mind that I am going to pull that information directly from The Ghosts website – it is something that my dear friend (and my fellow mentor) Rosemary Tarentino Foos and I articulated as follows:
"As practicing vegans, we facilitate people on their Ghost-Free Journey by addressing everyday, relevant topics that include food and fashion choices, social issues, and how animals are viewed and used in our culture. Our intention is to ultimately foster a moment for each participant to connect deeply to animals as sentient beings, deserving of our respect and thoughtful choices. We believe that when one's reverence for animals is acknowledged and merged with an understanding of choices available to them, this harmonious connection is what helps sustain the ability and desire to remain Ghost-Free."
Each journey is unique – that is the beauty of having a customized experience.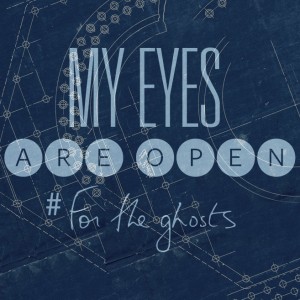 CV: What has the experience been like? Have you had any "a-ha" moments or truly inspiring moments?
DO: It's difficult to put into words how beautiful and inspirational the experience has been. From making new lifelong friends to having the honor of being part of someone's journey – the past 2 ½ years have been a highlight of my life. As mentors, Rosemary and I sought to bring participants to their own 'a-ha' moments. In doing so, we ourselves had many. My resolve to live my life causing the least harm possible has been strengthened. Additionally, I have become more patient with others and have learned to approach from a place of love.
CV: How can someone sign up to be mentored?
DO: Here is the link to sign up: http://www.theghostsinourmachine.com/join/
CV: What does it mean to you to be vegan?
DO: It means doing my best to live a kind life.
CV: What advice would you give anyone who is transitioning and struggling?
The best advice that I could give would be to be gentle with yourself and remember that every step towards a kinder life has meaning. Find a Meet-up group in your area, join the FB pages that encourage new vegetarians/vegans, try the PCRM 21 day Kickstart – of course, one of my favorite resources is the TGIOM website – read about the journeys that others have taken. If family members and friends don't understand at first, be patient – loved ones can feel that the relationships are threatened when somebody changes. In time, they will not only understand, but might make some life changes too.
CV: Is there anything new coming up for you?
DO: There is always something new coming up for us in life – we just don't know what it is yet. I have always believed that everything that we do leads us in some way to the next step – even if that step seems so unrelated to what our interests might be at that time. Encounters with other people, new friendships, life changing moments – everything has meaning for what lies ahead.
CV: Wise words, indeed. Thank you for your time and insight Donna!
You can visit Donna's boutique at http://www.cowjonesindustrials.com/