Becky Striepe (rhymes with "sleepy") is a crafts and food writer from Atlanta, Georgia with a passion for making our planet a healthier, happier, and more compassionate place to live. Her mission is to make vegan food and crafts accessible to everyone. Becky is the author of two cookbooks – 20 Days of Green Smoothies and Bowls! – and she's the blogger behind Glue and Glitter.com. You may also know Becky as a Chic Vegan contributor! I recently chatted with Becky, and we talked about veganism, smoothies, and nooch!
Chic Vegan: What motivated you to become vegan? Was it an overnight switch or more gradual shift?
Becky Striepe: I'd been vegetarian off and on since I was a teen, and when I was in my early 20s, I was pescatarian when my doctor told me that I had terribly high cholesterol. I can't remember the exact number now, but it was in the high 200s. I was 25, and he wanted to put me on daily cholesterol medicine for the rest of my life.
That seemed kind of bananas, so I asked him if I could try to fix this with diet first, and he said yes.
I cut out dairy and eggs that same day, and three months later my cholesterol was normal. For a long time, I continued eating seafood, but the more I learned about veganism, the less eating any kind of animal product appealed to me. About a year later I decided to go totally vegan, and I've never looked back. It definitely began as a health decision for me, but at this point it's as much about protecting animals and the environment as my own health.
CV: When people learn that you are vegan, what is the #1 question they ask and what is your response?
BS: Hands down the most common response I hear is that they would die without cheese. I tell them that I totally understand. Quitting cheese is so hard! I had an easier time quitting smoking than giving up cheese. Then I try to talk a little bit about what helped me the most – things like putting avocado on everything I ate – and about how far vegan cheese has come in the past few years.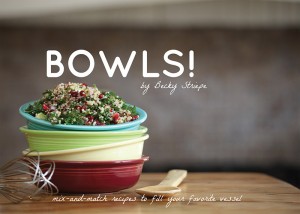 CV: Tell me a little bit about your newest cookbook Bowls! and what inspired you to write.
BS: Bowls is all about easy-to-make comfort food, and it's very much inspired by how I cook for my family. Dave is an omnivore, but he eats the vegan meals that I cook for us. The book is really like a compilation of his and my favorite recipes. It's sort of a peek into what happens in our kitchen on a typical day.
CV: Do you have any favorite recipes in the book?
BS: The Peanut Butter Tofu is one of my favorites. It's so easy to make and just incredibly satisfying. And, of course, the Perfect Mashed Potatoes are a fave. When I get busy, we basically live on mashed potato bowls around here.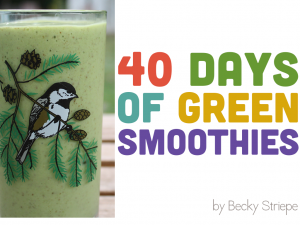 CV: What's the Green Smoothie Challenge?
BS: The Green Smoothie Challenge is a free six week program that I developed to help folks start a green smoothie habit. It's based on my first cookbook – 40 Days of Green Smoothies – but you don't necessarily need to own 40 Days to do the Challenge.
When you sign up, you get a welcome email with some getting started tips and recipes, and then you get weekly check-in emails with more tips and a smoothie recipe in each one to help you stay on track. My goal was to build something that offered support and inspiration without flooding your inbox with daily emails.
CV: What are your favorite ingredients to add to a smoothie?
BS: Ginger and mango are probably my favorite flavors in a smoothie. I love that combination of sweet and spicy, even first thing in the morning.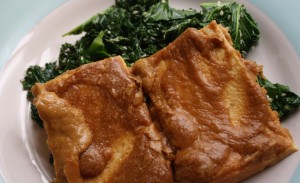 CV: Do you have any advice for aspiring cooking authors?
BS: Dave and I self-published both of my cookbooks, and I definitely learned a lot. I think the biggest lesson was that you shouldn't be afraid to ask for help, and you should absolutely accept help when it's offered. There's this tendency to feel like you need to take on every part of a project yourself, and that's not realistic.
I owe a lot of Bowls's success to my friends and family. Elena Paulsen, a friend and professional copy editor, offered to edit my book pro bono, because she is a rockstar. I almost said no to Elena, because the generosity of her offer caught me off guard, but I'm so glad that I took her up on it. Her suggestions made a big difference. And I could tell you dozens of other stories like that – Bowls might have my name on the cover, but it really took a village to make this book happen. I'm so grateful.
So I guess I'd say that help is good, and community is crucial.
CV: What is your favorite vegan indulgence?
BS: Hands down, it's Pure Abundance cheese. My friend Allison makes it here in town, and it's the best vegan cheese that I've ever had. Maybe one time I bought some and hid it from my kid, so I wouldn't have to share. It's so good that it turns me into a monster.
CV: What vegan product could you not live without?
BS: NOOCH. I put nutritional yeast on almost every plate of food that I eat. It's an obsession. My son loves it too! When I serve him beans and rice or mashed potatoes, he points at the pantry and demands, "Nooch!" It warms my heart.
CV: In your wildest dreams what will your life look like in 5 years?
BS: In five years, I want to have at least one more cookbook out and have Glue and Glitter at a place where I can afford to spend even more time on it.
As far as other work, I would love to move more into editing. I'm doing some editing work now on a few different sites, and I love it. There's something about helping a writer polish a piece that I find incredibly gratifying.
Feature photograph by Bonnie J Heath Photography.