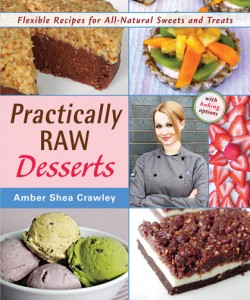 Chef Amber Shea Crawley has a passion for healthful, plant-rich food, and she makes it super easy for others to follow a healthy diet with her two books Practically Raw and Practically Raw Desserts. The titles of both books have double meanings: the recipes are practically raw because there are cooked options for those who don't have dehydrators or would prefer a hot meal, and they're practical because they're flexible and don't require fancy equipment or hard-to-find ingredients and don't take much time to prepare. If you want to try raw foods but have been afraid of all of the gadgets, doodads and strange ingredients that you'll need to buy, Amber's books are perfect for you because you won't need to worry about any of that. If you are familiar with raw food prep, you will still enjoy both books, as they're filled delicious and creative recipes.
Amber was classically trained in the art of gourmet living cuisine at the world-renowned Matthew Kenney Academy, graduating in 2010 as a certified raw and vegan chef. In 2011, she earned her Nutrition Educator certification at the Living Light Culinary Arts Institute. She was named Hot Raw Chef of 2011 by Living Light International.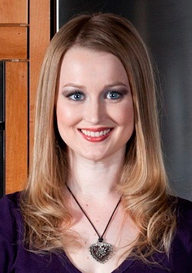 CHIC VEGAN – WHAT LED YOU TO EMBRACE A HEALTHY, PLANT-RICH DIET? WAS IT OVERNIGHT OR GRADUAL?
Amber Shea Crawley – A little bit of both.  I was a terrible eater for many years, and was underweight most of my life, until a series of medical problems actually left me overweight at age 18.  To lose the weight, I had to force myself to eat things like vegetables, fruits, and beans for the first time ever, and lo and behold, by the time I successfully lost the weight, I actually LIKED these foods!  In the following years, I saw my animal product consumption naturally drop, simply because I was filling my diet with more and more fresh plant foods every week.  So although my initial change was dramatic, the complete evolution of my diet took several years.  I wouldn't do it any differently today, though—the gradual nature of it meant I never felt any pressure to change; it was all very natural.
CV – YOU HAVE A BACKGROUND IN LINGUISTICS. WHAT PROMPTED YOU TO GO TO CULINARY SCHOOL?
ASC – By the time I graduated college with my degree in linguistics, I'd lost the weight and found a passion for healthy eating and living.  Although I worked a desk job for over 4 years after that, food/health/cooking remained my #1 hobby, and during that time, I started my blog, chefambershea.com.  After about 2 to 2.5 years of blogging, it was crystal-clear that this was where my heart lay, so I took the plunge, quit my job, and enrolled in culinary school.  The rest is history.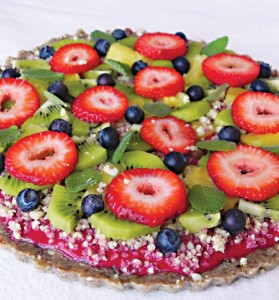 CV – CONGRATULATIONS ON YOUR BEAUTIFUL NEW BOOK PRACTICALLY RAW DESSERTS! WHAT INSPIRED YOU TO WRITE IT?
ASC – Thank you!  Baked goods and sweet treats have always been some of my favorite things to prepare and create, so it was only natural that the follow-up to my first book, Practically Raw, should be a volume of decadent-yet-healthy desserts.
CV – YOU ALSO JUST WROTE AN EBOOK CALLED THE REAL FOOD CLEANSE. CAN YOU TELL US A LITTLE BIT ABOUT IT?
ASC – The Real Food Cleanse is my answer to all the restrictive cleansing diets (such as juice fasts) that have become popular these days.  It's a 3-day plant-based meal plan – including all recipes, shopping lists, advanced prep checklists, FAQs, pre- and post-cleanse guidance, peer support, and more – that'll help you clean up your diet, reset your cravings, settle your digestion, uncover possible food intolerances, and even lose weight, all without juicing, starving, or overly restricting yourself.
CV – WHAT ADVICE WOULD YOU GIVE TO ASPIRING CHEFS AND COOKBOOK AUTHORS?
ASC – Have a clear sense of what sets you apart from all the other chefs, bloggers, and cookbook authors out there.  There needs to be something special about you, your content, and/or your message to get the attention of potential publishers.  For me, it's my philosophy of flexibility, which shows up in the ingredient substitution lists, variation ideas, and cooking/baking/preparation options I provide with each recipe in my books.
CV – YOU LIVE IN THE MID-WEST, WHICH IS USUALLY KNOWN AS MEAT AND POTATOES COUNTRY. IS IT DIFFICULT TO LIVE A HEALTHY LIFESTYLE THERE?
ASC – I don't think so.  A lot of people will tell you it is, but it's a matter of perspective.  Even though there are relatively fewer "health-minded" people here than on the coasts, our ranks have grown enormously in the past few years, and there's so much more awareness nowadays.  Interest in local, organic, and plant-based food has really picked up steam here.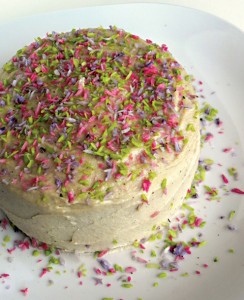 CV – WHAT FOODS WOULD YOU SAY ARE ESSENTIAL TO A HEALTHY DIET?
ASC – Every body is different, as I like to say, but fresh fruits and veggies are important no matter who you are.  I personally also do well with a lot of beans/legumes and quite a bit of healthy fat – avocados and coconut products are some favorites of mine, plus nuts and seeds, of course.
CV – DO YOU HAVE ADVICE FOR PEOPLE WHO THINK THAT EATING HEALTHY IS TOO EXPENSIVE OR HEALTHY FOOD TAKES TOO MUCH TIME TO PREPARE?
ASC – I think people who say this are probably aiming too high.  You don't have to eat 100% healthfully if you're just starting out, nor to you have to make every meal an elaborate, homemade affair.  Start small and start slowly and build from there so it feels natural and effortless.  There's no rush.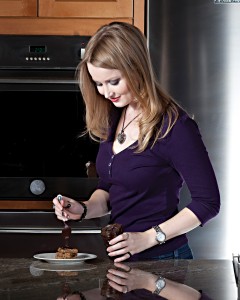 CV – WHAT DO YOU TYPICALLY EAT IN THE SPAN OF A DAY? ARE YOU A SNACKER?
ASC – I might be a little unusual in that there really isn't any such thing as a "typical day" for me!  Sometimes I snack/graze all day, other times I eat two or three large meals.  In the winter I eat a lot of stews, curries, and roasted veggies, while in the summer I go for lots of smoothies, fresh fruit, and raw food.  True to form, I'm flexible about what, when, and how much I eat.  There are no rules!
CV – IN YOUR WILDEST DREAMS WHAT WILL YOUR LIFE LOOK LIKE IN 5 YEARS?
ASC – I hope to still be writing cookbooks and helping more people than ever fall in love with a plant-rich diet and healthy lifestyle!